Spotify's Q3 results today (October 29) delivered some obvious headlines.
Daniel Ek's company is still gaining subscribers at an impressive clip. It's still growing its revenues. And it's still losing money.
But behind the topline takeaways were a few items of information that offer a deeper insight into where Spotify's business stands today.
Of particular interest to investors might be MBW's discovery that Spotify's earnings numbers suggest it actually saw its subscriber base decline during Q3 in territories outside North America, Latin America and Europe; territories that therefore include the likes of India, Japan and Indonesia. (Please see update below for more on that.)
Here's three things we learned from Mr. Ek and co in the past few hours…
---
1) Spotify is raising its prices around the world – and Daniel Ek's not averse to keep doing it
As noted in our story here, Spotify's Premium subscriber rate is moving up faster than the total amount of revenue being paid by those premium subscribers. That inevitably means one thing: SPOT's Premium ARPU (Average Revenue Per User) is still on the slide.
In Q3, that ARPU dropped 10% year-on-year, to €4.19 per month.
That declining ARPU will likely displease record labels – though Spotify told investors today that it has recently been making steps towards "testing" widespread price increases.
In its Q3 letter to shareholders, SPOT revealed that "in October, we elected to raise the price of [our] Family Plan in 7 markets (Australia, Belgium, Switzerland, Bolivia, Peru, Ecuador, and Colombia) alongside Duo in Colombia".
Sure enough, a glance at Spotify's pricing in Belgium (see below) shows that the price of its Family Plan is now €15.99 a month in the market. That's €1 more than in neighboring territories such as France.
---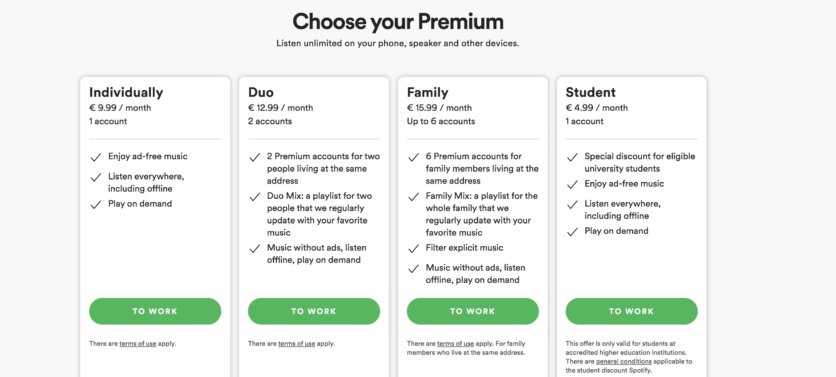 ---
Speaking on a call with investors today, SPOT boss Daniel Ek said that "​while it is still early, initial results indicate that in markets where we've tested increased prices, our users believe that Spotify remains exceptional value and they have shown a willingness to pay more for our service".
Added Ek: "As a result, you will see us further expand price increases, especially in places where we're well-positioned against the competition and our value per hour is high.
"I would, however, throw in one big caveat: we will continue to tread carefully in these COVID times to ensure we don't get ahead of the market."
In EK's prepared remarks for shareholders, he once again mentioned his keenness for price rises in future.
Said Ek: "[Long] term, if engagement and/or our listener value per hour is high, it gives us the ability to selectively increase our price."
"you will see us further expand price increases, especially in places where we're well-positioned against the competition and our value per hour is high."

Daniel Ek on Spotify's Q3 earnings call today
Maybe he knew something was coming: hours after Ek's comments, Netflix announced that it's hiking its prices again in the US, upping its standard monthly plan from $12.99 per month to $13.99 per month.
Spotify's view on this topic has clearly softened a bit since its ex-CFO, Barry McCarthy, responded to a query about potential price rises as "one of the really dumb questions I get".
Today didn't bring any news on Spotify raising its standard individual Premium account pricing, however.
The firm did just that in Norway in summer 2018, stating at the time that a 10% increase in subscription prices in the territory was a "test".
That "test" in still in place, over two years later, with an individual subscription costing 109 NOK per month, equivalent to $11.45 at current exchange rates.
---
2) Spotify is going to pay out over €4bn to music rightsholders this year
The stellar financials of both Universal Music Group and Sony Music Group in Q3 were driven by streaming – and Spotify remains a primary factor in this success.
In his prepared remarks to shareholders today, Daniel Ek revealed "we've paid out more than €1 billion to rightsholders in every quarter in 2020, and I'm proud to say that we're on track to pay out another €1 billion-plus in Q4".
That's obviously over €4bn set to be paid out to music rightsholders from Spotify across the course of this year.
In it annual filings with the SEC, Spotify has previously declared that, across the course of its lifespan, it paid over €15bn to music rightsholders up to the end of December 2019.
SPOT therefore looks likely to surpass the magic €20bn payout mark any time soon.
Interestingly, it looks like the fight for rightsholders to claim a chunk of those revenues via Spotify's pro rata ('one big pot') royalty system is getting more competitive.
The firm revealed to investors today: "Despite the challenges stemming from the Covid-19 pandemic, we saw a 13% increase in new music releases compared with Q2 on our platform."
Added Ek: "One of the residual benefits of our time indoors is that many creators have turned to what they do best – creating.
"As a result, future music releases look very strong too, as we know new music is coming from artists like Billie Eilish, Drake, and Sir Paul McCartney, just to name a few."
---
3) Spotify has a subscriber growth problem in emerging markets
Spotify had 144 million Premium subscribers worldwide at the close of Q3, the firm announced today, up by 6m on Q2.
Within those results, Spotify trumpeted its Q3 performance in Russia (and 12 surrounding countries), where the platform launched in July.
"We saw strong subscriber growth across all regions in the quarter and finished ahead of our expectations," SPOT told investors today.
But this statement appears to clash with reality.
---
UPDATE: As explained below, MBW determined Spotify's approximate subscriber numbers in 'Rest Of World' by applying the percentage of SPOT's global subscribers (10% of 144m) found in this region, as published in the firm's Q3 shareholder letter. This would result in 14.4m subscribers in 'Rest Of World'. In the prior quarter (Q2), Spotify suggested that 11% of its then-global subscriber base (138m) were in 'Rest Of World', which works out to 15.2m subscribers. i.e. an 800,000 decline quarter-on-quarter.
In reaction to this article, a Spotify spokesperson has denied that its subscribers in 'Rest Of World' declined in Q3, repeating the line: "We saw strong subscriber growth across all regions in the quarter."
This is befuddling, to say the least, because based on the figures in Spotify's shareholders' letter, that is an impossibility.
The only way SPOT could have gained subscribers in 'Rest Of World' is if it rounds the percentage figures it gives for its global subscriber base in its shareholders' letter (see below) – and if this rounding has led to an unflattering quarter-on-quarter comparison.
This is obviously a little tedious, but it's therefore plausible, for example, that 'Rest Of World' claimed up to 10.5% of Spotify's global subscribers in Q3, but this figure was then rounded down to 10% in its quarterly shareholder letter. In other words, in theory Spotify's 'Rest Of World' subscriber base could have been as high as 15.1m in Q3.
This would still be smaller than the 15.2m 'Rest Of World' figure we've calculated for Q2 below, based on Spotify's published data for that quarter (that 11% of its 138m global subscribers in Q2 were based in the region). However, it's also plausible that this 11% figure was rounded up in SPOT's shareholder letter, if you're following. This means that Spotify's true Q2 'Rest Of World' subscriber figure could have gone as low as 10.5% of 138m, or 14.5m.
We reiterate, however, that if the statistics published in Spotify's shareholders' letter are to be taken as printed, it could only mean the firm lost subscribers in 'Rest Of World' in Q3.
---
Each quarter, Spotify breaks down the the percentage of its global subscriber base in four territories: North America (i.e. US and Canada), Europe (including the UK), Latin America and 'Rest Of World'.
In Q3, according to MBW's approximate calculations based on these figures, Spotify lost 800,000 subscribers in 'Rest Of World', despite a net gain of 6m subscribers globally in the quarter.
'Rest Of World' includes Japan, Indonesia,  Vietnam and India – which, between them, offer a potential addressable population for Spotify of approximately 2.7 billion people.
(Spotify appears to count Russia within 'Europe', if you were wondering where it sat in the below categorization.)
---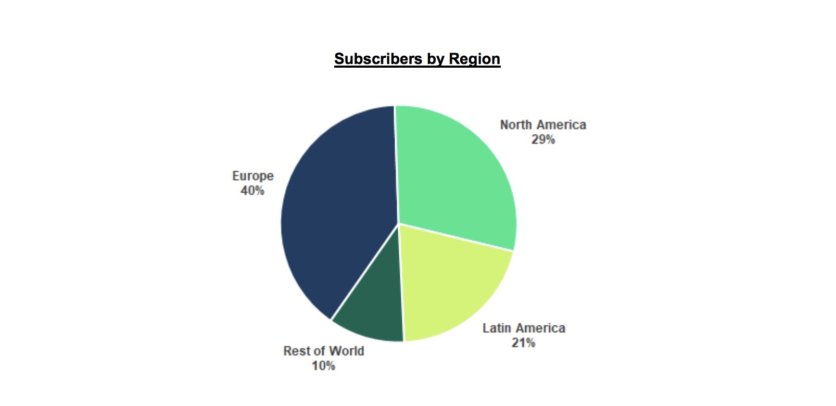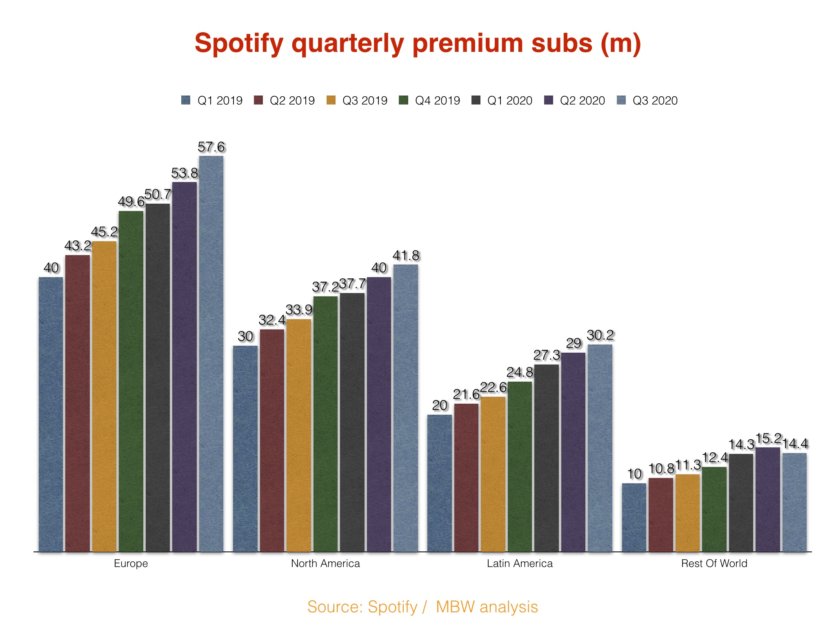 ---
Across Europe (+3.8m), North America (+1.8m) and Latin America (+1.2m), Spotify actually added 6.8m subscribers in Q3.
The net loss of 800,000 subscribers in 'Rest Of World' actually dragged down Spotify's net global gain to 6m.
Why's all of this important?
Because as streaming growth inevitably starts to plateau in Spotify's most mature markets, the company's investors will want to see an acceleration of subscriptions in countries like India, Indonesia, Vietnam etc.
With Spotify's Q3 failure in this mission ringing in their ears, it surely won't be long before the firm's institutional investors start demanding bigger and better results in these crucial emerging markets.Music Business Worldwide