The MBW Review is where we aim our microscope towards some of the music biz's biggest recent goings-on. This time, we delve into the numbers revealed in Universal Music Group's Q3 2020 results. The MBW Review is supported by Instrumental.
---
Universal Music Group just stormed Q3.
According to numbers from UMG parent Vivendi, the music company turned over €992m ($1.14bn) in recorded music streaming revenues in the three months to end of September.
This $1bn-plus figure was up by 22.6% in organic terms on the prior year quarter (Q3 2019), and represented only the second time in UMG history that the firm's recorded music streaming revenues have surpassed a billion dollars in a single quarter.
Want a memorable take-home stat for just how well UMG is doing from streaming in the Year of Covid-19?
Across the first nine months of 2020, streaming platforms paid UMG some €2.806bn ($3.12bn) in global recorded music revenues.
That was up by $411m (or up 15.8% in organic terms) on the €2.404bn ($2.71bn) that Universal generated from Spotify, Amazon Music et al in the equivalent nine months of 2019.
This obviously puts Universal firmly in contention to generate over half a billion dollars more from streaming in the full 12 months of 2020 than it did last year.
---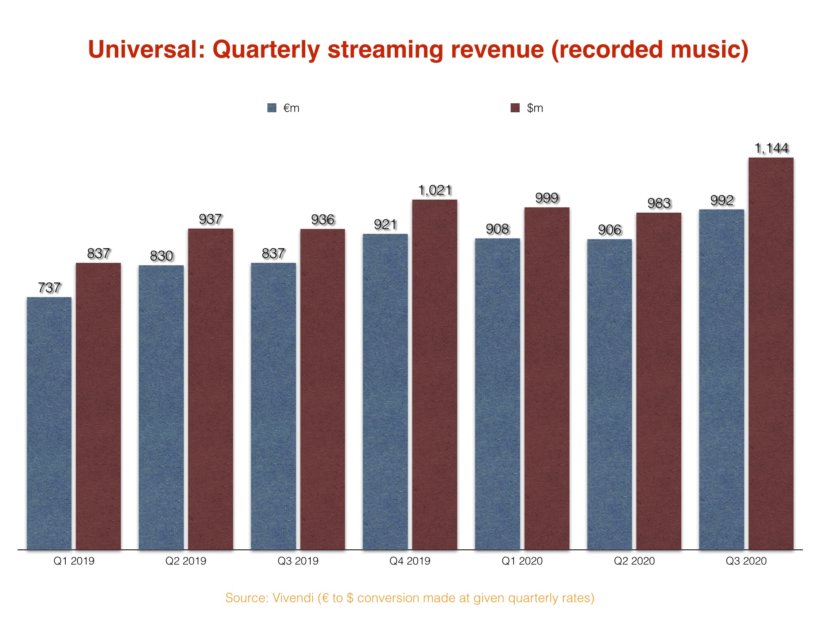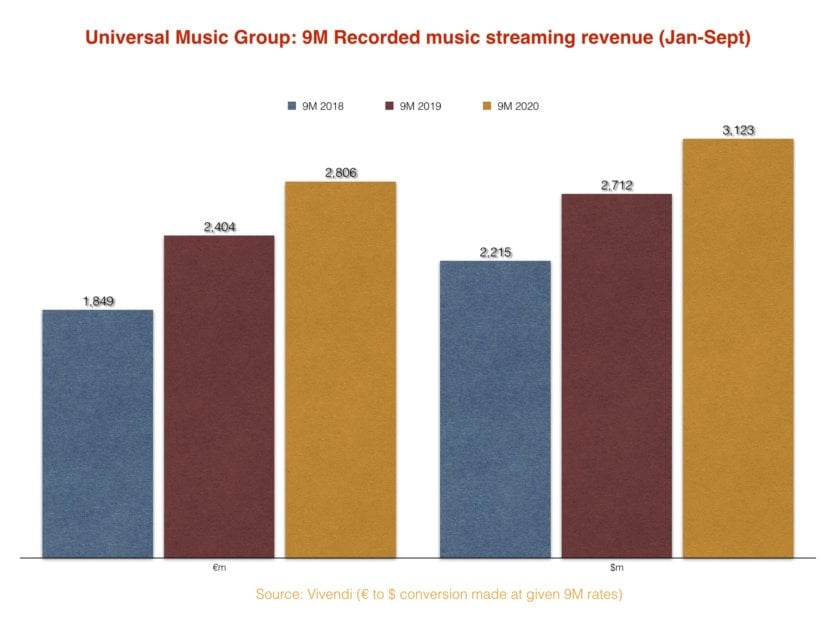 ---
After a subdued Q2, UMG came roaring back to life in Q3.
Vivendi's results show that the music company's total recorded music revenues (including streaming plus licensing income and physical and download sales) hit €1.481bn ($1.71bn) in Q3, up 11.0% on an organic basis.
Streaming wasn't the only star performer, either: Despite the pandemic, Universal's physical music sales soared in Q3, up 14.1% YoY to €256m ($295m) in the quarter.
Recorded music licensing revenues, however, including sync, were down by 25.0% in Q3, to €147m ($170m).
UMG's overall revenues in Q3 – including recorded music, publishing and merch – were up 6.1% to €1.855bn ($2.14bn).
Music publishing revenues grew 6.2% YoY in the quarter, while merchandise revenues (unsurprisingly) plummeted by 44.4%, generating just €74m ($85m).
---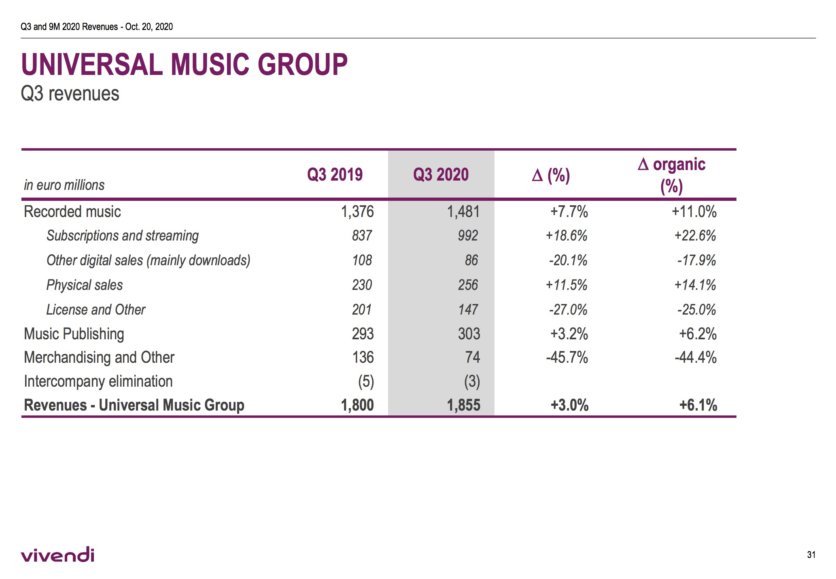 ---

As a result of its bumper, streaming-driven Q3, Universal's overall recorded music revenues in the first nine months of 2020 hit €4.252bn ($4.73bn), up 6.2% on an organic basis versus the same period of 2019.
And UMG's total revenue – including publishing, recorded music etc. – reached €5.314bn ($5.91bn) in the Jan-Sept period of 2020. This was up 4.4% on an organic basis versus the same period of 2019.
Importantly for UMG (and Vivendi's shareholders), the company once again appears on track to generate more than $8bn in a single calendar year, just as it did in 2019.
---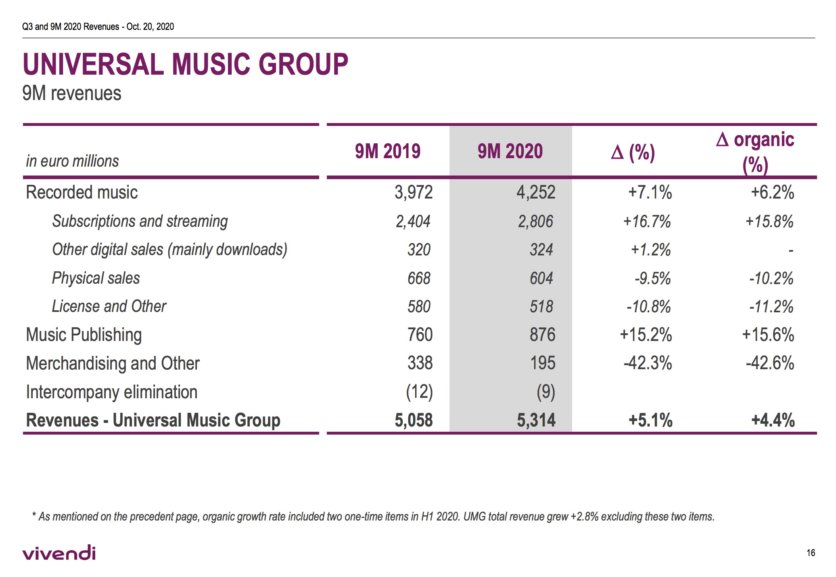 ---
As reported earlier, Vivendi confirmed today that it plans to float Universal Music Group on the stock market in 2022.
Vivendi's filings further confirmed that UMG's biggest revenue-generating artists in the first nine months of 2020 were, in order: (i) The Weeknd; (ii) Billie Eilish; (iii) King & Prince; (iv) Post Malone; and (v) BTS.
---

The MBW Review is supported by Instrumental, which powers online scouting for A&R and talent teams within the music industry. Their leading scouting platform applies AI processes to Spotify and social data to unearth the fastest growing artists and tracks each day. Get in touch with the Instrumental team to find out how they can help power your scouting efforts.Music Business Worldwide