Spotify published its financial results for Q3 2020 today (October 29), revealing that its global Premium Subscriber base grew to 144 million in the quarter (ended September 30).
That was up by 6m (+5%) subscribers on the 138m SPOT counted at the end of the prior quarter (Q2 2020), and up by 31m (+27%) year-on-year.
That Premium subscriber growth translated into Premium revenue of €1.790 billion for Spotify in Q3, which was slightly up (+2%) on the €1.758bn generated in the prior quarter (Q2 2020) and up 15% year-on-year.
Spotify's total global Monthly Active Users, (MAUs), meanwhile, grew 29% year-on-year to 320m in Q3 2020, which was above the top end of the company's guidance range of between 312m-317m MAUs.
Spotify's premium subscriber growth (+27%) outpacing its premium revenue growth (+15%) could only mean one thing: Spotify's average revenue per user (ARPU) continued its downward spiral in Q3.
SPOT's ARPU of €4.19 in Q3 was down 10% year-on-year on the €4.67 reported in Q3 2019, which was itself down 1% compared to the same quarter in 2018.
Outside of currency effects, "product mix accounted for the majority of the ARPU decline, followed by geographic mix," according to Spotify.
In other words, SPOT's promotional deals, family plans, telco bundles and international pricing are causing a decline in the average amount paid by Spotify Premium subscribers worldwide.
---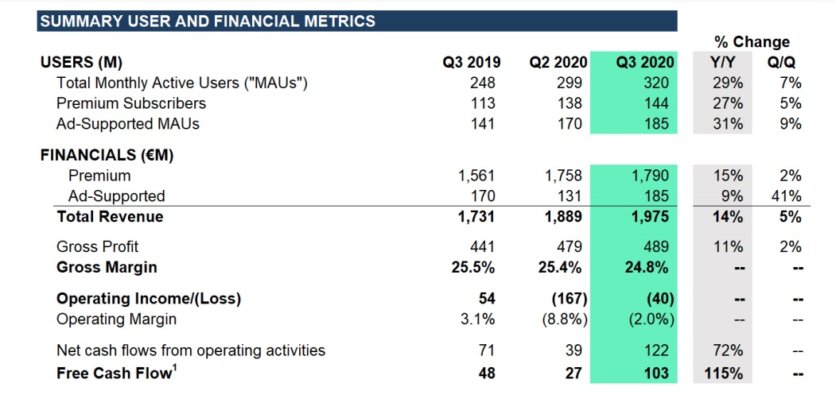 ---
Elsewhere, Spotify's Ad-Supported MAUs grew by 15m (9%), from 170m in the prior quarter (Q2 2020), to 185m in Q3, and by 44m (31%) on the 141m ad supported MAUs counted in same quarter in 2019.
Ad-Supported revenue in Q3 was €185m, up by 9% year on year and up by a significant 44% on the prior quarter (Q2) when, hampered by the effects of the pandemic, Spotify generated ad-supported revenue of €131m.
Indeed, Spotify stated to investors today that its Q3 ad-Supported revenue highlights "a return to growth following the impact of the global pandemic in Q2".
Added Spotify: "We experienced positive Y/Y revenue growth during each month of the quarter, with September finishing particularly strong as business activity moved towards a more normalized state. The rebound was led by our Podcast and Ad Studio channels, which grew in the strong double digit range on a Y/Y basis."
---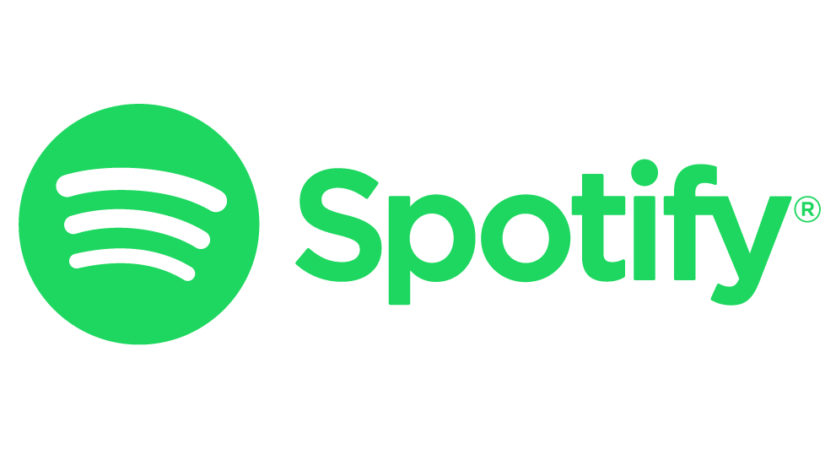 Spotify generated total revenue of €1.975bn ($2.28bn) in Q3, reflecting 14% year-on-year growth.
That was in the high end of the firm's expectations, as spelled out in its guidance for shareholders (SPOT forecast Q3 revenues of €1.85bn to €2.05bn).
Spotify was also expecting to post a quarterly operating loss between €70m and €150m in Q3.
In fact, its Q3 op loss was less severe, weighing in at -€40m (-$46m) for the quarter, representing a material recovery after posting a -€167m op loss in Q2.
However, in the first nine months of this year Spotify racked up a total net loss of €456m ($508m).
This was significantly affected by €306m ($341m) being spent on finance costs.
The company's pre-tax loss (before a tax benefit) in this Jan-Sept period was even harsher, coming in at €530m ($590m).
---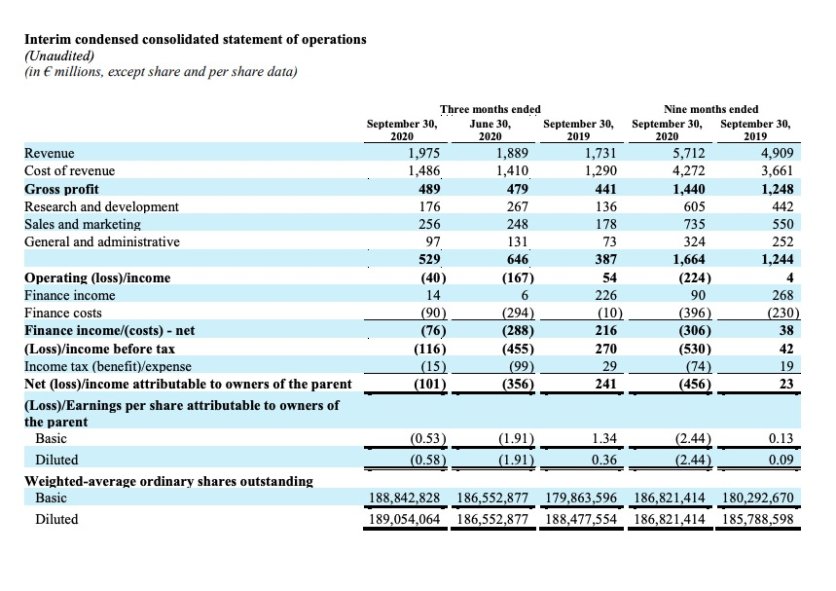 ---
Spotify's guidance for the next quarter (Q4 2020) includes total MAUs of between 340-345 million, total Premium Subscribers of between 150-154 million and total Revenue between €2bn-€2.2bn.
In a letter sent to shareholders today, Spotify said: "The business performed at a high level in Q3. Highlights included strong MAU and subscriber growth, a recovery in global consumption hours, record low churn below 4%, better than expected Gross Margin, and Free Cash Flow of €103 million.
"Headwinds included negative effects from FX movements which slowed revenue growth by 500 bps on a constant currency basis.
"Revenue was slightly better than expected excluding the impact of FX. Notably, some of our more mature regions exhibited accelerating user growth, our advertising business returned to growth, and new market launches in Russia and 12 surrounding markets unlocked significant pent-up demand, adding a helpful accelerant to our results."
"Despite the challenges stemming from the COVID-19 pandemic, we saw a 13% increase in new music releases compared with Q2 on our platform."

Spotify
Added Spotify: 'We continue to lean into our goal of becoming the world's number one audio platform through compelling new music releases and exclusive creative non-music content.
"As of Q3, we had 1.9 million podcasts on the platform (up from more than 1.5 million podcasts in Q2). Of note, 22% of our Total MAUs engaged with podcast content in Q3 (up from 21% of MAUs in Q2 2020).
"Despite the challenges stemming from the COVID-19 pandemic, we saw a 13% increase in new music releases compared with Q2 on our platform.
"This was led by Taylor Swift's folklore album, which set a Spotify record for the most first day album streams by a female artist while making Taylor Swift the most streamed artist on Spotify on any day this year.
"BTS also released their first all-English-language single Dynamite in August and had the biggest first day globally on Spotify for a single in 2020."Music Business Worldwide