It's been another eventful week in the history of Daniel Ek's Spotify.
On Wednesday (January 27) Swedish newspaper Svenska Dagbladet ran a splash which gave the world an insight into the company's keenness to complete an IPO in 2016.
The big revelation: Ek's team are currently trying to drum up $500m more investment, with incentives for backers such as a guaranteed 4% interest rate.
In addition, should these investors so wish, Ek has promised them the chance to covert their cash into Spotify shares should the company execute an IPO this year – complete with a hefty 17.5% discount.
(MBW subsequently pointed out the potential outrage which may follow Spotify's flotation when investors and equity holders – including the major record companies – get rich, while musicians gain no financial benefit from the process.)
Yet there was also secondary scoop within Svenska Dagbladet's article: it reported that Spotify now has 28 million paying subscribers around the world and 'nearly 100m' total active users.
This is consistent with MBW analysis from earlier this year, when we estimated that Spotify racked up more than 25m subscribers by the end of 2015.
And what's really significant about these new numbers, aside from the fact that Spotify's subscriber base is now in touching distance of 30m people, is the rate of conversion…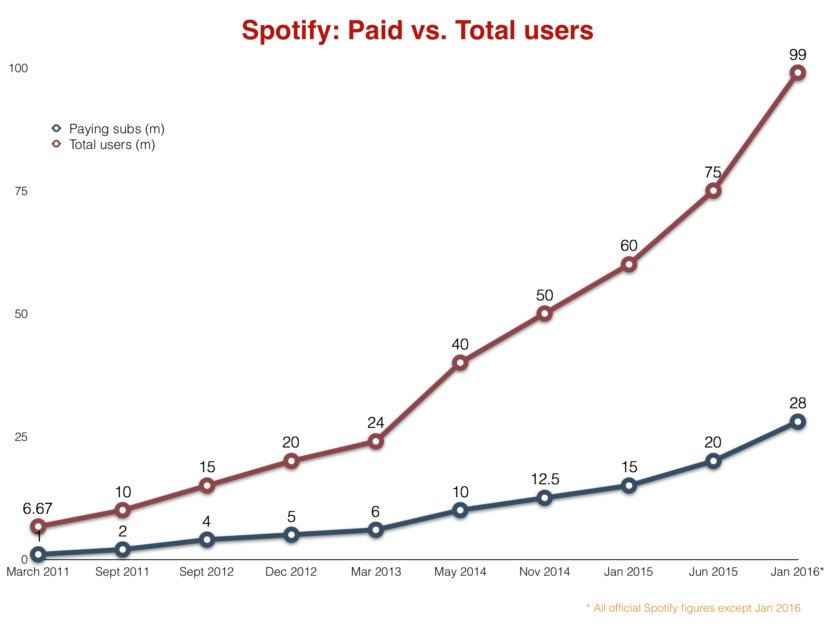 For argument's sake, let's assume that Spotify's total active user number is currently as close to 100m fans as possible without breaching its threshold: in other words, 99m.
Going off this figure, Spotify would have successfully converted 28.3% of its customers into paying subscribers.
(MBW understands that Spotify's active user number is actually slightly lower than 99m, and therefore its premium conversion rate is slightly higher than 28.3%. But doing things this way is a fail-safe for a conservative estimate. Svenska Dagbladet was specific and certain of the 28m figure, and MBW sources have since corroborated its report.)
Here's why that 28.3% conversion rate really matters: from 2012 through to the start of 2015, this figure never went above or below 25%.
Then, in June last year Spotify announced its last official user growth update: 75m total active users, with 20m paying subscribers.
Aka a 26.7% conversion rate.
Going by the Svenska Dagbladet figures, that number has now risen again, no doubt fueling more debate around the effectiveness of Spotify's freemium model when it comes to getting customers to handing over their credit card details.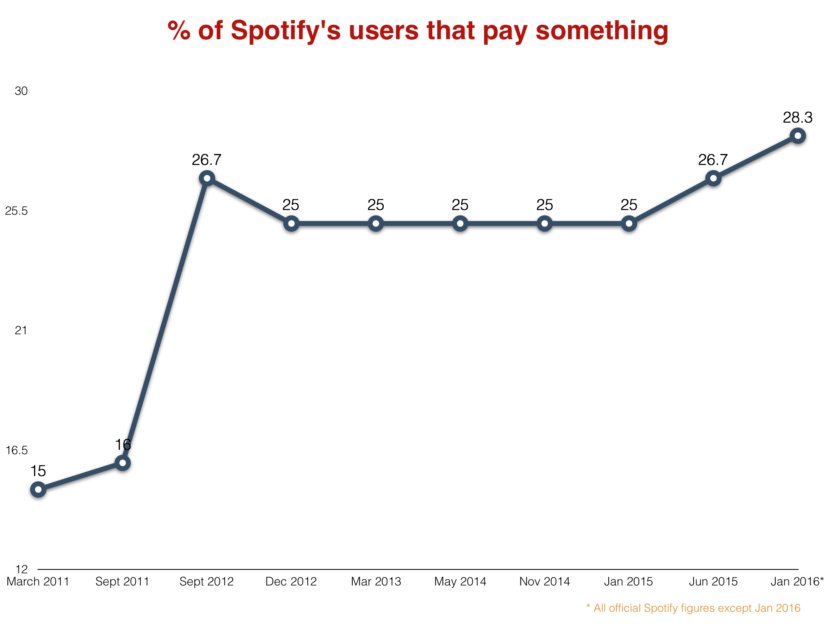 Another important angle: we must remember that the 28m number doesn't tell us how much each premium subscriber is paying.
That's particularly notable because Spotify ran a global incitement subs offer in the final months of 2015, which in the US gave customers three months of premium Spotify for just $0.99.
MBW previously worked out that the average worldwide annual Spotify subscription in 2014 was worth €65.50.
Due to currency fluctuations and special price promotions, this was almost half the standard €120 yearly subscription fee most customers would expect to pay.
Still, if 28m people are paying that amount for Spotify right now, they will be generating a whopping €1.834bn ($1.986bn) a year – approximately 70% of which will be paid to music rightsholders.
That's around $116m going into music business coffers every single month.
[Note: Since the end of 2012 Spotify has released its customer data as 'active users' rather than 'registered users', meaning figures after this point will not comprehensively reflect any inactive Spotify users.]Music Business Worldwide