Yesterday, news broke that Apple Music had raced to 10m subscribers within seven months since its launch.
The last update we had from Spotify on its user numbers was in June last year, shortly before Apple Music's arrival, when Daniel Ek's company confirmed that it had 20m paying customers and 75m active users overall.
That was, until last night.
Minutes after the Apple Music 10m news was reported, Spotify's communications boss Jonathan Prince (pictured inset) tweeted the following:
"Yup, our subscriber growth in the last six months of 2015 was the fastest ever."
Touché.
But what does that mean in terms of hard numbers?
Well, take a look at the below chart, and you can see that Spotify's fastest ever subscriber growth previously took place in the first six months of 2015, when it grew by 5m people.
So in the second six months of 2015, according to Prince, that subscriber number must have grown by 5m people or more.
Volia: Spotify's subscriber base must now be north of 25m.
That's people paying something for Spotify, not necessarily $9.99 per month.
It's worth remembering that the end of 2015 saw the company pushing its '$0.99 for three months' deal around the world.
Meanwhile, mobile bundle promotions also enable consumers to pay less than the monthly RRP for Spotify Premium.
MBW analysis of Spotify's 2014 user base concluded that the service's average subscriber was actually paying €5.45 a month.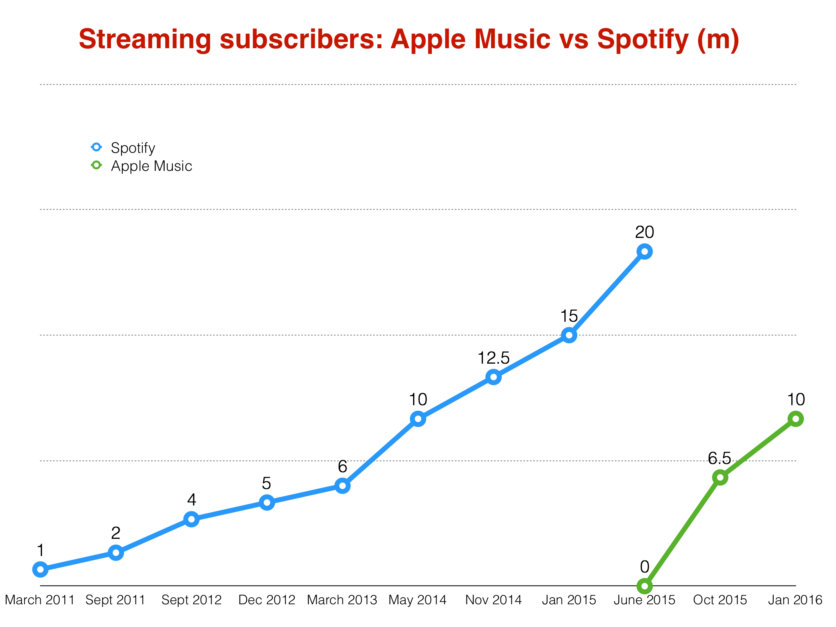 Music Business Worldwide