Just hours after confirming a $526m investment round, Spotify has announced that it has now attracted over 20m paying users.
The timing surely isn't coincidental, coming just two days after Apple revealed Apple Music – and mentioned that its app will be installed on almost a billion Apple devices when it launches on June 30.
Spotify says its total user base has now surpassed 75m people, leaving 55m existing active free users.
Interestingly, Spotify announced 10m paying subscribers at the end of May 2014. That means it has now doubled its subscriber base in little over a year.
And don't forget, that initial 10m group of subscribers took the service the best part of six years to build up.
(Spotify's last update from January this year was of 15m paying subs and 60m total active users.)
Spotify says it is now adding a subscriber to its platform every three seconds.
It's also provided some information on what it says it's actually paying artists.
In a blog post, Spotify confirms that it has now passed more than US $3bn to songwriters, artists and other rights-holders since launch – and more than $300m in the first three months of 2015.
It's also provided two graphs that are sure to ignite some debate.
The blue columns below denote average actual payouts to rights-holders (labels, artists, songwriters and publishers) on behalf of a single artist or band over the last 12 months – which started with 10 million subscribers.
The green columns show projected average payouts over the next 12 months for the same acts, but representative of a starting point of 20 million paying subscribers.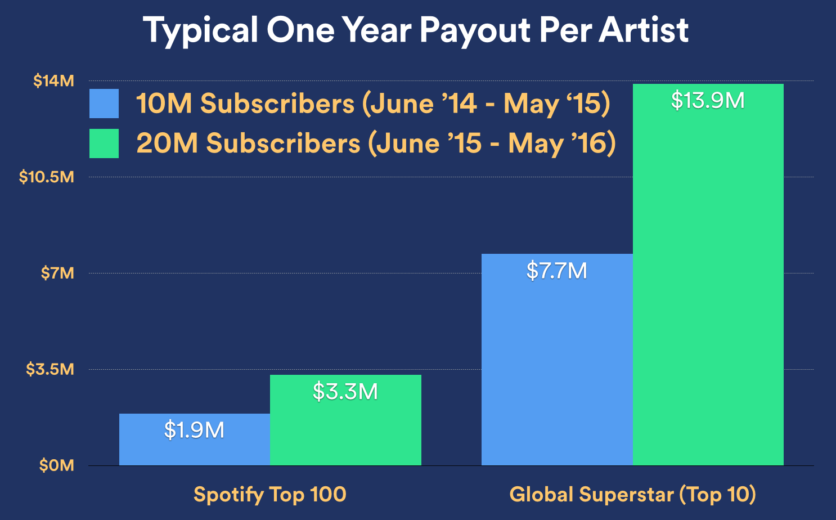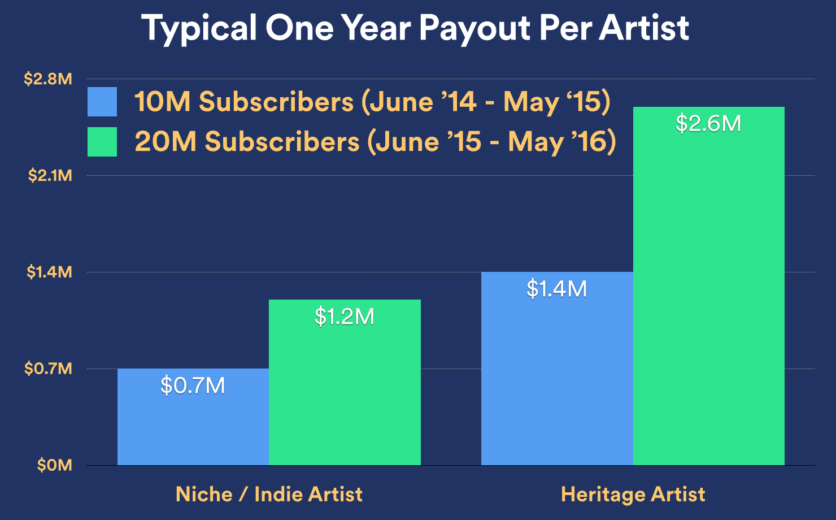 Music Business Worldwide