Much celebration took place at Spotify HQ yesterday when the Swedish company announced that it had surpassed 20m paying subscribers and 75m total active users.
This brought a double-helping of good news for music industry rights-holders: not only had Spotify's paying subscriber base jumped up by 10m in the year since May, 2014, but its free-to-paid ratio showed signs of improving.
As previously noted on MBW, the conversion rate from freemium to subscription on Spotify has typically stood at 25%; however high the company's total active user base, a quarter have stuck their hand in their pocket.
But with the latest 20m/75m numbers, that percentage has now increased slightly to 26.7%.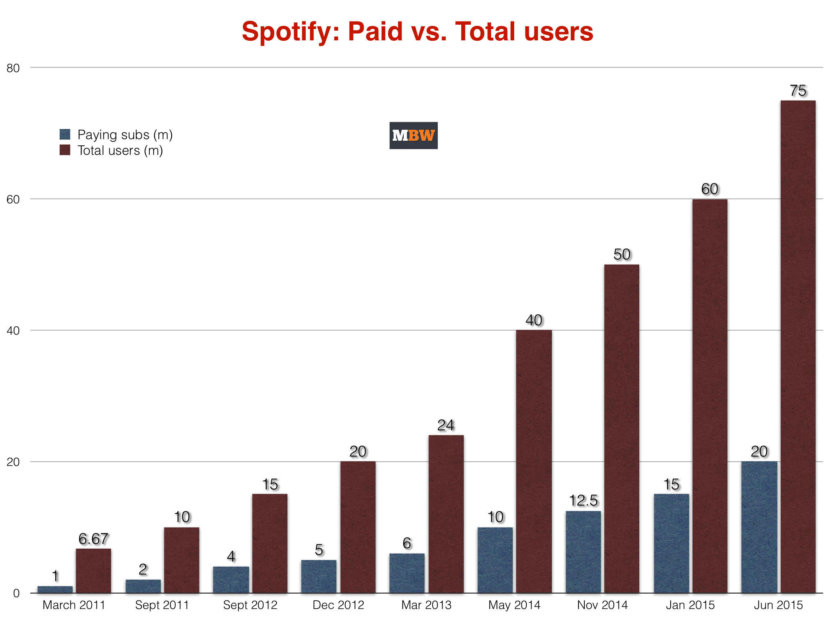 One in the eye for the freemium doubters? All depends on how you look at it.
Spotify hasn't broken down exactly what these 20m subscribers are paying – and it's that information, Average Revenue Per Subscriber (ARPS), that will be critical to the future of its partner music businesses.
At two junctures in the past six months – just before Christmas and then again in May – Spotify has given away a three-month trial to its service for just $1.
It's impossible to know exactly how many of Spotify's paying subs are on this or other discount deals, including student and family offers.
Or, for that matter, how many are paying $9.99 a month direct, and how many are tied into telco bundle deals.
The best we can do is look to the past to find our Spotify ARPS.
With that in mind, here's a graph MBW has put together showing Spotify's approximate Average Revenue Per Subscriber (ARPS) for 2012, 2013 and 2014.
(You're looking at the green bar here – based on official paying Spotify subscriber numbers at the end of each year vs. the revenue these consumers generated. Freemium user data has been removed.)
As you can see, 2014 was significantly cheaper in ARPS terms than the two years before it.
Spotify had 7m more subscribers in 2014 than they did in 2013, but they were individually paying less for the privilege.
These 2014 subscribers' €65.50 average annual spend equated to an average monthly spend of €5.45 in the year.
That works out to almost half Spotify's standard price of €9.99pm.
It's a fair guess that, due to the two €1-for-three-months offer more than anything else, this ARPS has now slid down again – but we'll have to wait until Spotify reveals its FY 2015 results next year to know for sure…
[Data based on Spotify's annual fiscal reports – breaking out subscriber value as well as total active users.]Music Business Worldwide