Are Spotify's annual net losses catching up with it? Or is the company simply planning another significant wave of global expansion?
They will be the questions on the lips of the music business today, as it's revealed that Daniel Ek's company is currently seeking to raise a further $500m in financing.
The news comes just under seven months after Spotify's last major fund-raising round, when it took on $526m investment from 13 partners including Goldman Sachs, TCV, GSV Capital and Rinkelberg Capital – just three weeks before the launch of arch rival Apple Music.
If it's new funding raise is successful, it will have taken on more than a billion dollars of investment well within a single year.
Swedish newspaper Svenska Dagbladet reports that Spotify is attempting the new $500m raise through convertible loan notes – essentially tickets that can be converted into equity down the line.
It shows screenshots of a tender document in which Spotify promises to pay 4% interest on the loans to the investors.
"The Notes will automatically convert into common stock on the closing date of the qualifying IPO… at a rate reflecting A discount of 17.5%."

Spotify tender document
In addition – and this is a key point – Spotify promises investors that they will receive a further 17.5% discount on Spotify shares after (and if) it pulls off a successful IPO within a year.
If Spotify doesn't manage to execute an IPO within this timeframe (on the NYSE, NASDAQ or 'similar marketplace of recognised national standing'), it will be punished: after a year has expired, the discount rate will increase 2.5% every six months.
It all represents a potential tasty windfall for investors when (or if) Spotify finally floats.
Spotify has already raised $1.06bn in seven rounds of investment to date from 26 investors – including the likes of Coca-Cola and Hong Kong-based Li Ka-Shing.
Its stakeholders also include the three major music companies (UMG, Sony and Warner), who were given equity stakes as part of licensing deals.
The Dagbladet story claims that Spotify believed it had 45% of the global market for streaming at the end of 2015 – presumably interactive streaming users (free and subs) across all services that have an established paid-for tier (discounting YouTube and SoundCloud).
At that time, Spotify would have had close to 100m active users, according to MBW's interpretation of recent comments from the firm's comms chief Jonathan Prince.
Spotify's new raise comes just a week after its French competitor Deezer pulled in €100m ($109m) in new investment from Access Industries and Orange.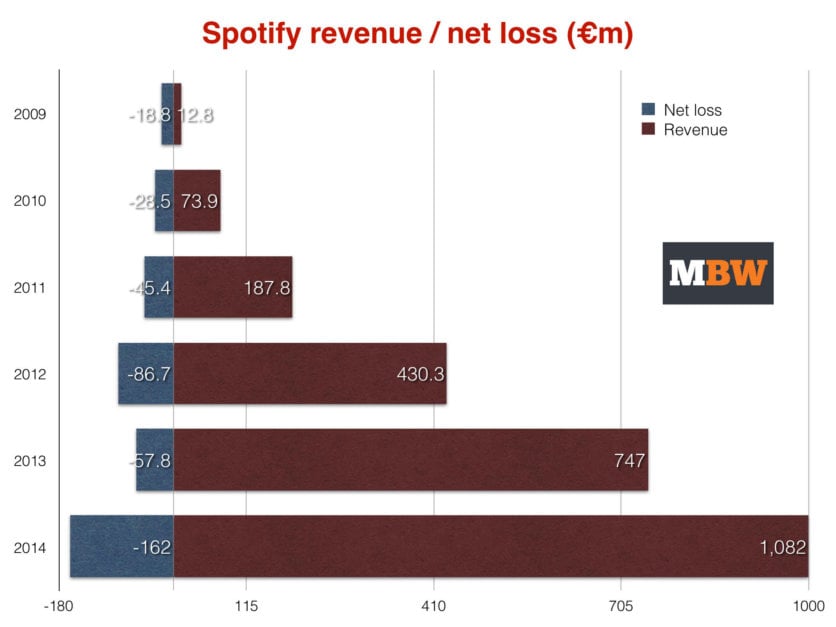 Music Business Worldwide