On Friday (June 12), MBW spotted via an SEC filing that Tencent Music Entertainment (TME) had acquired 4 million Class A shares in Warner Music Group in a transaction worth around $100m.
Those 4m shares equated to 5.2% of outstanding Class A shares, and 0.8% of Warner Music Group as an entire company.
We've subsequently learned, via an additional filing also lodged with the SEC on Friday (see below), that China's Tencent Holdings – the majority owner of TME – has itself acquired a separate stake in Warner of the same size as TME's (4 million shares / 0.8% of Warner's company).
Tencent Holdings did so via its 100% subsidiary, Huang River Investment Ltd.
---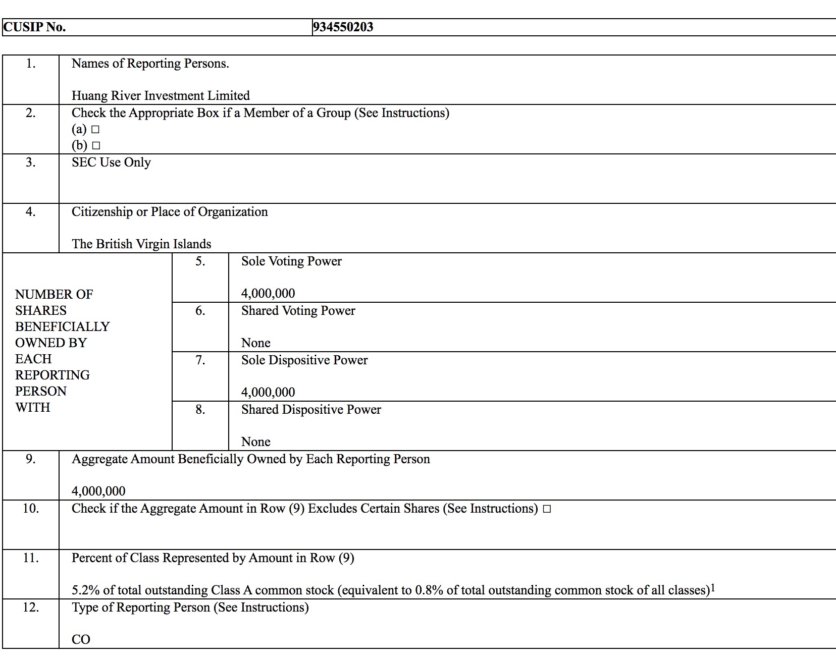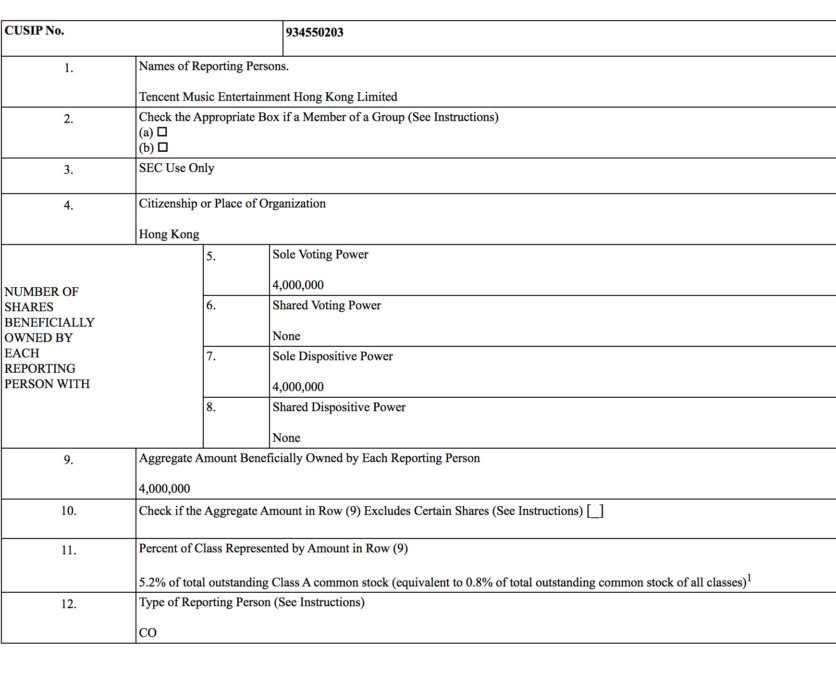 ---
Both of these transactions took place on Wednesday, June 3, the day Warner floated a portion of its company on the Nasdaq. And both of them were worth circa $100m.
This means that the Wall Street Journal's earlier report suggesting that Tencent was considering a $200m acquisition of WMG shares was right on the money.
It also means that Tencent – via Huang River and via TME – now controls 8 million Class A shares in Warner, equivalent to 1.6% of the entirety of the music company. (WMG remains majority-owned, privately, by Access Industries and Len Blavatnik.)
A Tencent-led consortium already owns a 10% stake in Universal Music Group, of course, for which it paid $3.4bn in March this year. Tencent also has the option to acquire a further 10% in UMG before mid-January 2021.
In addition, Tencent owns 9.1% of Spotify, with three-quarters of that stake owned by Tencent Holdings and the remaining quarter by TME.
---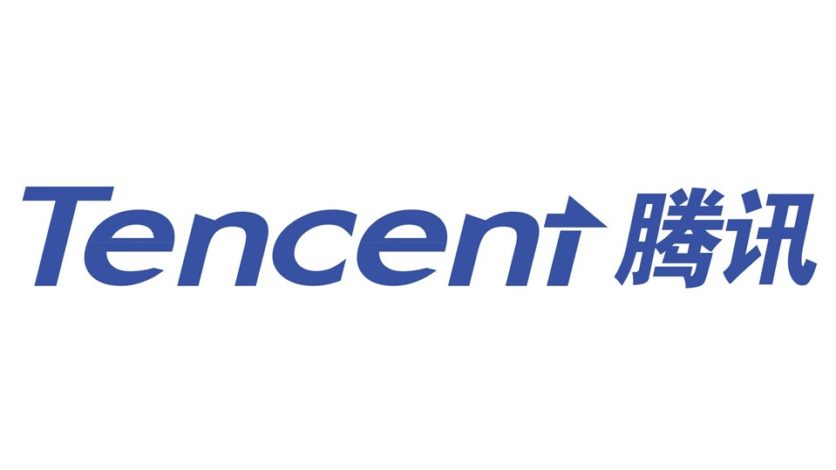 Tencent's ownership of minority stakes in two of the world's 'big three' music rights companies is made a touch more interesting by the fact that the Chinese giant may soon find itself opposite both Warner and Universal at the negotiating table.
Currently, Tencent Music and its owned digital music services (QQ Music, Kuwo and Kugou) have long-running licensing deals in place with the three major recorded music firms in China.
These deals not only mean that TME's services are licensed to use music from Universal, Sony and Warner, but also that TME exclusively sub-licenses this catalog to rival digital services in the market.
Those rivals have publicly accused TME of unfairly ramping up the price for this music, with China's antitrust authority beginning an investigation into said sub-licensing practices last year.
Time is ticking down on the three majors' current deals with TME, with the most likely future outcome seeing the majors negotiate new, direct deals with TME and its competitors in China, including NetEase Cloud Music, while dumping the current sub-licensing setup with TME.
As a result, TME may soon find itself in the unusual position of debating licensing terms with two major record companies in which it owns minority stakes.
Tencent may make no attempt whatsoever to use its ownership stakes in these companies as a factor in these negotiations, of course… but if it did, you can bet you bottom dollar that Warner and Universal would be keen to strongly swat it away.
---
William Ding is CEO of NetEase, parent of TME rival NetEase Cloud Music in China.
In February, on a Q4 company earnings call, he was asked his thoughts on the rumor that recorded music exclusivity agreements between the three majors (Universal, Sony and Warner) and TME are set to expire later in 2020 and into 2021.
He said that in his view, due to TME's sub-licensing agreement with the majors' catalog, "the whole industry has been overpaying the content cost twice, three times or even more… in this unfair setup".
"The whole industry has been overpaying the content cost twice, three times or even more… in this unfair setup."

William Ding, CEO of NetEase, on TME's sub-licensing in China (speaking in February)
Ding further commented (translated): "We hope that, going forward, all label companies, not just the big three, can comply with the regulatory frameworks serving China, with the aim to provide a healthy environment to the overall industry as a whole.
"Financially, [the collapse of these Tencent sub-licensing deals] is definitely going to make the cost structure of NetEase Cloud Music [and] of the whole industry to return to a more healthy and normalized level."
Warner Chappell Music, the publishing arm of Warner Music Group, recently inked a new licensing deal with NetEase Cloud Music in ChinaMusic Business Worldwide