The scale of NetEase Cloud Music, one of China's leading music streaming platforms, is something to behold.
The service surpassed over 800m registered users at the end of last year, parent company NetEase recently confirmed in its Q4 results. NetEase also claims (see below) that the music of more than 100,000 independent artists was played more than 270 billion times (!) on the platform in 2019.
That 800m registered user figure was up by 200m on the 600m users NetEase confirmed at the close of 2018. (Spotify, always a useful reference point, had 286m monthly users worldwide at the close of Q1 2020, though these were active users, as opposed to registered users – an important distinction as the latter group don't have to be still actively using a platform to qualify.)
NetEase Cloud Music is also very well-funded, raising over $1.3bn in the past two years alone.
In October 2018, the platform completed a $600m round of financing from investors including Baidu, General Atlantic, Boyu Capital and several others.
Then, in September last year, Chinese retail giant Alibaba confirmed that it had acquired a minority stake in NetEase Cloud Music, pumping a further $700m into the business to obtain it.
---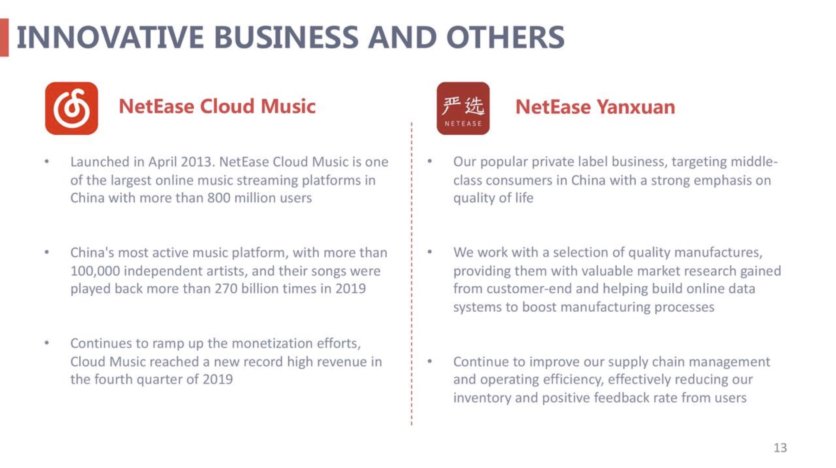 ---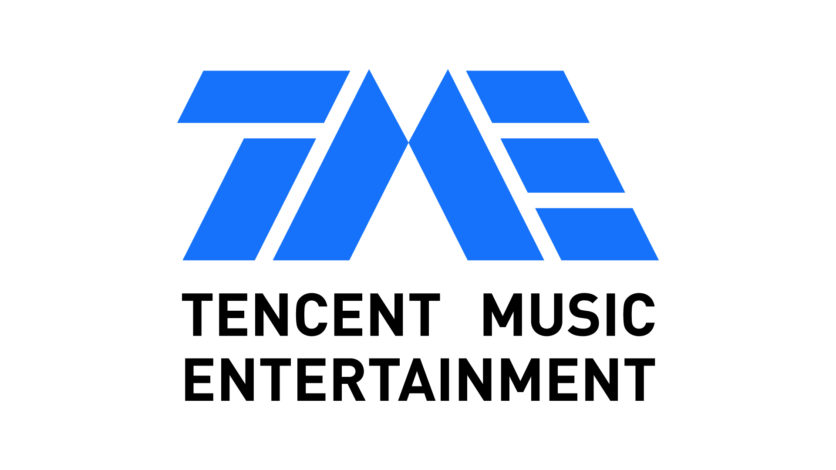 Why are these companies injecting money into NetEase Cloud Music? Perhaps because they sense a market power shift could be about to take hold in the Chinese record industry.
Tencent Music Entertainment (TME) is NetEase's biggest rival in music streaming, and yesterday (May 11) confirmed that it counted 657m monthly active mobile users of its online music services (QQ Music, Kugou Music and Kuwo Music) in Q1 2020.
The CEO of NetEase, William Ding (aka Ding Lei), was recently asked his thoughts on the rumor that recorded music exclusivity agreements between the three majors (Universal, Sony and Warner) and TME are set to expire in 2020 and 2021.
In the past, such exclusivity agreements have seen Tencent Music Entertainment sub-license the catalog of these majors to other services, like NetEase Cloud Music, for a price – a model that has drawn the attention of China's antitrust authority.
"the whole industry has been overpaying the content cost twice, three times or even more… in this unfair setup."

William Ding, NetEase CEO, on Tencent's exclusivity deals with major labels (speaking in February 2020)
Speaking on NetEase's Q4 earnings call in February, Ding said he anticipated that the expiration of these sub-licensing agreements would have a major impact because, in his view, "the whole industry has been overpaying the content cost twice, three times or even more… in this unfair setup".
Ding commented (translated): "We hope that, going forward, all label companies, not just the big three, can all comply with the regulatory frameworks serving China, with the aim to provide a healthy environment to the overall industry as a whole. Financially, [the collapse of these Tencent exclusivity deals] is definitely going to make the cost structure of NetEase Cloud Music [and] of the whole industry to return to a more healthy and normalized level."
Added Ding: "Once [this] cost structure can normalize, then players like NetEase Cloud Music can focus more resources in promoting innovative music content and encourage native Chinese musicians with our mission to create a vibrant, healthy and successful music culture and community in China."
Hammering the point home, in a note disclosing risks to NetEase Cloud Music's business in its 2019 annual report, NetEase stated: "The competition in China for exclusive or non-exclusive licenses to distribute music content is fierce. As a result, certain owners of music content or exclusive rights to distribute music content have increased the fees they charge us for their content or distribution rights."
---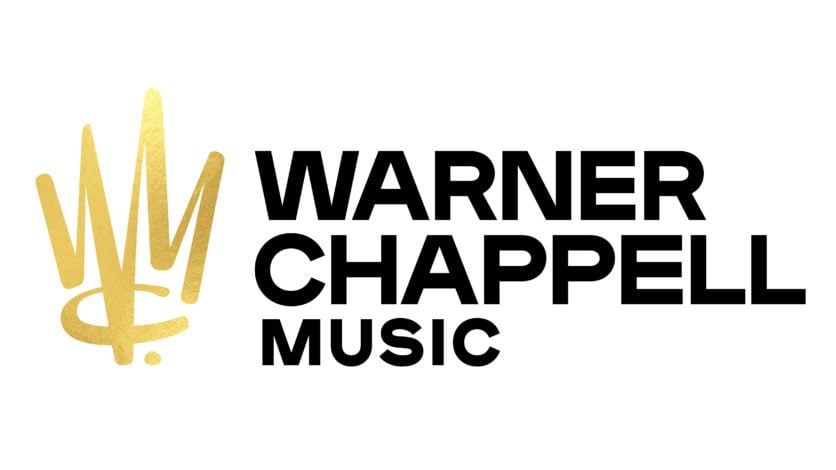 That's all important context to appreciate the significance of the news that Warner Chappell Music, one of the three biggest music publishers in the world (and a key part of Warner Music Group), has inked a new strategic partnership with NetEase Cloud Music.
In a press release, the two companies said that, as a result of the deal, NetEase users will be able to access songs from Warner Chappell's extensive catalog, but also that the companies will "work together in areas from online karaoke to IP development".
A big part of the partnership focuses on lyrics, with NetEase Cloud Music obtaining permission to use the lyrical copyrights of 1.3m Warner Chappell songs, which will obviously come in handy in terms of said online karaoke services.
Zoe Wang, Regional Digital VP, Warner Chappell Music Asia Pacific, said: "I'm delighted that we've been able to partner with the brilliant team at NetEase Cloud Music.
"We share a passion for enabling fans to access our amazing songwriters' music and for creating great experiences that their users will truly value.  We hope [the] Warner Chappell Music catalogue will further accelerate the growth of the digital music business in China with NetEase Cloud Music."
"We hope [the] Warner Chappell Music catalogue will further accelerate the growth of the digital music business in China with NetEase Cloud Music."

Zoe Wang, Warner Chappell Music
Ding Bo, Vice President, NetEase Cloud Music, added: "We are so pleased to be working with Warner Chappell Music, which has such a vast catalog of songs that are hugely influential in China.
"We look forward to collaborating with them to create new experiences that'll engage our highly active online community.  That will ensure that Warner Chappell's songwriters can benefit from the popularity of their work with Chinese music fans."
Warner Chappell said that its 1.3m licensed songs include those from global superstars such as Eric Clapton, George Michael, Green Day, Katy Perry, Madonna (pictured), Radiohead and Steve Aoki.
The agreement also covers the work of many artists and songwriters in Asia Pacific, including A-Lin 黄丽玲, Arys Chien 深白色, Chen Chusheng 陈楚生, Chia-Li Chen 陈家丽, Chief Chao 赵传, Chien Yao 姚谦, David Tao 陶喆, , EggPlantEgg 茄子蛋, Eric Kwok 郭伟亮, Eric Ng 黄韵仁, F.I.R. 飞儿乐团, Faye Chan詹雯婷, , Hanjin Tan 陈奂仁, Hao MeiMei 好妹妹乐团, Hsiao-Wen Ting 丁晓雯, Hung-Liang Chang 张洪量, Jonathan Lee李宗盛 , Jasmine Sokko 楚晴, John Yuan袁惟仁, Julia Peng 彭佳慧, Justin Lo 侧田, Kate Liao 廖莹如, Keith Chan 陈少琪, Kelly Yu 于文文, Kevin Yi 易家扬, Khalil Fong 方大同, , Le-Rong Chen 陈乐融, Mark Lui 雷颂德, Percy Phang 彭学斌, Ricky Hsiao 萧煌奇,  Shou-Chuan Lee 李寿全, Sky Wu 伍思凯, Tanya Chua 蔡健雅, Ta-You Lo 罗大佑, Tia Ray 袁娅维, Victor Wong 品冠, Vintz Huang 黄国伦, Xiaohan 小寒and Yun-Nong Yen 严云农.
Similar to Spotify, NetEase Cloud Music operates a freemium business model in which a basic tier are free while some enhanced features are only available for paying customers.
In early 2020, it hosted an online music festival where more than 50 artists live streamed their performances to an audience across China.
According to the IFPI's 2020 Global Music Report, China was the world's seventh biggest recorded music market last year.
Wholesale revenues (to labels and artists) in the country grew 16% year-on-year.Music Business Worldwide