It's official: Tencent owns a piece of Warner Music Group.
According to an SEC filing lodged by Warner earlier today (June 12), Tencent Music Entertainment has acquired 4 million Class A common stock shares in the music company.
UPDATE: And in an additional filing reviewed by MBW, Huang River Investment Limited, a subsidiary of Tencent Holdings, has acquired a further 4 million Class A common stock shares – giving Tencent Holdings control of 8 million shares in total.
That 8m equates to 10.4% of total outstanding Class A shares, and 1.6% of the entirety of WMG, according to the filings.
Both of these transactions took place on Wednesday, June 3, which was the same day Warner floated a portion of its business on the Nasdaq in New York.
If Tencent bought those 8m shares at Warner's pre-market price of $25.00 per share on June 3, it would have paid $200m.
If Tencent bought towards the end of that day, with Warner finishing trading on June 3 at $30.12 per share, it would have paid slightly over $240m.
See below for the SEC paperwork on both the Tencent Music and Huang River/Tencent transactions:
---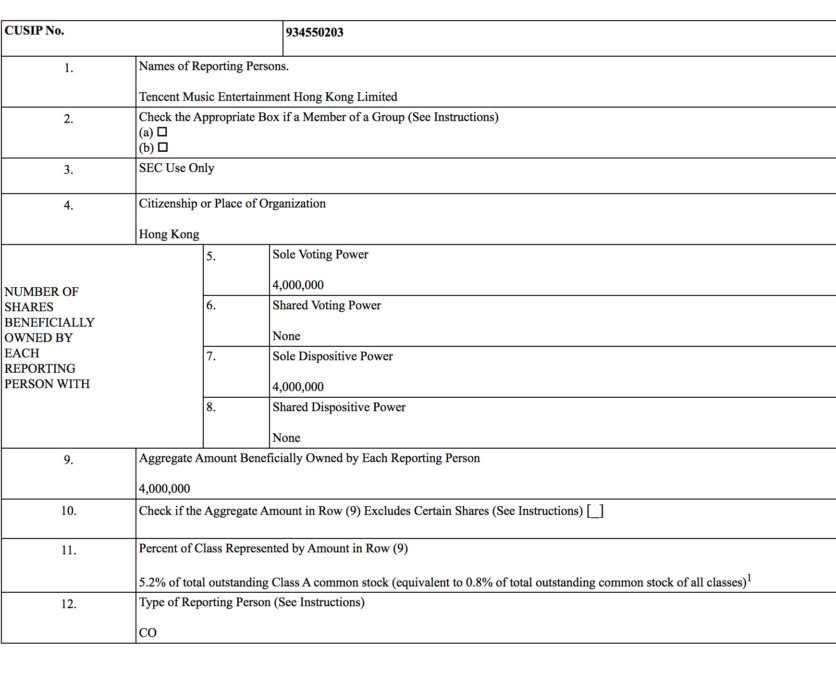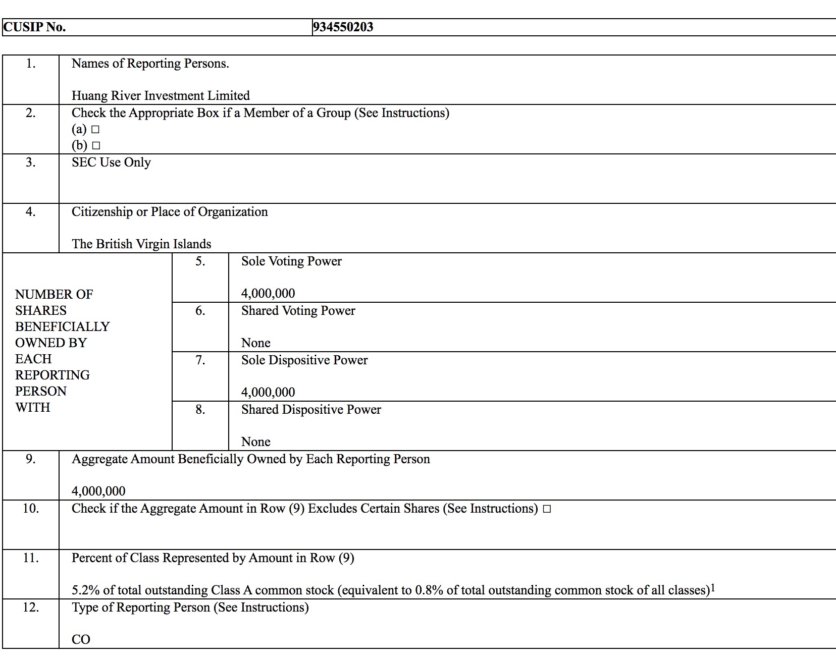 ---
What makes this deal particularly intriguing: back in October 2018, MBW revealed that Warner Music Group and Sony Music Entertainment had jointly acquired 68m shares in Tencent Music for a total cash consideration of $200m (the implication was that the two companies had paid $100m each for their shares).
If Warner has kept hold of its TME shares since then, then it will own a minority stake in Tencent Music, just as Tencent Music now owns a minority stake in Warner.
Yet, as we've previously reported, that's just the start of the interweaving relationships between Tencent and the music rights business.
To break just some of it down for you:
If you missed it, that run of events now means that Tencent Music Entertainment owns stakes in both Universal and Warner (but not Sony)… while Warner and Sony also own minority stakes in Tencent Music Entertainment.
The tangled web doesn't stop there, either: Sony still owns a portion of shares in Spotify, having sold 50% of its initial holding for $768m in 2018.
Meanwhile, Tencent Holdings also owns a stake in Spotify's rival in India, Gaana, as well as owning around 40% of Epic Games – the US-based video games company behind Fortnite.
Keeping up?Music Business Worldwide