Warner Music Group's first day on the Nasdaq couldn't have gone much better for the company and its new shareholders.
Earlier today (June 3), the major music company went public, making 77 million Class A shares of common stock available at a pre-market price of $25.00.
According to MBW's calculations, based on details contained within Warner's SEC filings, that would have given the music company a market cap valuation of $12.75bn.
At the closing bell on the Nasdaq today (4pm ET), Warner's share price had risen dramatically, up by 20.5% to $30.12, which would have granted Warner a market cap value of $15.36bn.
That's a market cap value gain of $2.61bn during a single debut trading day as a public company.
(Market cap valuations, unlike Enterprise Valuations, do not factor in debt / cash. With ≈$3bn in debt, Warner's EV would therefore be significantly higher.)
---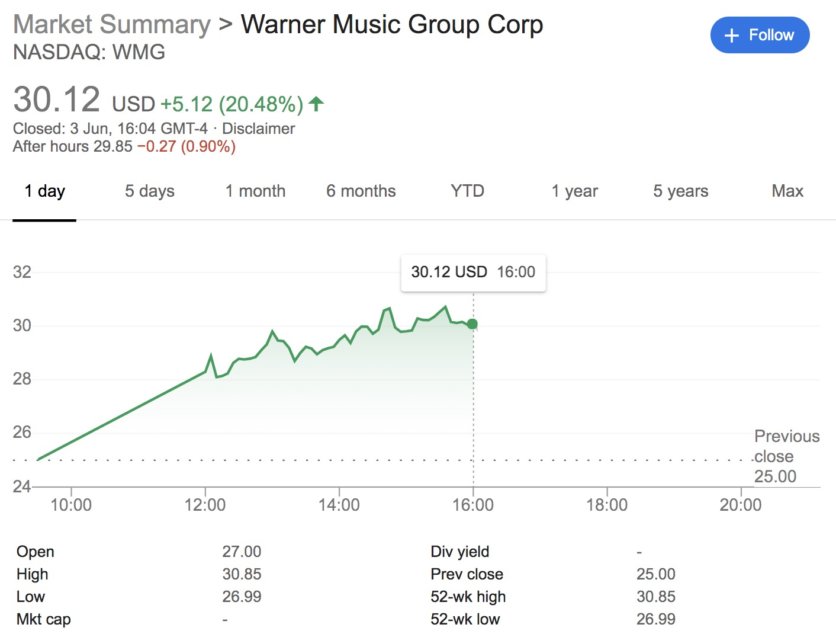 ---
Warner Music Group initially intended to float 13.7% of its company, via 70m Class A shares, on the Nasdaq this week.
However, due to strong demand, the firm instead increased the size of its IPO to 77m Class A shares.
By floating with a pre-market price of $25.00, Warner owner Access Industries (and other related selling stockholders) stood to raise approximately $1.925bn from those 77m shares.
Underwriters of WMG now have a 30-day option to purchase up to an additional 11.55 million shares of Class A common stock from Access Industries.
Access continues to own over 80% of stock in Warner Music Group, in addition to a 90%-plus tranche of voting shares.
---
Warner, whose biggest artists include Ed Sheeran (pictured), Bruno Mars and Cardi B, posted an adjusted EBITDA of $755m for the 12 months ended March 31, 2020.
A report in the Wall Street Journal on Friday (May 29) suggested that Tencent was considering becoming an 'anchor' investor in Warner by committing to buy circa $200m of shares in the company ahead of its flotation.
At $25.00 per share, that $200m figure would have translated into a market cap equity stake of around 1.6%.
At the end of March, Vivendi announced that a Tencent-led consortium had acquired 10% of Universal Music Group in a €3bn ($3.4bn) deal.Music Business Worldwide