Each week, The MBW Review gives our take on some of the biggest news stories of the previous seven days. This time, we react to the news that Pandora's CEO, Brian McAndrews, has exited – to be replaced by Tim Westergren. The MBW Review is supported by FUGA. (The views in these articles are those of the writer and are not necessarily endorsed by our supporter.)
---
It's tempting, when you see multi-billion dollar valuations bandied around like playground candy, to imagine that all digital entertainment companies are executing a masterplan beyond the intellectual capacity of your average music biz grunt.
Of course, that's baloney.
The graveyard of spectacular implosions in this field is a crowded one, featuring the still-bamboozled cadavers of Beyond Oblivion, Spiralfrog, Rdio and Qtrax, amongst others.
Last week, we got another reminder of how not-quite-everything in digital land is as orderly as it first appears, when Brian McAndrews, CEO of Pandora, abruptly left the building – replaced with the business's original founder, Tim Westergren.
It seemed to be a sure sign that the 'full stack' strategy McAndrews was following needed a redraft, although the company says it "remains 100% committed to [our] growth strategy".
MBW has since discovered that McAndrews will likely make away with a nice chunk of severance (more on that shortly).
But that's just one of a number of pointed questions left hanging in the air after the changes.
Below, we look at three important ones…
---
1) How much did Pandora have to pay Brian McAndrews TO exit?
Brian McAndrews, a media veteran, joined Pandora in September 2013 to replace its then-CEO, Joseph Kennedy.
Digging through Pandora's financial records shows us that McAndrews was paid a total prospective package of $29m to join – including $10.69m in stock awards and $18.15m in options.
McAndrews' basic annual salary was revealed a year later, following his first full year in charge: $500,000.
This increased by 10% in 2015 to $550,000, according to further filings.
McAndrews also took home a $455,000 bonus in 2014 – representative of 91% of the total he could have received.
In addition, 2014 saw McAndrews receive a very tidy $2.96m in vested stock awards.

But McAndrews didn't just earn while he was working.
Judging from what we now know, he's also likely to have to have received a hefty pay-off from Pandora for leaving, too.
In an SEC filing from Pandora following the announcement of McAndrew's exit last week, the firm told investors that its outgoing CEO would be 'eligible for benefits under the Company's existing Executive Severance and Change of Control Policy'.
We've looked into that policy, and here's what it means.
Non-change in control severance: If the eligible officer is terminated without cause prior to a change in control, the officer is entitled to receive 6 months (or 12 months in the case of our chief executive officer) of salary, health benefits and accelerated vesting of equity awards, plus a prorated annual bonus for the year of termination and outplacement services;
Change in control severance: If, in connection with or otherwise within 12 months after a change in control, the officer is terminated without cause or resigns for good reason (such as reduction in salary or material relocation), the officer is entitled to receive 12 months (or 18 months in the case of our chief executive officer) of salary and health benefits, 100% accelerated vesting of equity awards and the opportunity to extend the exercise period of certain options for up to 12 months following termination, plus a prorated annual bonus for the year of termination and outplacement services.
Below is Pandora's April 2015 estimate of what McAndrews may have received from two outcomes: (i) 'Involuntary termination', worth a total payout of $3.5m, or (ii) 'Change in control followed by involuntary termination', worth a total payout of $8.3m.

Considering Pandora posted a net loss of $170m last year, exacerbated by a one-off legal settlement with labels, it can ill afford to be parting ways with this level of expense frivolously.
It must truly believe splitting with McAndrews and appointing Westergren is a vital decision to take.
---
2) How can Pandora stop its tragic slide on the New York Stock Exchange?
This is the one that Tim Westergren really better find an answer to as soon as possible. We don't envy him.
MBW has written before that since a market cap high of $7.73bn in March 2014, Pandora's valuation / share price has plummeted by more than $5bn to date.
What's extra worrying about this descent is how Wall Street reacted to the news of McAndrews' exit.
Pandora's market cap fell just under 18% last week, from $2.489bn before the Easter weekend (Thursday, March 24) to $2.045bn a week later (Friday, April 1).
Or to phrase it another way: Pandora just lost a fifth of its value in eight days, after losing 68% of its value in the two previous years.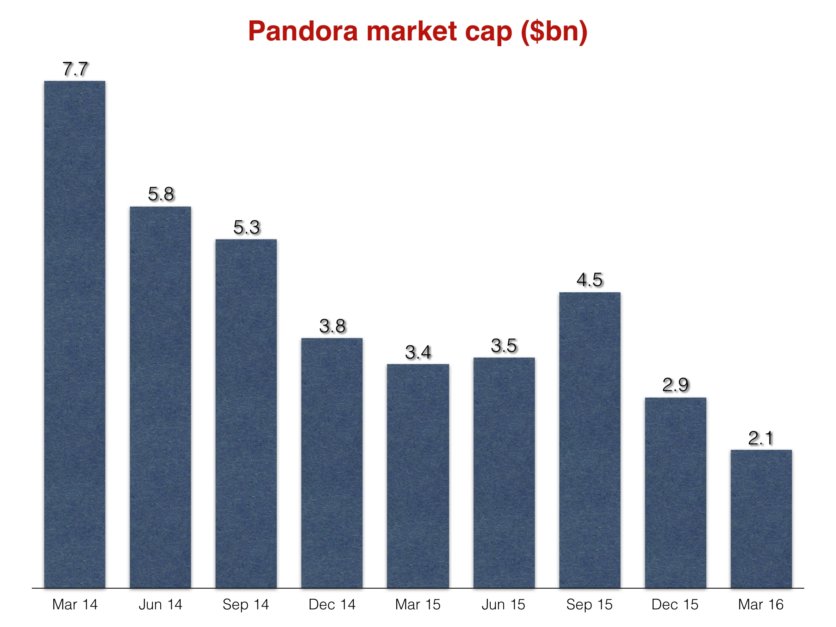 The main reason why investors are feeling a little chilly towards Pandora at the moment? A decline in listeners.
In 2015, Pandora's year-end listener figure stood at 81.1m, down on the 81.5m it recorded at the close of 2014.
This was the first time we've seen Pandora's Q4 listener figure fall year-on-year, from a company which has traditionally explained away its losses as collateral damage from breakneck growth.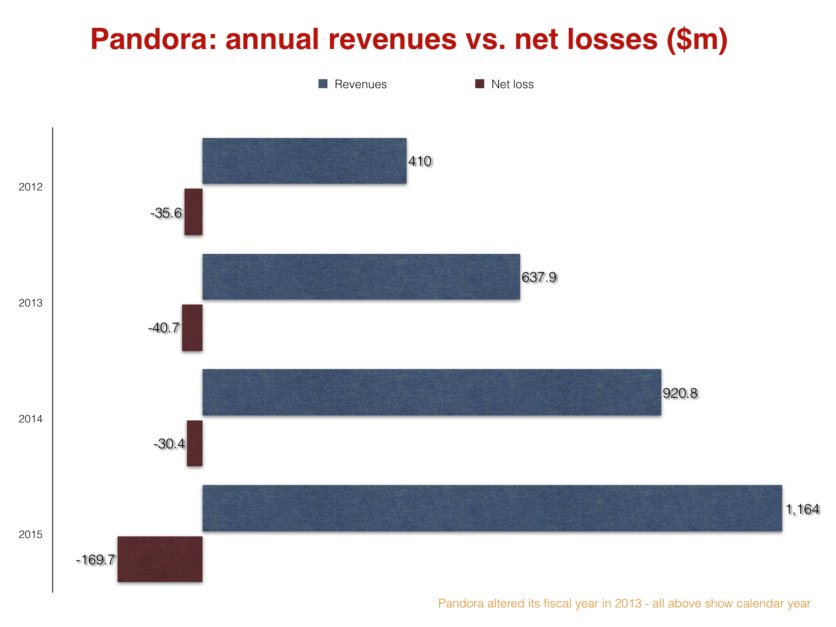 Some suggest that the launch of Apple Music had made enough noise to tempt Pandora's listeners over to an on-demand streaming service for the first time – after which they would have little need for a lean-back non-interactive platform.
Brian McAndrews responded to that idea in November by stating that Apple Music's arrival only had a "muted" impact on Pandora's listener numbers. 
But Brian McAndrews isn't there anymore.
And Spotify just got hold of a billion dollars with which to try and steal even more of Pandora's audience.
The ideal response from Tim Westergren would be to accelerate Pandora's transformation into a one-of-a-kind streaming service. But can he?
Last year, Pandora paid an eye-watering $450m for independent ticketing company Ticketfly – a huge figure for a firm which, in comparison to the gargantuan power of market leader Ticketmaster, would be better described as Ticket-gnat.
"I am pleased to say that given the scale of attention on apple music's launch, the impact on our active users was muted."

Brian McAndrews (speaking last year)
Pandora also splashed out $75m to acquire the operational assets of Rdio, with a view to launching an interactive streaming service around the world.
Problem: Spotify already links up artist fans with ticketing and merch vendors. It's never had to pay a penny to do so, and actually receives a slender cut of the proceeds – making its live business $450m up on Pandora's from the starting line.
Meanwhile, the on-demand streaming space is so competitive that Daniel Ek's company – by far the current market leader – has just had to suffer onerous terms to grab a billion dollars to help it stay ahead of the pack.
It's not just Apple Music and Spotify waiting to steal Pandora's lunch, either, but Deezer, Google Play, SoundCloud Go, TIDAL and more besides. Samsung hasn't even got started yet.
In this context, rumours that Pandora is looking to sell start to look a little desperate. Has it run out of ideas?
And if Apple Music really has been harvesting Pandora's users and leaving its growth stagnant, you have to wonder: why would a fellow streaming service buy Pandora's listeners, when it can steal them for free?
---
3) How can Pandora TAME ITS BALANCE SHEET?
The idea that Pandora has struggled to turn a profit because it's hemorrhaging money in royalty costs to the music biz is flawed.
Last year, it posted revenues of $1.164bn, but paid out $610.3m in 'content acquisition costs' to labels, publishers, artists and songwriters.
That equated to 52.4% of its total income.
In the same 12 months, it actually spent more on operating costs than it did royalties: a total of $636.7m.
A year before, in 2014, Pandora posted $920.8m in revenues and paid out $446.3m to the music business – or 48.5% of total income.
Its operating costs in the year stood at $508m.
In other words, the amount Pandora is paying to the music biz is being financially outgunned by its operating costs.
The greatest threat to Pandora's bottom line, therefore, isn't music copyright at all – but actually the way it's running its own company.
---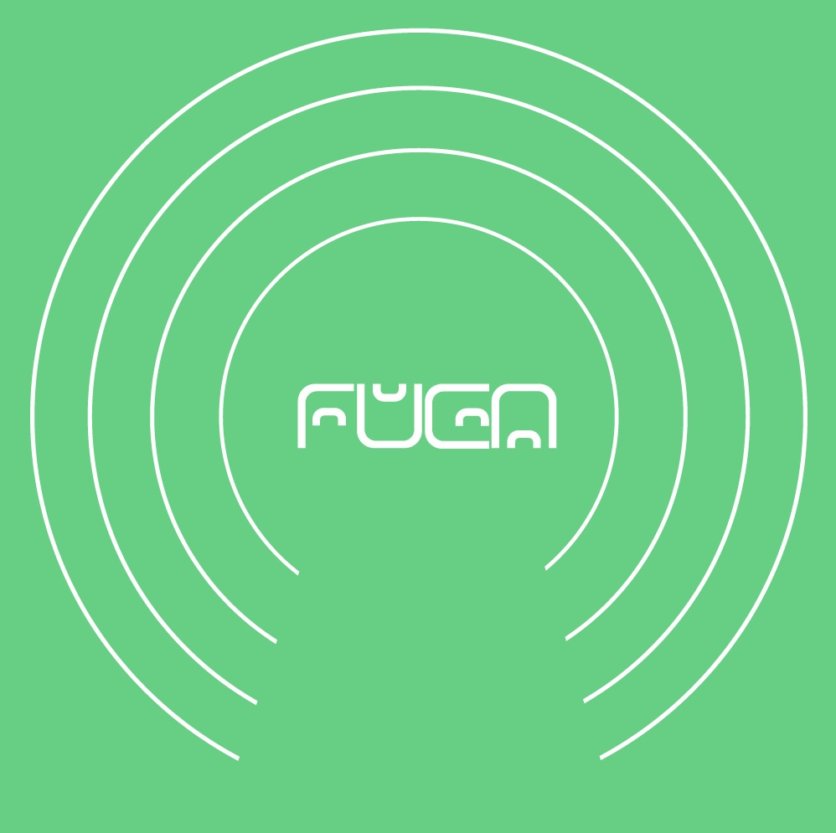 The MBW Review is supported by FUGA, the high-end technology partner for content owners and distributors. FUGA is the number one choice for some of the largest labels, management companies and distributors worldwide. With a broad array of services, its adaptable and flexible platform has been built, in conjunction with leading music partners, to provide seamless integration and meet rapidly evolving industry requirements. Learn more at www.fuga.comMusic Business Worldwide