Spotify has raised a massive $1bn in investment through convertible debt – but will eventually have to pay handsomely for it.
Back in January, MBW reported that the streaming service was looking to raise $500m in convertible loan notes – tickets that could be swapped for equity down the line.
As a sweetener, Daniel Ek's company was offering to pay investors 4% interest on this money, in addition to promising funders that they would receive a further 17.5% discount on Spotify shares after (and if) it executed a successful IPO within a year.
The good news for Ek (pictured): his team have managed to raise double the money they were initially going for.
The not so good news: they've had to adjust their terms more favourably for investors to secure it.
According to the Wall Street Journal, Spotify has raised the new round of $1bn from a combination of private equity giant TPG, hedge fund Dragoneer Investment Group and clients of Goldman Sachs.
If Spotify executes its IPO within the next year, say the WSJ's sources, TPG and Dragoneer will be able to convert their debt at a 20% discount.
Spotify will also pay 5% interest on the debt – a figure which will rise 1% every six months until it goes public, or until it maxes out at 10%.
TPG and Dragoneer have contributed $750m of the billion dollar raise, with Spotify indicating that it will float on the stock exchange in the next two years.
Before raising the convertible debt, Spotify had more than $600 million left on its balance sheet, says the WSJ.
The money will allow Spotify to continue to aggressively take on rivals such as Apple Music, Google Play and the newly-launched SoundCloud Go, as well as funding global expansion and potential acquisitions.
Spotify has already raised $1.06bn in seven rounds of investment to date from 26 investors – including the likes of Coca-Cola and Hong Kong-based Li Ka-Shing.
Its stakeholders also include the three major music companies (UMG, Sony and Warner), who were given equity stakes as part of licensing deals.
Daniel Ek confirmed earlier this month that Spotify now has 30m paying subscribers.
The loss-making company is believed to also boast around 100m active users.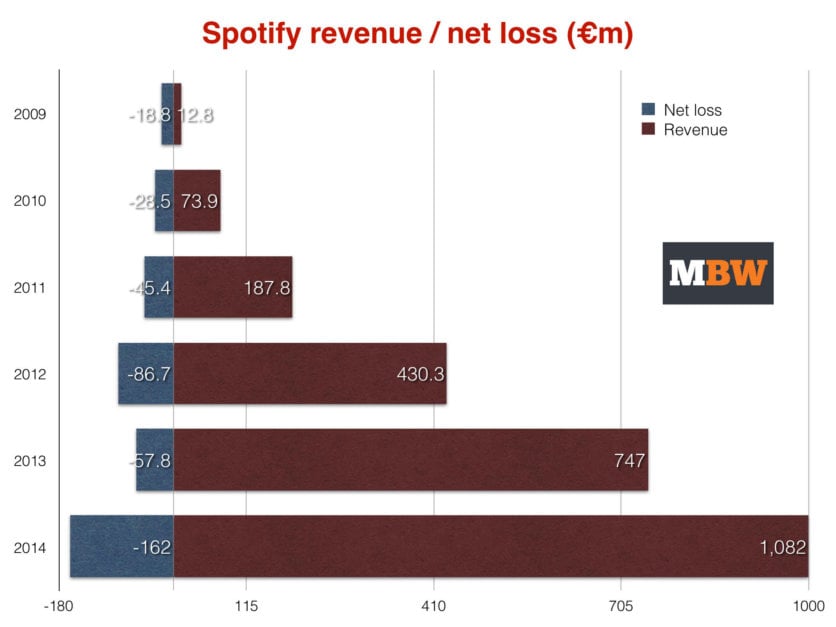 SPOTIFY: INVESTMENT ROUNDS TO DATE
March 2016: $1bn – TPG, Dragoneer and Goldman Sachs
June 2015: $526m – Goldman Sachs, TCV, GSV Capital, Rinkelberg Capital, Teliasonera & more
November 2013: $250m – Technology Crossover Ventures
November 2012*: $100m – AFSquare, The Coca-Cola Company, Fidelity Ventures, Lakestar, Goldman Sachs
June 2011: $100m – DST Global, Kleiner Perkins Caulfield & Byers, Accel Partners
February 2010: $12.3m – Founders Fund, Sean Parker
August 2009: $50m – Li Ka-shing, Horizons Ventures, Wellingtons Partners
October 2008: $21.6m – Li Ka-shing, Creandum, Northzone, Horizons Ventures
* An additional funding round is believed to have taken place in 2012 for an undisclosed amount.Music Business Worldwide