Pandora didn't have the best year in its history in 2015.
First, the good news: Last year was the first calendar 12 months in which the company's revenues grew beyond a billion dollars.
Total annual sales hit $1.164bn, up 26.4% year-on-year.
And then, the bad: net annual losses were multiplied five times on the prior year, sinking to $169.66m, compared to a loss of $30.41m in 2014.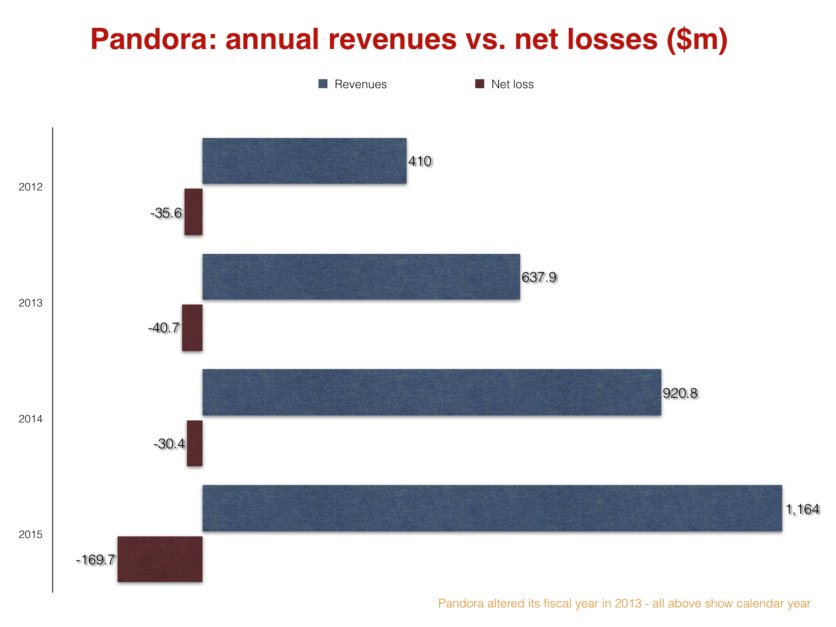 One abnormal hole in Pandora's 2015 finances was the effect of the $90m the company agreed to pay the major labels and ABKCO for use of pre-1972 recordings on its service.
The first and second installments of this money – $60 million and $7.5 million respectively – were paid in October and December 2015.
The remaining amount will be paid in three equal installments of $7.5 million from April, 2016 through October, 2016. 
Pandora's total revenues in 2015 were assisted by $10.17m income from Ticketfly, which it bought for $480m last year. Revenues began to trickle in from the new subsidiary in Q4.
Annual revenue from ad-funded streaming grew 27.4% to $933.3m, but income from subscriptions to Pandora One only grew 17% to $220.6m.
Interesting to note that for Spotify's last annual fiscal results for 2014, the story was the other way round: the Swedish company pulled in €98.8m in subscriptions and €982.9m in subscriptions – with the latter taking 90.1% of its total income.

---
Active listeners on Pandora fell again, which could freak some investors on the New York Stock Exchange today.
The monthly active listener figure stood at 81.1m in Q4 2015, a rise on Q3 but down on the 81.5m recorded a year before.
Total listener hours grew 3% to 5.37 billion for the fourth quarter of 2015, compared to 5.20 billion for the same period of the prior year.
Total listener hours grew 5% to 21.11 billion for the full year 2015, compared to 20.03 billion for the same period of the prior year.

Music Business Worldwide