Pandora's share price took a battering the other week, after investors were spooked by a bad news day for the US streaming platform.
The controversial company's stock price fell by more than 30% in the 24 hours after it reported its Q3 2015 results on Thursday, October 22.
Triggers for the sudden loss in confidence included a $90m settlement with record labels for the use of pre-1972 tracks, and the fact that Pandora missed its quarterly revenue forecasts, despite 30.1% year-on-year income growth.
Yet as the dust settled, another possible threat became clearer.
Pandora's active listener numbers dropped quarter-on-quarter by 1.3m (1.6%) to 78.1m in the three months to end of September 2015 (Q3).
Its total quarter-on-quarter listener hours also fell, down 3% from 5.30bn in Q2 to 5.14bn in Q3.
Some analysts quickly blamed one candidate above any other for these stumbles: the launch of Apple Music, and its tempting three-month free trial, which arrived on June 30.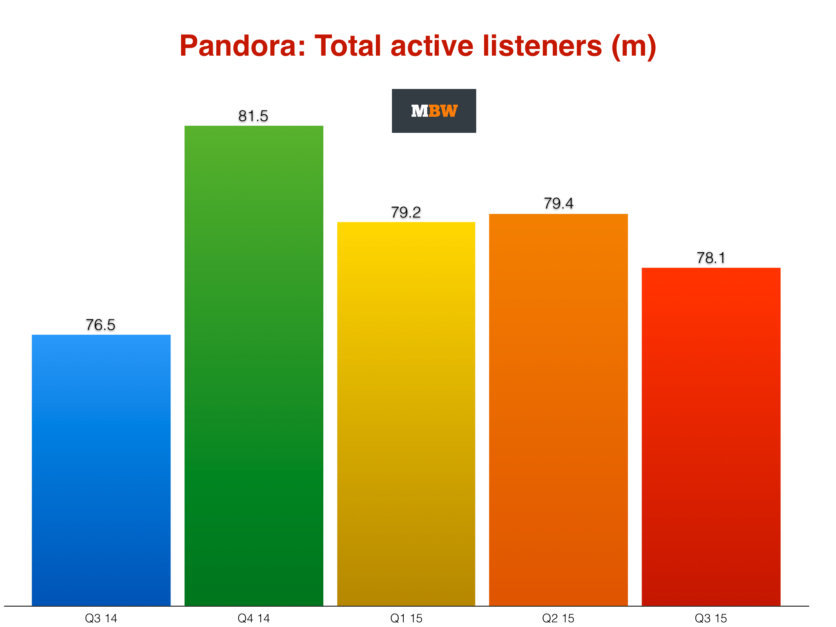 Pandora CEO Brian McAndrews (pictured) pointed out to investors that the firm's monthly active listeners had actually grown year-on-year by 2%, from 78.1m in Q3 15.
But he also appeared to admit that Apple Music had hurt quarter-on-quarter Pandora's numbers to a "muted" extent – as had Spotify and others by increasing their marketing in Pandora's homeland of the US.
"This was obviously a unique quarter in the streaming music business," he said. "The June 30 launch of Apple Music with its 3-month free trial, as well as significant category spending and trial offers across multiple players, brought increased focus to the broader on-demand category during this period.
He added: "As we discussed on our Q2 call, we expected some short-term impact to our audience growth as listeners tried this highly-promoted new service.
"I am pleased to say that given the scale of attention on apple music's launch, the impact on our active users was muted."

Brian McAndrews, Pandora
"I am pleased to say that, given the scale of press and consumer attention on this launch, the impact on our active users and listening hours was muted and was, in fact, consistent with what we experienced during the launch of Apple's radio service in 2013.
"In fact, despite this increased attention on the on-demand category, we continued to grow both active users and listening hours during the quarter as compared to the prior year. In an evolving marketplace, consumers try new technologies and experiment with other services, and we would naturally expect ebbs and flows in active users and hours as we grow our category leadership."
Further MBW analysis shows that Pandora is failing to grow its subscription tier, despite recent attempts to promote it using its own free trial.
Meanwhile, its 1.3m fall in listeners from Q2 2015 to Q3 2015 completely occurred amongst its free / ad-funded tier.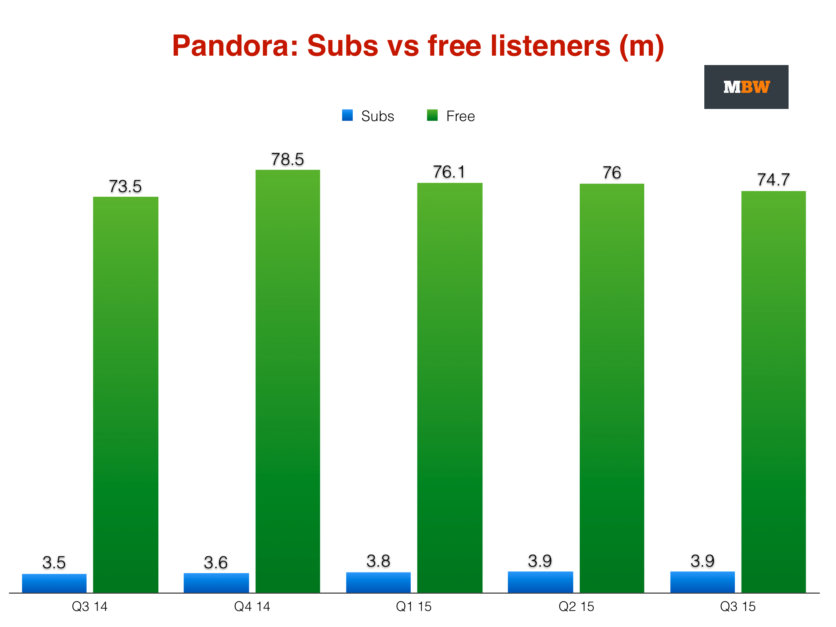 CFO Mike Herring suggested that users might be using Apple Music as well as Pandora, but that he didn't see "a big cliff one way or the other".
He added: "Even if someone was using that Apple Music whether they did not convert or did they probably are also using Pandora on the same timeframe."
And in a notable bit of corporate jostling, Brian McAndrews called into question the sustainability of the 'freemium' music streaming model to his investors.
That's on-demand freemium like Spotify, rather than the lean-back/radio-like free experience offered by Pandora, of course…
"I think one of the challenges for the industry in Spotify [is] how many of those [users] are actually paying for it; an on-demand model is meant to be paid for and subscribed to," said the exec.
"Some models like spotify offer a perpetual free alternative. Whether that is sustainable or not is a different question…"

Brian Mcandrews, Pandora
He added: "Some other models [to Apple Music] like Spotify and others [offer] some that kind of a perpetual free alternative and that is going to attract some of the younger audience.
"Whether that sustainable or not is a very different question…"
His point was backed by Herring, who said: "[There is] a lot of noise in the marketplace right now with what was going on with essentially people being having the opportunity to avail themselves a free on-demand services.
"And I think there's a question as to how sustainable that is and whether that continues. I think we had a big spot of that with the launch of Apple where essentially millions and millions of people were availing themselves with that – and that's a three-month trial that goes away."
Pandora posted $311.6m in revenues for the three months to end of September 2015.
That was up 30.1% on the same period in 2014, but missed forecasts by $1.37m.
It paid out $211.3m of this revenue in 'content acquisition costs' in Q3 2015, up almost double from the $111.3m it passed music rights-holders a year prior.
Pandora net loss in Q3 this year stood at a whopping $89.5m.Music Business Worldwide