US-based music streaming service Pandora has parted ways with CEO Brian McAndrews, sending its share price on the New York Stock Exchange tumbling by more than 9% so far today.
[UPDATE: At the bell yesterday, Pandora's share price had fallen by just over 12% – slicing around $30m off its value in a single day.]
McAndrews has headed up the platform for the past two-and-a-half years, steering a strategy which – in the last 12 months alone – has seen Pandora acquire independent ticketing service Ticketfly for $450m and the assets of defunct streaming rival Rdio for $75m.
As such, the exec has overseen a fall in Pandora's value of more than $5bn: from a market cap high of $7.73bn in March 2014 to today's NYSE valuation of $2.18bn.
Non-interactive service Pandora has been losing listeners ever since the arrival of Apple Music in June last year.
Pandora's total active monthly listener base stood at 81.1m at the end of 2015, down on the 81.5m recorded at the close of 2014.
It also posted a hefty annual net loss of $169.7m in 2015, a five-fold increase on its deficit the year before.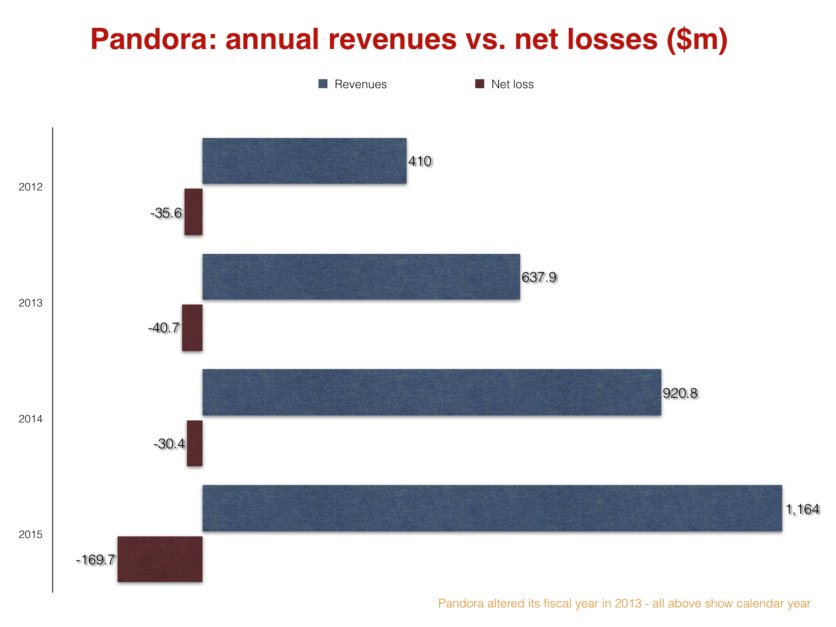 Rumours are currently swirling around the market that Pandora is up for sale – whispers which were intensified last week by the arrival of media specialist Tony Vinciquerra on the firm's board.
That board has now appointed Pandora founder Tim Westergren as CEO, directly replacing McAndrews.
Said McAndrews: "I am honored to have been the CEO of Pandora for the past two and a half years, and I am proud of what I and our team of talented and highly passionate colleagues have achieved during this time.
"We have put in place a robust strategy to make Pandora the go-to source for fans and artists and position the company for long-term success in a highly dynamic space. With the team and strategy in place and execution underway, I am passing the baton on to Tim.
"I wish the Company all the best as it continues on its next phase of growth."
"With the team and strategy in place and execution underway, I am passing the baton on to tim."

Brian McAndrews
Said Westergren: "I am incredibly excited about the future of Pandora. We're on the cusp of realizing an extraordinary vision: fundamentally changing the way listeners discover and enjoy music, and the way artists build and sustain their careers.
"We are pursuing a once-in-a-generation opportunity to create a massive, vibrant music marketplace. We have the audience, the technology infrastructure, the monetization engine and most importantly the right team with the passion and commitment to do it.
"I'm 100 percent committed to Pandora's growth strategy, as is our executive team and Board."
"I'm 100% committed to pandora's growth strategy, as is our executive team and board."

Tim Westergren, Pandora
Pandora has also introduced a new management structure following McAndrews' departure. In its own words:
Mike Herring, as President and Chief Financial Officer, drives monetization of Pandora's core business covering revenue, music licensing, finance, legal, and information technology. He will also continue to focus on driving efficiencies and expanding margins.
Sara Clemens, as Chief Operating Officer, focuses on growing and scaling the business and operating new ventures. Her responsibilities include music makers, Ticketfly, international, human resources and corporate development.
Pandora's Chief Product Officer Chris Phillips, is responsible for product, engineering and marketing. His team will develop, deliver and drive adoption of products that connect fans and artist in new ways, including on-demand, and help advertisers reach their audiences.
Current independent board member Jim Feuille is Chairman of the Board.
"Pandora today is in a strong position to maximize our full potential and expand the music marketplace,"  said Chairman Jim Feuille.
"Tim is the ideal CEO for Pandora as we embark on our next phase of growth. As the original founder, Tim carries the vision for how Pandora can transform the music industry and he is uniquely able to connect with listeners, music makers and employees.
"Pandora has become a stronger company under Brian's leadership, and we thank him for his commitment and contributions to building Pandora's core leadership team and strengthening its position in the market.
"Moving forward, we have an excellent executive leadership team that is focused on activating Pandora's strategy and driving long-term value through a relentless focus on execution and operational excellence."Music Business Worldwide