Spotify is having a banner year. 
Not only did the digital streaming provider (DSP) add 10 million paying subscribers in the final quarter of 2022 (giving it a total of 205 million paid subs), but its stock price is up more than 75% since the start of the year, currently trading at around USD $147 per share in New York.
That marks quite a turnaround for a company whose price movements, not that long ago, would have churned the stomachs of the toughest investors. 
After peaking at around $364 per share in February of 2021, Spotify followed the tech markets downward, falling more than 79%, to a bottom around $75 per share in December of 2022.
That means the company's market capitalization reached a peak at around $70.5 billion, before falling to some $14.5 billion, then recovering to its current market cap of around $28 billion.
Notably, its share price today is close to where it stood in early April 2018, when it closed on its first day of trading at $149.01.
---

---
All in all, it's been quite a rollercoaster ride. But who, exactly, owns this Stockholm-headquartered company that has revolutionized music consumption in our time?
MBW has been digging into Spotify's latest SEC filings to find out.
Via a combination of 'Statement Of Ownership' SEC filings plus its 20-F annual report – all filed this year – we've been able to paint a picture of Spotify's ownership cap table today.
That cap table continues to be dominated by Spotify's two founders, Daniel Ek and Martin Lorentzon, along with a number of institutional investors, many of whom have been major shareholders for much of the time that Spotify has been a publicly-traded company.
Among them are investment management firm T. Rowe Prices & Associates, investment firm Baillie Gifford, banking giant Morgan Stanley, and tech and multimedia giant Tencent Holdings (partly through its subsidiary, Tencent Music Entertainment).
All the ups and downs of Spotify's share price story hasn't scared these investors away – clearly, they're in for the long run.
---
A cap table dominated by Daniel Ek and Martin Lorentzon
In all, MBW has been able to identify via public documents the owners of nearly two-thirds of shares in Spotify 
The single largest shareholder in Spotify at the close of 2022 was the firm's co-founder and CEO, Daniel Ek, who held 31.93 million shares, or 16.5% of the total, show the SEC filings.
Ek owns most of his shares through holding companies. A company called D.G.E. Investments, headquartered in Cyprus, owns the vast majority of Ek's shares. D.G.E. Investments is, in turn, owned by D.G.E. Holding – also based in Cyprus – and its sole shareholder is Ek. 
Ek has gradually reduced his holdings in Spotify over the years; he started out with 36.83 million shares, or 19.8% of the total, back in 2018.
Concomitant with the value of Spotify, the value of Ek's shares has jumped wildly. From an initial valuation of around $5.93 billion in 2018, he saw his Spotify stock portfolio soar to an average value of $8.48 billion in 2021, before falling back down to an average value of $3.75 billion in 2022.
At today's price, assuming no change in his ownership stake, Ek's shareholding in Spotify would be worth approximately $4.70 billion.
Meanwhile, Spotify's co-founder and director Martin Lorentzon held 21.51 million shares, or 11.1% of the company's total, as of the end of 2022. 
Like Ek, Lorentzon owns his shares through a pair of holding companies. Most of Lorentzon's shares are owned by Rosello Company Limited, located in Cyprus, which in turn is owned by a Luxembourg-based company called Almatea, in which Lorentzon is the sole shareholder. 
At the average Spotify stock price for 2022, Lorentzon's portfolio was worth $2.53 billion. At today's price of $147 per share, it would be around $3.16 billion.
Lorentzon's share of the company has stayed steady over the years, dropping only slightly from the 12.7% he controlled back in 2018.
These share numbers, though, don't tell the full story of Ek and Lorentzon's power at Spotify – because the duo continue to control a majority of the voting shares in the company.
According to the latest  SEC filings, Ek and Lorentzon controlled 31.7% and 42.6%, respectively, of the combined voting power of Spotify's voting shares at the close of 2022.
That gave the duo a combined 74.3% of total voting power in Spotify.
---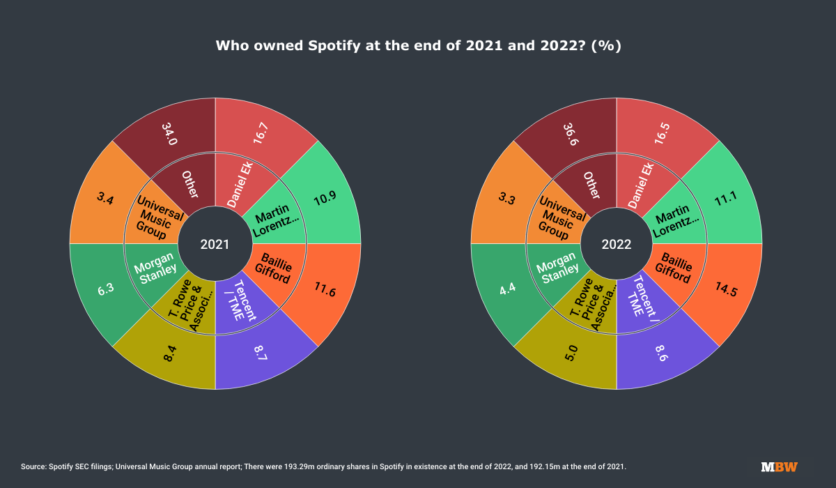 ---
Who else?
Spotify's second-largest shareholder – and its largest institutional shareholder – is Edinburgh-based investment firm Baillie Gifford, with just under 14.5% of the company's shares at the end of 2022.
Baillie Gifford has been a major investor in Spotify ever since the company went public in 2018, gradually increasing its share from 9.7% at the end of that year.
Notably, Baillie Gifford also owns a 4.48% share of New York-listed Tencent Music Entertainment (aka TME, which is itself 52.5% owned by Tencent Holdings, according to TME's latest annual SEC filing).
Tencent owned 8.6% of Spotify at the end of 2022, through a number of different holding companies owned either by Tencent Holdings or Tencent Music Entertainment.
(The Tencent/Spotify relationship is quite a web of co-ownership: Spotify and TME entered into an agreement in 2017 – prior to Spotify's IPO – to purchase 10% stakes in each other. Spotify today is one of Tencent Music's largest minority shareholders, with an 8.2% ownership stake. However, as part of that initial agreement, Ek holds the voting rights to Tencent's shares in Spotify.)
Elsewhere, New York-headquartered investment management firm T. Rowe Price & Associates owned 5.0% of Spotify at the end of 2022.
Its 9.7 million shares would have been worth $1.14 billion at last year's average price.
That represents something of a decline in T.Rowe Price's Spotify holdings. At the end of 2021, it held 16.1 million shares, or 8.4% of the total.
More or less the same can be seen with Morgan Stanley.
The New York-headquartered investment bank owned 4.4% of Spotify shares, approximately 8.38 million shares, at the end of 2022, down from a 6.3% stake – about 12.0 million shares – at the end of 2021, according to SEC filings.
There's one other minority shareholder in Spotify we know all about, of course, whose name doesn't appear in the streamer's SEC filings: Universal Music Group.
According to UMG's own annual report, issued earlier this year, the firm ended 2022 owning 6.49 million shares in Spotify, worth 3.30% of the streaming company's issued total shares.
---
The segment of UMG's annual report showing its Spotify shareholding (6.487m shares) at the end of 2022
---
Universal's volume of owned shares in Spotify has not changed since the music streaming firm went public in 2018.
Unlike Sony Music Group and Warner Music Group – who have sold some and all of their shares in Spotify, respectively – UMG has so far declined to sell any of its holdings in SPOT.
However, via a Taylor Swift-themed announcement, Universal Music Group did confirm in 2018 that should it ever sell its shares in Spotify, it will pay a portion of the money through to its artists while disregarding unrecouped balances.Music Business Worldwide