Spotify's Q4 2022 results are in.
The music streaming company added another 10 million net Premium subscribers to its user base in Q4 2022 (the three months to end of December), taking its total global paying subs audience to 205 million.
Those 205 million subscribers marked Premium Subscriber growth of 14% YoY, and 3 million above the company's guidance. This growth was aided, according to Spotify, by promotional intake and household plans.
SPOT says that its Premium Subscriber growth outperformed the company's guidance across all regions, and was led by Latin America.
Subscriber net additions across the full year were 25 million (SPOT lost 2 million net additions due to the impact of its Russia exit).
Spotify's total number of Monthly Active Users, which combine paying users and ad-supported users, grew 20% YoY to 489 million at the end of Q4 2022.
That total MAU figure was 10 million above SPOT's guidance, and the company notes that those 33 million net MAU additions represented its largest-ever Q4 MAU growth.
Across the full year, Spotify added 83 million MAUs.
The company's forecasts its total MAU figure at the end of Q1 2023 (the three month ended March 31) to be over 500 million.
Spotify says that the "outperformance" of its MAU growth in 'Rest of World' in Q4 was led by India and Indonesia as a result of "successful marketing campaigns and OEM strength".
It also pinned its MAU growth across nearly all regions on its eighth annual 'Wrapped' campaign and "generally stronger performance around the holiday season". Spotify notes separately that the number of users engaging with Wrapped grew 30% YoY across 111 markets.
There was also "strong [MAU] growth amongst Gen Z listeners," according to SPOT.
---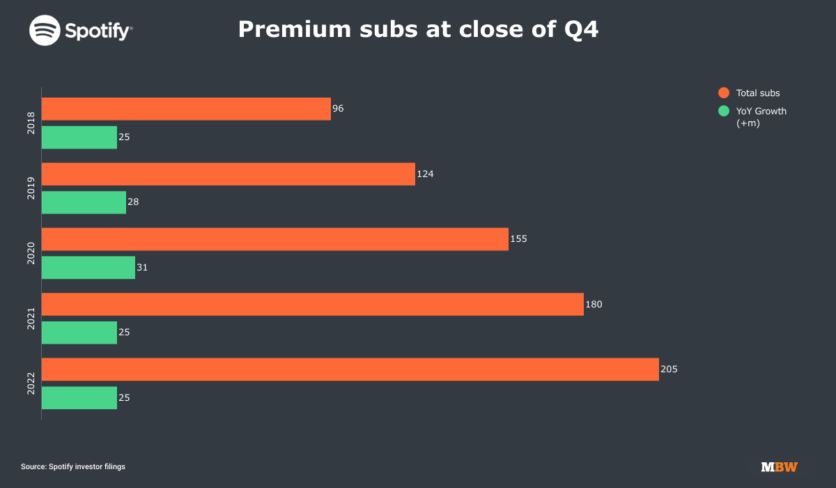 ---
In terms of finances, Spotify generated €3.2 billion in quarterly revenue, which was up 18% YoY at constant currency.
Premium /subscriber revenues stood at €2.7 billion, up 18% YoY at Constant currency.
Spotify's Ad-Supported Revenue in Q4 2022 was €449 million, up 14% YoY at Constant Currency, and was led, according to SPOT, by Podcasting gains. SPOT's Ad-Supported revenue accounted for 14% of its total revenue.
The company's revenue growth, excluding the impact of changes in FX, was ahead of expectations.
SPOT's Gross Margin also finished above guidance, at 25.3%, which it said "came primarily as a result of lower-than-expected spend on new podcast content investments and broad-based music favorability".
---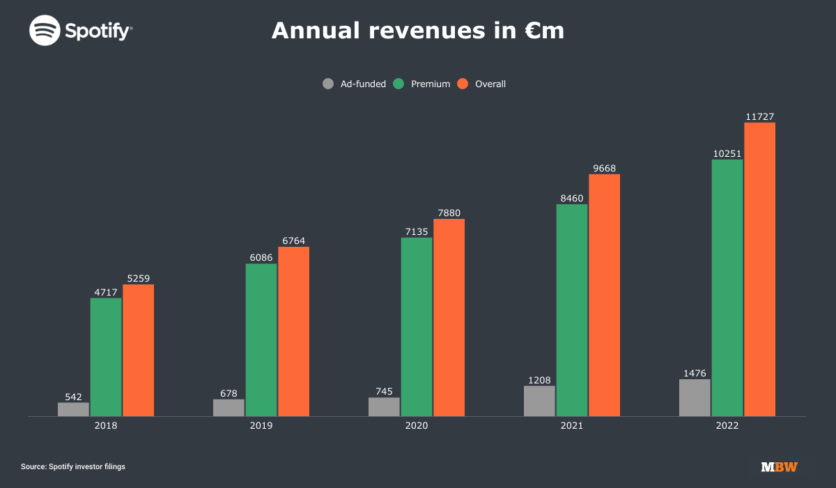 ---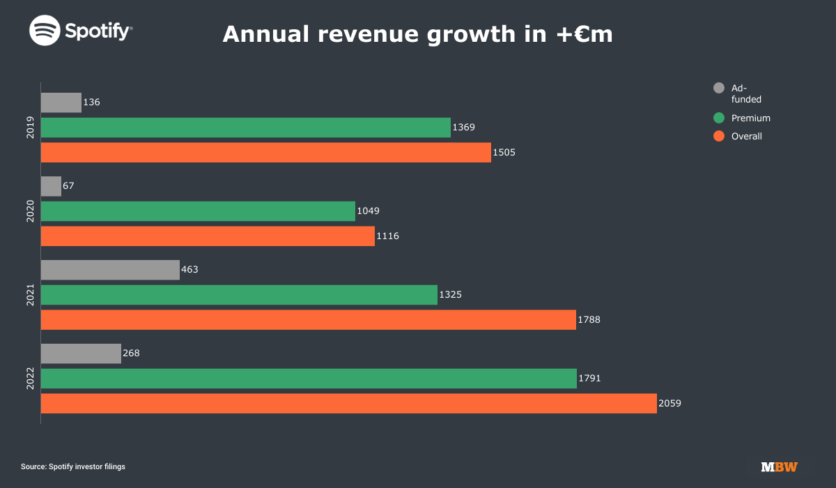 ---
In terms of profitability, Spotify posted an operating loss of €231 million for Q4 2022, reflecting, according to Spotify, "higher personnel costs primarily due to headcount growth and higher advertising costs".
These results come a week after Spotify announced that it is in the process of slashing over 500 jobs worldwide, reducing its employee base by "about 6% across the company".
Spotify also confirmed last week that Dawn Ostroff, Chief Content & Advertising Business Officer, is to leave the company. Ostroff joined Spotify in 2018 as Chief Content Officer.
Music Business Worldwide