The Top 40 chart has long been a measure by which elements of the music industry judge their biggest artists – not to mention their own commercial performance. But according to Spotify, those days are finished.
The context for this industry-challenging claim is important, and speaks to the rapid evolution of the streaming-driven record business.
In its financial results for the second calendar quarter today (reflecting the three months to end of June), Spotify revealed that the number of artists making up its "top tier" of acts now stands at over 43,000.
That figure is up 43% from 30,000 one year ago, says Spotify.
"Gone are the days of Top 40, it's now the Top 43,000."

Spotify shareholder letter
What does "top tier" actually mean? MBW has double-checked with a Spotify spokesperson, who's confirmed that it means these acts share no less than 90% of the streams on the platform.
We enjoy stats like this; they're worth remembering. We remember, for example, that back at Spotify's investor presentation in 2018, Daniel Ek revealed that, at the close of 2017, Spotify counted 22,000 artists within the "top tier" of its platform.
This, in turn, represented a 28% rise on the 16,000 artists who were in Spotify's "top tier" at the close of 2015.
---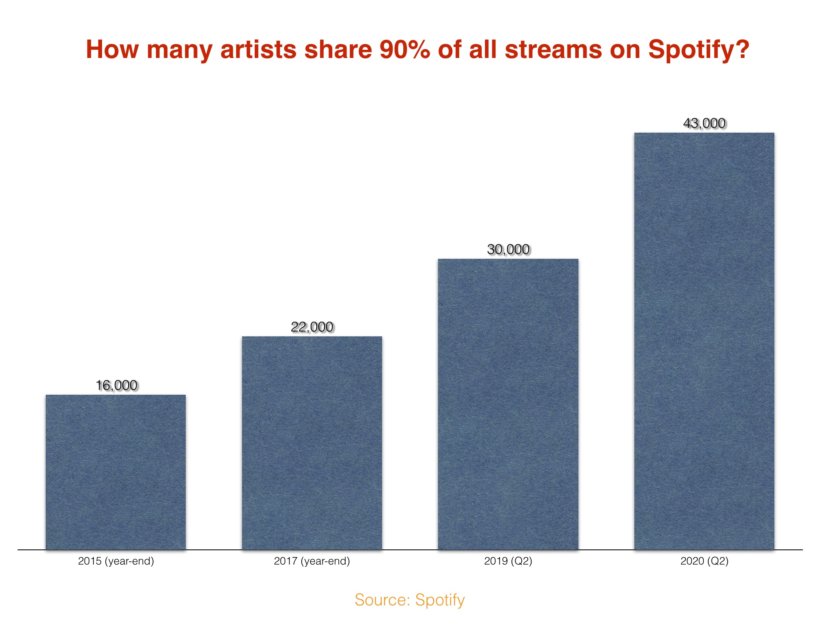 ---
In other words, the surprisingly small group of artists sharing 90% of streams on Spotify today has (a) almost doubled in number in the past three years, and (b) nearly tripled in the past five years.
In different words: the exclusive club of artists attracting the majority of streams on Spotify is getting significantly less exclusive. The spoils are being shared more widely; the 'middle class' of artist on Spotify is on the rise – and the dominance of the blockbuster superstar is having to make way.
"Our product and platform are driving discovery, diversifying taste, and helping up-and-coming artists reach new audiences," said Spotify today, adding: "Gone are the days of Top 40, it's now the Top 43,000."
How the major record companies – firms who traditionally thrive in a world where blockbuster artists exclusively hog the most streams – are reacting to this trend will be one of the key talking points of the music business in years to come.
There were plenty more interesting revelations in Spotify's Q2 results (and subsequent earnings call) today too. Here's four of them…
---
Spotify now has over 60m music tracks on its service, and 1.5m podcasts
At first glance, this seems a relatively pedestrian update. But this quarter (Q2 2020) is the first in which Spotify has said its total music catalog has surpassed 60m tracks.
Considering that Daniel Ek has previously revealed that nearly 40,000 tracks are added to Spotify daily, it's not difficult to extrapolate, and illustrate the gigantic magnitude of music that will soon be available on Spotify – aka: the noise which new artists trying to break (especially onto influential playlists) will have to overcome.
According to MBW's calculations, Ek's 40,000 stat means more than a million tracks are being added to the service every month.
It also means that Spotify's 'over 60m' stat will turn into 'over 75m' by August next year. And it will turn into 'over 100m' by April 2023.
Mark it on your calendars.
---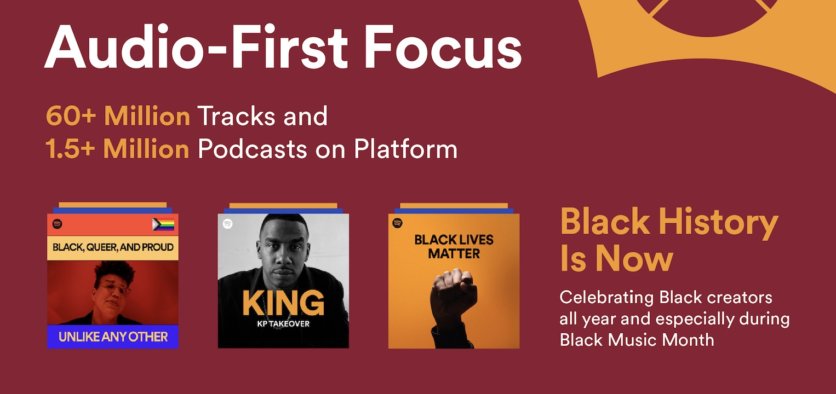 ---
2. Spotify is struggling to give subscriptions away outside of the US, Europe and Latin America
As noted by sharp-eyed industry analysts today, one of the more surprising things about Spotify's Q2 2020 results is the disappointing uptake of paid subscriptions outside of the US and Europe.
Each quarter, Spotify tells investors in percentage terms how its paying audience breaks down across the globe.
Here's how that translates into actual paying subscriber numbers in the most recent quarter (Q2), and the quarters before it:
---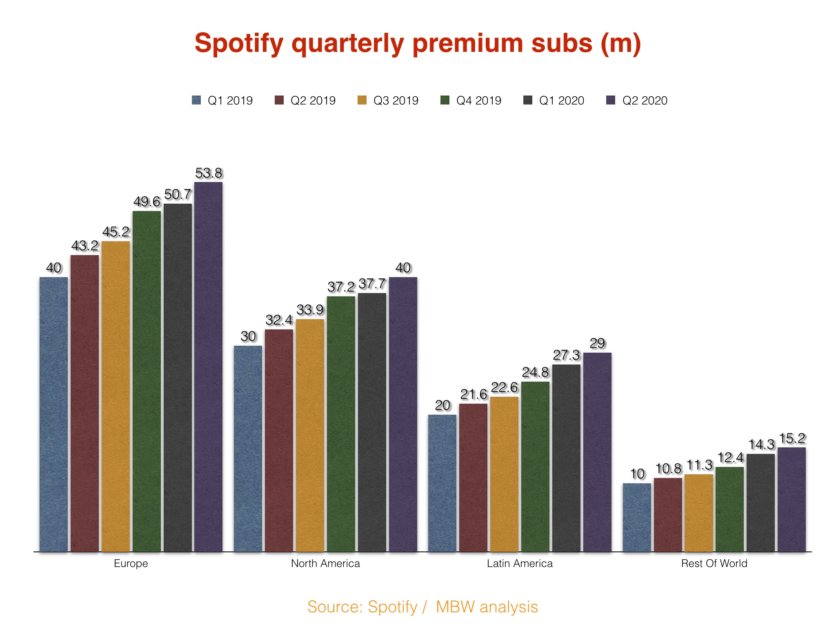 ---
Spotify added 8m Premium subscribers around the world in Q2 2020. But digging deeper into the figures shows that nearly half this 8m number (+3.1m) subscribed in Europe, with another 2.3m in North America.
In Latin America, Spotify added 1.7m subscribers, but in the entire rest of the world – including India, Vietnam, Japan, North Africa and the Middle East – it added less than a million subs (+900k).
This was significantly down on the 1.9m subs Spotify added in these regions in the prior quarter (Q1 2020). Regions, remember, which house an addressable audience of over 2.5bn people.
Something that may worry Spotify's investors is that the company said today: "Despite the ongoing uncertainty around COVID-19, we had our largest ever bi-annual campaign [in Q2] with strong gross additions in both the '3 months on us' intro offer for new users, as well as the win-back offer for returning customers."
Yes: Spotify gave away three-month subscription trials across the world in Q2, via its "largest ever" free trial campaign.
Yet fewer than a million people outside of Europe, North America and Latin America were actually interested.
---
3) Why Spotify's two-sided marketplace deal with Universal is probably a margin-grab – for both companies
There was a lot of talk (some would say too much!) about "innovation" in Spotify's press release announcing its new global licensing deal with Universal Music Group last week.
The announcement was light on detail, and pretty heavy on mutual congratulations (as was the Wall Street Journal piece that puffed it up). The most interesting nugget from the PR: the fact that UMG committed to "collaboration on new, state-of-the-art marketing campaigns across Spotify" while pledging to "deepen its leading role as an early adopter of future products and provide valuable feedback to Spotify's development team".
What might the deal actually mean in simpler terms? Here's a suggestion: Universal has agreed to take a set number of paid-for marketing campaigns on Spotify over the next two years – via Spotify's 'two-sided marketplace' and, particularly, via its Marquee pop-up ads.
"[Via Marquee] you should see better results for artists and labels… And, of course, for Spotify, it means a higher gross margin business, as well."

Paul Vogel, spotify
What would this achieve for both parties? Well, for Universal, it could mean the ability to nab a bunch of prime real estate on Spotify for its tentpole releases, helping drive up visibility on the platform and – if Spotify's impressive Marquee conversion rates are to be believed – consequently driving up UMG's market share on the platform.
What does Spotify get out of such an arrangement? That was given away by the firm's former CFO, Barry McCarthy, on an earnings call last year, when he suggested that major labels buying the Marquee pop-ups would equate to "expense offsets in the form of, let's say, lower content costs". i.e. if we're paying the labels X, and they're paying us back X for marketing on our two-sided marketplace, investors can level those numbers off against each other to figure out Spotify's 'true' content cost each quarter.
Daniel Ek didn't give much away about this idea today, though he did tell investors: "We're very excited by Universal's willingness to experiment and go all-in on the marketplace."
Will UMG going "all in" see it nudge rivals out of coveted chart positions via aggressive direct marketing on Spotify? Spotify will be hoping so… because ads beget ads.
If Spotify can establish a position whereby major labels need to advertise on Spotify in order to gain market share? The biggest winner out of that situation is… Spotify. (At least until the inevitable payola accusations start flying.)
Paul Vogel, Spotify's CFO, said today: "[Via Marquee] you should see better results for artists and labels, because they are able to grow their fans a lot better at more efficient prices than [on] other advertising marketplaces or billboards that they've traditionally spent [money] on. And of course, for Spotify, it means a higher gross margin business, as well."
As for the impact those 1.5m podcasts are going to have on labels' share of Spotify's subscription revenues in the future – and the general leverage of the record business when negotiating with SPOT?
That's one to tackle another day…
---
4) Spotify's advertising woes continue – due to COVID
As noted in MBW's story on Spotify's Q2 performance earlier, the company's advertising revenues fell 21% year-on-year in the quarter, which it blamed squarely on conditions caused by COVID-19.
The pandemic has certainly hurt advertising spend across digital platforms the world over. But, as I noted in this Rolling Stone piece, Spotify's advertising revenues were problematic before coronavirus messed with this year – both for investors and for the music rightsholders that license SPOT's free tier with their entire catalogs.
In the full year of 2019, Spotify generated €678m in advertising (see below), making up just 10% of its overall revenue. That revenue percentage barely changed from the same 10% portion ads claimed in 2018.
---

---
In Q2 2020, however, SPOT's €131m in advertising revenues comprised just 6.9% of its total turnover. The firm noted that these ad revenues were worst hit by COVID in April and May, but that in June, they were still down 12% YoY.
SPOT's advertising revenues have disappointed the labels for years. Will the unfortunate effects of COVID now shorten those same labels' patience with Spotify's ad-funded tier – especially when Spotify is expecting them to pay it advertising money for Marquee?
Lest we forget that in November last year, Spotify publicly stated that it was its aiming to dramatically increase its advertising revenues up to 20% of its overall revenue pie. It's currently a long, long way off.
Could podcast advertising help? Even if it can, it's not great news for the record industry.
Paul Vogel reminded investors today that, in future, "[any] advertising related to podcasting will be 100% Spotify's and not shared" with the company's label partners.Music Business Worldwide