Record labels are watching Spotify's ARPU closely right now.
Thanks to a combination of promotional deals, family plans, telco bundles and international pricing, the average amount paid by Spotify Premium subscribers worldwide fell below $5 per month for the first time in history in Q1; that's less than half the platform's typical $9.99-per-month subscription in the US.
Those same record labels might want to brace themselves for another ARPU fall in Q2.
Spotify has today (May 14) confirmed the launch of two new cut-price Premium deals – one for first time subscribers, and one for returning subscribers. Both are available until the end of June in all global markets excluding Japan.
For those who've never previously subscribed to Premium, Spotify is offering a three month subscription for free.
This offer applies across all Premium plan types – including an Individual sub, but also Family and Student subscriptions too.
With the Family Plan offer, this means a group (family) of up to six people will now all be able to get Spotify Premium for free, for up to three months.
Meanwhile, for returning subscribers (i.e. those who've cancelled their sub in the past), Spotify is offering three months of Premium for $9.99 (or local market equivalent – i.e. the usual price of a one-month individual sub).
This returning subs offer is only available for individual Premium subscribers who cancelled their plans on or before April 14, 2020.
---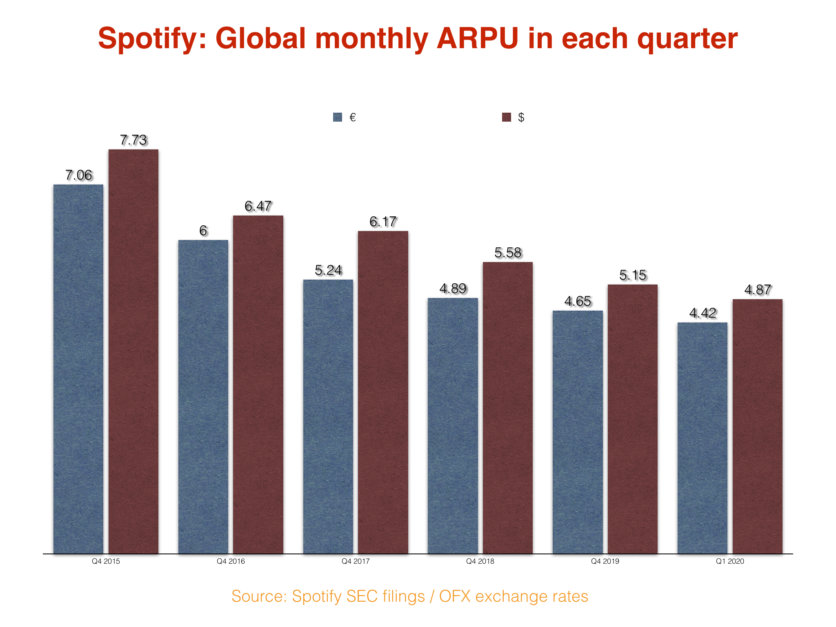 ---
Elements of the new promotion (as represented in a new video from Spotify, below) repeat of a deal first seen last August, in what, at the time, was a significant shift in SPOT's new subscriber acquisition strategy.
Prior to that deal last August, we'd only seen SPOT go as low as occasionally offering three months of Premium access for $0.99.
Could the new discount indicate that Spotify is trying to maintain its subscription income amid the Coronavirus pandemic?
Spotify announced the new deal today (May 14) on its For The Record blog, in a post that reads: "Ready to take your listening to a whole new level? Spotify Premium has you covered. Premium users can enjoy ad-free, on-demand music for more than 50 million tracks, as well as access to our 1 million podcast titles. It's a sweet deal, and it gets even sweeter:
"Beginning today, Spotify Premium is offering three months free across all plans to eligible first-time users, and three months for $9.99 (or local market equivalent) for eligible users who have cancelled and want to return. Now that's a cherry on top."
---
---
Despite concern in the industry surrounding a potential COVID-fuelled subscription slowdown, Spotify's Premium subscriber base actually grew by 6m in Q1 2020, up to 130m.
Spotify's Premium monthly ARPU in Q1 2020 was down 6% year-on-year to €4.42 ($4.87).  This figure was down even more, by 7%, excluding the impact from FX rates.
Spotify explained: "A significant portion of this [ARPU] decline was driven by the continuation of longer free trials rolling over from Q4 and additional intake during Q1. Excluding the impact of Trials & Campaigns, ARPU would have declined 4% Y/Y as a result of continued mix shifts in product and geography."
As widely expected, COVID-19 negatively affected Spotify's ads business in the period The firm said its Q1 ad revenues "fell short of expectations as a result of impacts from COVID-19, particularly [in] the last three weeks of the quarter".Music Business Worldwide