Between depressingly familiar pandemic-related anxiety and the Vitamin D-giving joy of a summer's day (in the US and Europe)… you might missed something in the past few hours that deserves your attention.
As MBW reported earlier today (July 22), Universal Music Group and Spotify have just officially announced a new, multi-year licensing agreement.
And, as MBW also reported earlier, that official announcement heralded Universal Music Group as – and we quote – "music's most innovative company".
To be clear, we're definitely not saying Universal isn't that. (Indeed, there's some decent evidence to make the case in UMG's favor.)
But we're duty-bound to tell you, dear reader, that there has been one question raised, multiple times, by non-Universal execs to MBW today, ever since we picked up on said divisive little epithet. That question being:
"This was a Universal press release, right?"
Because, for better or worse, we're all used to chest-beating, self-aggrandising corporate claims when companies are speaking on behalf of themselves.
So here's the odd thing: The proclamation that Universal is, indeed, "music's most innovative company" actually appeared in an official Spotify press release.
Yes: Publicly-traded Spotify just told the world, and its investors, that Universal Music Group, the world's biggest music rightsholder – more so than any of its rivals and peers – is definitively the most innovative company in the music industry right now.
---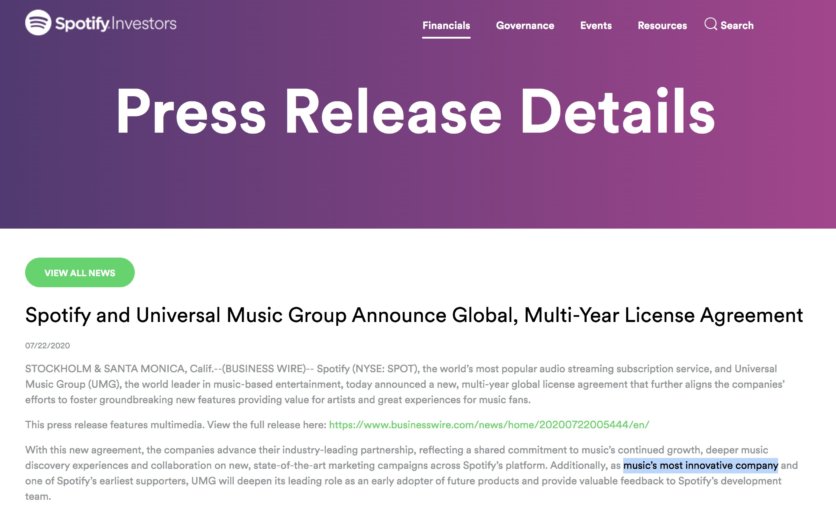 ---

Ask yourself: if you were a higher-up exec at one of the other two major music companies (Sony Music Group and Warner Music Group), let alone an artist or songwriter signed to these firms, would you be alright with this?
What about if you worked for one of the reams of powerful non-major music companies (to name but a few: BMG, Kobalt, Believe, Downtown, Hipgnosis, Reservoir, Amuse, Songtradr, Concord, SESAC, Primary Wave, SoundCloud, Round Hill etc.)?
The true answer is, surely, you'd feel a bit mugged off.
You'd feel directly mugged off by – to also quote from Spotify's press release – "the world's most popular audio streaming subscription service" for saying such a thing.
Maybe, in your mugged-offness, you'd rise above the bitterness, and simply doff your cap to whichever communications mastermind at UMG convinced Spotify – a company with a now-$53bn+ market cap – to agree to publicly cement such a statement into permanence.
---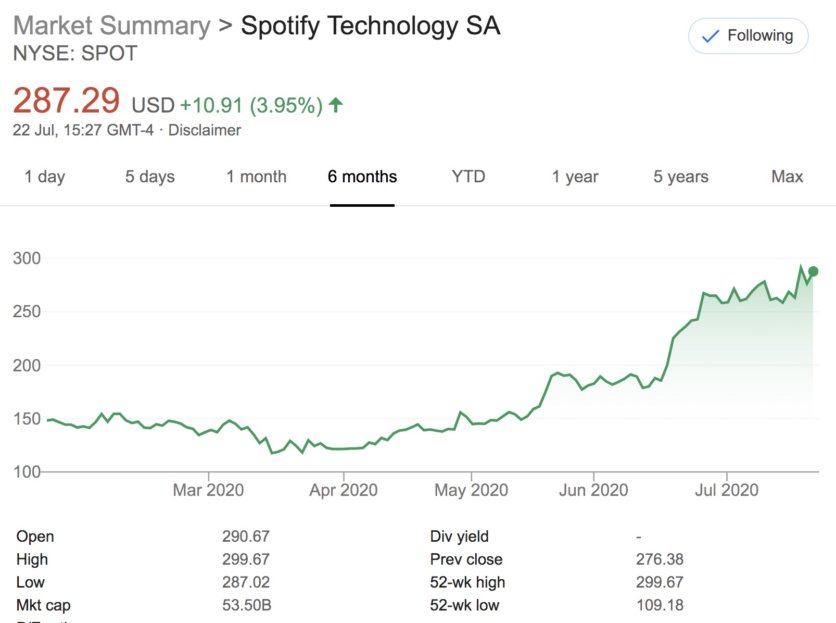 ---
Or maybe (mugged off as you might be) you'd politely yet cynically point out that Universal Music Group is still yet to sell its shareholding in Spotify, believed to equate to approximately 3.5% of Daniel Ek's company.
A shareholding that, at the end of yesterday, was worth circa $1.79bn.
And which – mainly as a result of a Spotify announcement today officially trumpeting UMG as "music's most innovative company" – is now worth some $90m more.Music Business Worldwide