Spotify has given an official update on its subscriber numbers, announcing that it has surpassed 40m paying premium customers.
The figure is no great surprise: the company's Head Of Creator Services Troy Carter revealed last month that Spotify was hovering around the 39m mark, leading MBW to predict that the service would hit 50m subs within six months.
That once-unthinkable figure now seems all the more achievable today.
Spotify's 40m subscriber base is – as Daniel Ek will no doubt be telling anyone who will listen – comfortably more than double Apple Music's subscriber base, which was last confirmed to be 17m earlier this month.
More crucially, Spotify is growing significantly faster than Apple's rival service.
On January 10 this year, Apple Music had 10m subscribers, while Spotify – said solid sources at the time – had 28m.
In the eight months since, Spotify has added 12m subscribers, while Apple Music has piled on 7m.
In other words, Spotify has added 1.5m subscribers a month since January, while Apple Music's monthly new subs average works out at just under 0.9m subscribers.
---
Here's why that's particularly interesting: in the four months after Apple Music launched in June last year, it outpaced Spotify.
Apple added 6.5m subscribers by October, with Spotify adding 5m in the same time period.
In the following three months, Apple added another 3.5m subscribers and Spotify added around 3m.
Since then, though, aided by an aggressive three-month price promotion this summer, Spotify has pulled away from its rival.
The difference is all the more impressive when you consider that Apple Music is available in 115 countries – and Spotify is available in just 60.
In fact, following launch Apple Music's monthly additional subscriber figure in 2015 stood at approximately 1.6m. (Important to remember this included the rush of early adopters after launch.)
In 2016 so far, Apple Music's average monthly figure has dropped to 0.88m.
Apple, of course, may point to one key reason behind Spotify's ability to outstrip its growth: the 'funnel' effect of the Swedish platform's freemium tier.
Currently, all released placed on Spotify must appear on both its free (ad-funded) and premium subscription tiers.
Under pressure from out-of-contract labels, that hard-and-fast rule looks likely to change for big new releases as soon as next month…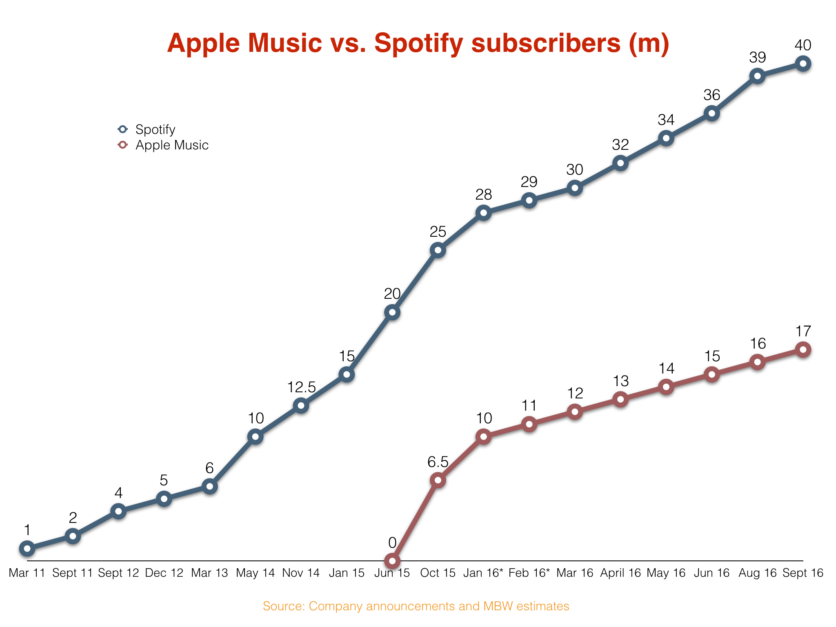 Music Business Worldwide