Spotify has added nine million paying subscribers in the past five months – an average of around 450,000 people every week.
At this rate of growth – the fastest in Spotify's history – it will have surpassed the magic 50m subscriber mark within the next six months.
The latest milestone was revealed by Spotify's Global Head Of Creator Services, Troy Carter (pictured).
The former Atom Factory boss confirmed in a new Billboard interview that Spotify now boasts more than 39m subscribers worldwide.
That's more than double the 16m-17m figure which sources suggest Apple Music now counts as a subscription base.
The last time we were given an official subscriber number from Spotify came in March, when CEO Daniel Ek confirmed the company had pushed beyond the 30m subs barrier.
At the start of last month, MBW revealed that Spotify's subs count stood at just under 37m – but there was an internal expectancy that around 1m of these would fall away after promotional deals expired.
Apple's last official number came in June, when it confirmed that it had reached 15m subscribers.
Judging by recent conversion percentage stats, MBW expects Spotify's total active user base to now stand somewhere around 120m.
The confirmation of the 39m number is timely.
MBW revealed yesterday that one key reason Universal boss Lucian Grainge has 'banned' Apple Music exclusive deals amongst his labels is because of Spotify's superior global reach.
Sources tell us that Universal, a company which did 56% of its business outside the US in H1 2016, sees Spotify as the significantly stronger global platform – right now – outside North America.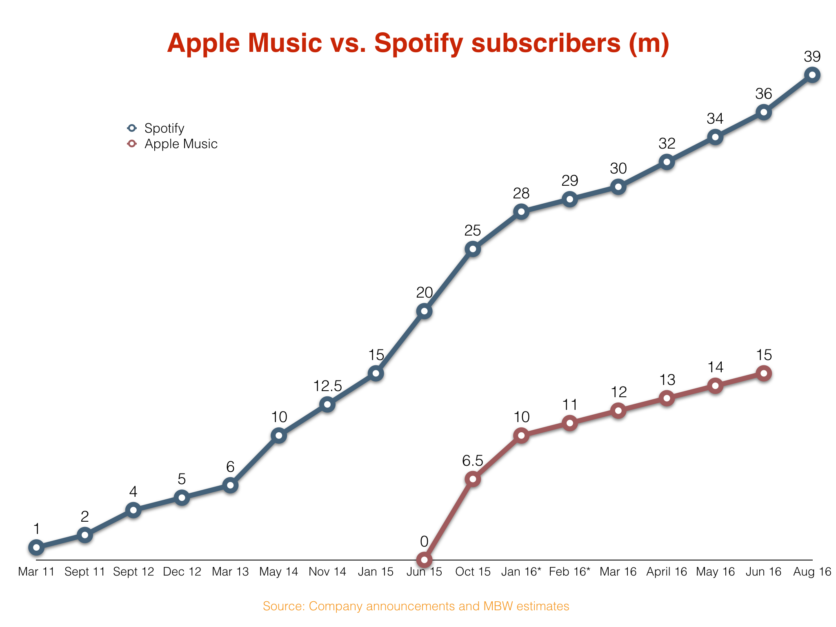 Music Business Worldwide