Apple Music has quietly yet significantly grown its global footprint this week – and is now in 60 territories where Spotify is unavailable.
First came Apple Music's expansion into Israel on Wednesday (August 3), which took its total market count to 114.
The streaming service is on offer for NIS19.90 ($5.20) a month in the country, while a family membership – for up to six people apiece – is priced at NIS29.90 ($7.80) a month.
Today (August 5) we learn that Apple Music has reached 115 countries by arriving in another significant territory: South Korea.
Very significant, in fact: according to IFPI, South Korea is not only the eighth biggest recorded music territory in the world, but one of its fastest-growing – and most digitally reliant.
South Koreans benefit from the same three-month Apple Music free trial as other territories, after which they will pay the equivalent of $7.99 a month for an individual plan or $11.99 a month for a family plan.
---
MBW discovered back in February that Spotify was available in 59 countries, which it added to in March by arriving in Indonesia.
Apple Music, meanwhile, was alive in 113 markets in Feb, and has this week added two more.
Apple is now operating in 60 countries where Spotify doesn't have a base – but Spotify is up-and-running in five markets where Apple Music is not (Andorra, Iceland, Lichtenstein, Monaco, Uruguay).
In other words, Apple Music is in 55 more countries than Spotify as things stand today.
(You can see the full updated list and explanation for these numbers below.)
Spotify, meanwhile, has more than double Apple Music's global subscribers. MBW sources suggest that Spotify had topped 35m subs, with Apple Music recently topping 16m.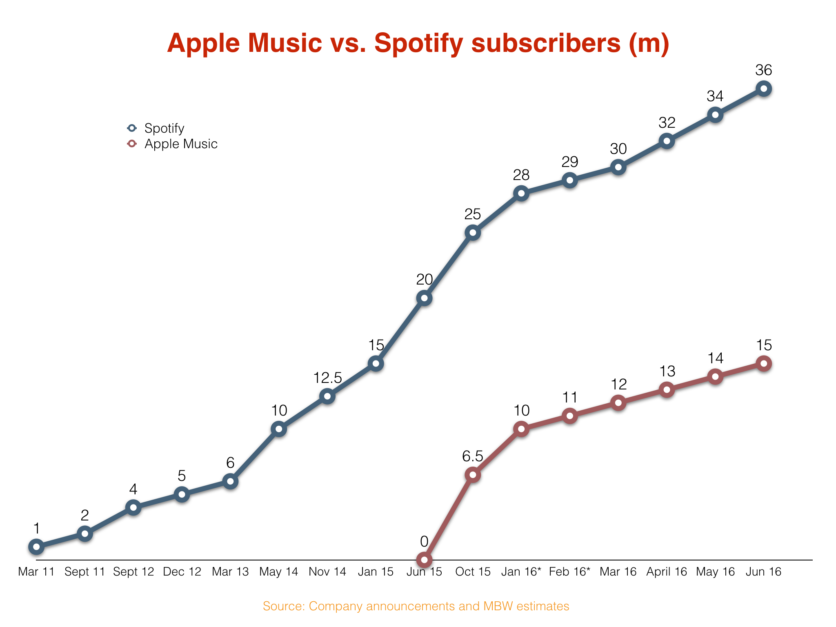 ---
Last year, South Korea generated $281.3m for labels and artists, according to IFPI – more than Italy, Brazil, The Netherlands, Sweden, Spain or China.
This figure was up 12.4% year-on-year, while 62% of it was made up by digital means (7% was performing rights, 31% phsyical).
Total streaming income in the territory hit $161.8m.
And in positive news for Apple, $152.7m of this figure was generated by paying subscribers – with just $9.1m from ad-funded platforms.
The Top 4 bestselling albums in South Korea last year came from EXO, signed to SM Entertainment.
---
APPLE MUSIC (115 countries – those where spotify unavailable have been bolded)
Anguilla
Antigua
Argentina
Armenia
Australia
Austria
Azerbaijan
Bahrain
Barbados
Belarus
Belgium
Belize
Bermuda
Bolivia
Botswana
Brazil
British Virgin Islands
Bulgaria
Cambodia
Canada
Cape Verde
Cayman Islands
Chile
China
Colombia
Costa Rica
Cyprus
Czech Republic
Denmark
Dominica
Dominican Republic
Ecuador
Egypt
El Salvador
Estonia
Fiji
Finland
France
Gambia
Germany
Ghana
Greece
Grenada
Guatemala
Guinea-Bissau
Honduras
Hong Kong
Hungary
India
Indonesia
Ireland
Israel
Italy
Japan
Jordan
Kazakhstan
Kenya
Kyrgyzstan
Laos
Latvia
Lebanon
Lithuania
Luxembourg
Macau
Malaysia
Malta
Mauritius
Mexico
Micronesia
Moldova
Mongolia
Nepal
Netherlands
New Zealand
Nicaragua
Niger
Nigeria
Norway
Oman
Panama
Papa New Guinea
Paraguay
Peru
Philippines
Poland
Portugal
Romania
Russia
St Kitts & Nevis
Saudi Arabia
Singapore
Slovakia
Slovenia
South Africa
South Korea
Spain
Sri Lanka
Swaziland
Sweden
Switzerland
Taiwan
Tajikistan
Thailand
Trinidad & Tobago
Turkey
Turkmenistan
Uganda
Ukraine
UAE
United Kingdom
United States
Uzbekistan
Venezuela
Vietnam
Zimbabwe
---
Spotify (60 countries – those where apple music unavailable have been bolded)
Andorra
Argentina
Australia

Norfolk Island
Cocos (Keeling) Islands
Christmas Island

Austria
Belgium
Bermuda
Bolivia
Brazil
Bulgaria
Canada
Chile
Colombia
Costa Rica
Cyprus
Czech Republic
Denmark
Dominican Republic
Ecuador
El Salvador
Estonia
Finland
France

Mayotte
Réunion
French Polynesia
Saint Pierre and Miquelon
Wallis and Futuna
New Caledonia

Germany
Greece
Guatemala
Honduras
Hong Kong
Hungary
Iceland
Indonesia
Ireland
Italy
Latvia
Liechtenstein
Lithuania
Luxembourg
Malaysia
Malta
Mexico
Monaco
Netherlands

Netherlands Antilles:
Sint Maarten

New Zealand
Nicaragua
Norway
Panama
Paraguay
Peru
Philippines
Poland
Portugal
Singapore
Slovakia
Spain

Balearic Islands
Canary Islands
Autonomous cities in North Africa:

Sweden
Switzerland
Taiwan
Turkey
United Kingdom

Falkland Islands
Gibraltar
Pitcairn Islands
Saint Helena, Ascension and Tristan da Cunha
Sovereign Base Areas of Akrotiri and Dhekelia (Cyprus)
Crown Dependencies:

Guernsey
Isle of Man
Jersey

Uruguay
US

American Samoa
Guam
Northern Mariana Islands
Puerto Rico
United States Minor Outlying Island
United States Virgin Islands
Note: Bermuda counted as standalone territory to match Apple Music. US Virgin Islands counted within 'US'. Apple Music counts neighbouring territory British Virgin Islands separately.
---
Here's the list of the 60 countries in which Apple Music is currently available but Spotify is not:
Anguilla
Antigua
Armenia
Azerbaijan
Bahrain
Barbados
Belarus
Belize
Botswana
British Virgin Islands
Cambodia
Cape Verde
Cayman Islands
China
Dominica
Egypt
Fiji
Gambia
Ghana
Grenada
Guinea-Bissau
India
Israel
Japan
Jordan
Kazakhstan
Kenya
Kyrgyzstan
Laos
Lebanon
Macau
Mauritius
Micronesia
Moldova
Mongolia
Nepal
Niger
Nigeria
Oman
Papa New Guinea
Romania
Russia
St Kitts & Nevis
Saudi Arabia
Slovenia
South Africa
South Korea
Sri Lanka
Swaziland
Tajikistan
Thailand
Trinidad & Tobago
Turkmenistan
Uganda
Ukraine
UAE
Uzbekistan
Venezuela
Vietnam
Zimbabwe
Music Business Worldwide