Apple announced the iPhone 7 in San Francisco tonight – without a traditional earphone jack – and used the event to give an update on Apple Music figures.
The company now appears to be adding just under a million subscribers to its music streaming service each month.
The last official update we got from Apple was 15m subscribers in mid-June. 
We now know that in the two-and-a-bit months since then, it's added a further 2m subs, up to 17m.
On stage, Apple CEO Tim Cook boldly backed his firm's strategy of securing windowed exclusives from major artists – despite the controversy it's caused at the likes of UMG, which recently 'banned' the practice amongst its labels.
Cook called Apple Music "the premier destination for new artists and existing artists to launch their exclusive music".
He cited the fact that over 70 exclusive releases had now been hosted on Apple Music from stars such as Taylor Swift, Frank Ocean and Drake.
(The Taylor Swift exclusive was in fact a video of her official 1989 world tour concert. However, her back catalogue is famously not available on Spotify.)
---
Interestingly, Apple Music's subscriber base appears to have grown slower than Spotify's this summer.
The last update we got from Spotify came from Troy Carter last month, who announced 39 million subs.
This was 9m – or 1.8m per month – up on the 30m figure announced by Spotify boss Daniel Ek in March.
Spotify's subscription numbers have been propelled forward by a summer promotion which offered new subscribers a three month trial for just $0.99.
The Apple Music segment of today's event was flourished by a 'Carpool Karaoke' video featuring James Corden and Tim Cook (pictured) singing Sweet Home Alabama along with Pharrell Williams.
Apple recently secured the exclusive for a short-form spin-off of Carpool Karaoke.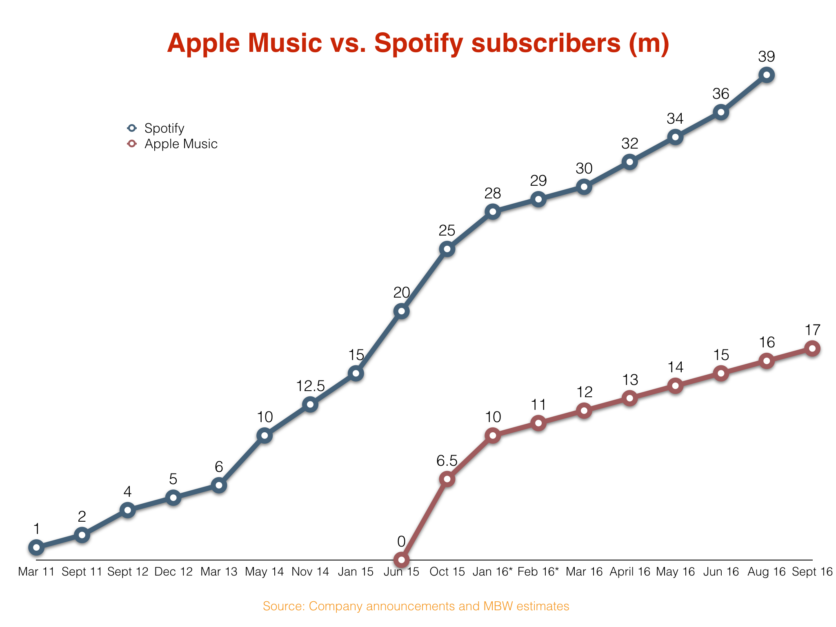 Music Business Worldwide