Each week, The MBW Review gives our take on some of the biggest news stories of the previous seven days. This time, we react to the news that Pandora is considering a sale, and talking to potential suitors. The MBW Review is supported by Believe Digital. (The views in these articles are those of the writer and are not necessarily endorsed by Believe.)
---
Apparently, Pandora is on the block.
As MBW email subscribers would have seen yesterday, the US public company has reportedly begun talking to Morgan Stanley about finding a potential buyer.
As we stand, Pandora, for all its historical global licensing issues and growing annual net losses, looks a little like a bargain.
The company has lost $7bn in market cap valuation over the past two years. It's currently sitting at $1.9bn – less than a quarter of Spotify's latest private valuation.
However, there are other reasons why possible acquirers may cool their jets on Pandora – not least the fact that its active listener base is dropping, down year-on-year in Q4 2015 to 81.1m.
In addition, the firm's acquisition of Rdio's assets means an entry into the hugely competitive space of interactive music streaming is an inevitability, while it paid a scary $450m to buy Ticketfly last year – a sister operation that contributed just $10m to the bottom line in Q4.
So who might cough up and buy Pandora if (and it's a big if) its shareholders agree to push for a sale?
MBW take a quick look at some possible suitors:
---
It's the word on everyone's lips.
Google/Alphabet owns the biggest music streaming service in the world in the shape of YouTube, but it's not yet at the top table in terms of audio-only services.
Its Google Play Music operation has won praise and certainly made an impact, but it's lagging behind the brand awareness and market leading positions of Spotify and Apple Music.
Earlier this month, Google briefly surpassed Apple as the world's most valuable company, with a market cap of around $530bn.
It's also believed to be sitting on $43bn in cash.
The fact that Pandora's business is based on a lot of free users generating money via ads- 80% of its revenues come from users who pay nothing – will likely appeal to Google's wider network (see below).
Spotify, on the other hand, is a business which draws 91% of its income from subscribers. An almost anti-Google thing to do.
Mike Herring, Pandora CFO, just summed up the firm's priority for investors: "We don't expect sub revenue to grow very quickly this year, until we are launching, sort of, the next generation of Pandora One."
(That's the one based on Rdio's old architecture.)
Another advantage to Pandora for Google: it comes with 200m registered users (even though 120m of them aren't using Pandora right now).
That's a lot of eyeballs – and personal data – for Google to mine, then attract into its ecosystem of Android, Gmail, Chromebook etc.
The same goes, of course, for Amazon, Facebook and many others.
But is that data worth nearly $2bn?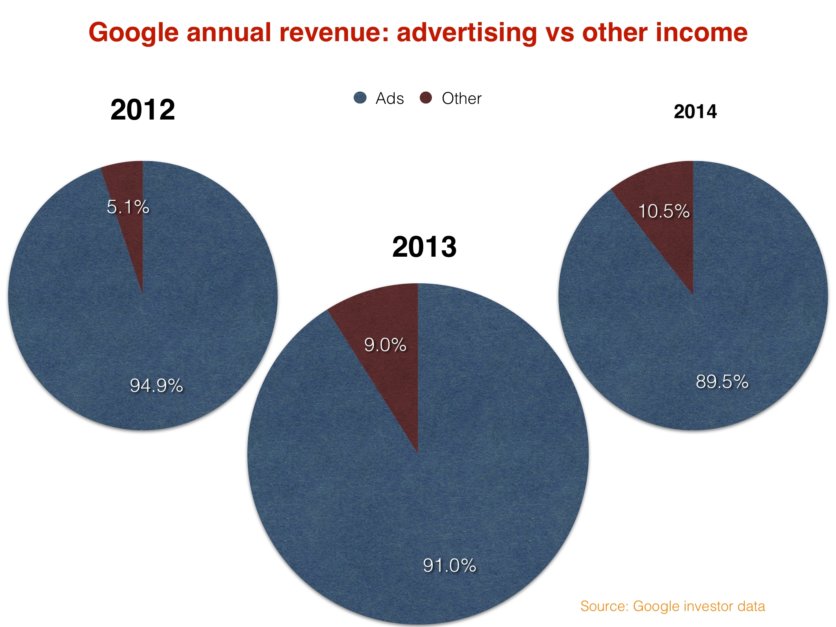 ---
2. Apple
Does Apple really need Pandora?
The answer to that question hangs on whether Apple could tempt Pandora's 81m users to pay anything.
Especially as it just made iTunes Radio premium-only.
As we stand, Apple Music's conversion from free-to-paid seems pretty healthy: after its first three months on the market, the service held on to 60% of its first wave of free trialists.
Like Google, the data-mining ability of Pandora-owned Next Big Sound would be an attraction for Apple, but as for TicketFly… does Apple really want to get into the tiny-margin, high-overhead business of live event transactions?
Also, quite how Pandora's lean-back digital radio audience would take to Apple's presenter-led Beats 1 platform is a head-scratcher.
There must be some symbiosis in the relationship between the two brands, however – because the market tells us so.
In November last year, Pandora boss Brian McAndrews dismissed the impact of Apple Music's launch on Pandora's falling listener figures.
It was a rough few days for McAndrews – because investors quickly disagreed.
The wariness of Apple Music's ability to cannibalise Pandora's active user figures has been a key catalyst in the plummeting shape of Pandora's share price over the past year (see below).
Then you have to consider Apple's ability to buy anyone for fun.
Apple currently has a market cap of $519bn, with – wait for it – $215bn in cash reserves.
(Although this figure, in truth, is a slight misnomer; much of this money is placed in long-term securities and doesn't take debt into account, meaning Apple only really has a piddling $16.7 billion of loose change down the back of its balance sheet's sofa.)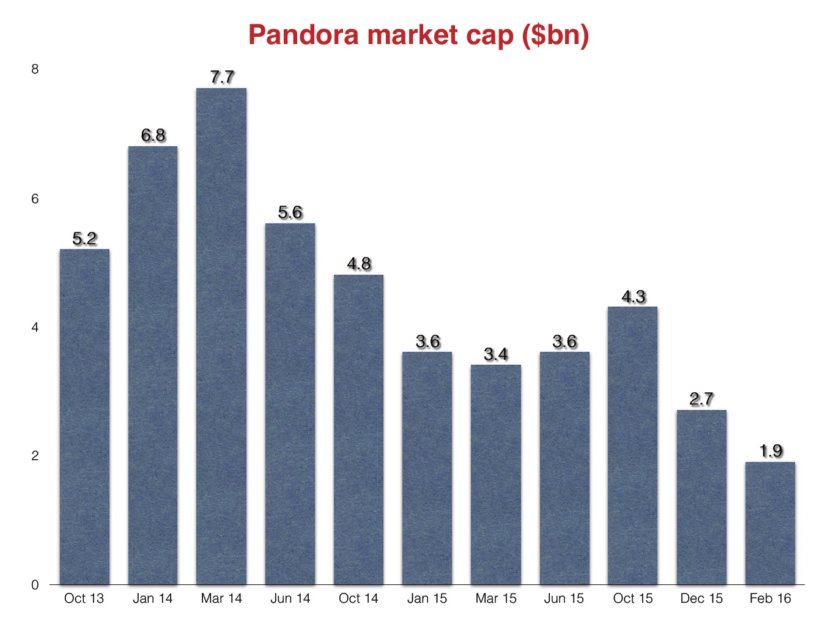 ---
Is Pandora's model the future of radio – all radio?
The fiercest rival to Pandora today is iHeartRadio, which has 80m digital registered users, but lags behind Pandora – which has 200m+ registered users, and 80m+ active users.
Pandora CEO Brian McAndrews crowed about Pandora's unique positioning in free ad-funded digital radio to investors yesterday.
"Just recently, we saw iTunes Radio cease to be a free advertising-supported product, underscoring what we have known for a long time: building a business like we have is very difficult, and we now have a huge lead and advantage that is incredibly challenging for new entrants to overcome," he said.
iHeartMedia, parent of iHeartRadio, is no new entrant.
In fact, it's the largest traditional radio station operator in the U.S, now trying to transition its dominance into the world of digital.
Only problem: Pandora keeps standing in its way.
Originally launched in 2011, iHeartRadio is a free all-in-one service that gives listeners access to thousands of live radio stations from across the US, plus custom stations from a catalogue of more than 24 million songs, as well as on-demand podcasts.
Pandora would fit pretty seamlessly into that offering.
One snag: iHeartMedia might not have the money, as it struggles to get on top of the business realities of a diminishing traditional radio business.
The company, formerly called Clear Channel, is reportedly trying to work out how to manage a huge amount of debt, taken on in 2008 when it was acquired by private equity firms Bain Capital Partners LLC and Thomas H. Lee Partners LP for $24bn.
As Bloomberg memorably puts it, 'iHeartMedia is trying to buy more time to grow in an industry that isn't'.
Pandora's industry is definitely growing, while gradually pinching more of iHeart's analog dollars out of a $17 billion US radio advertising market.
That could make it an ideal suitor for iHeart – if it can find the funds.
---
4) Samsung
Korean electronics giant Samsung has struggled to really make any mark on the streaming music world.
That's a mutating problem for a company who knows it needs attractive content if it's going to keep up with Apple at the top of the smartphone sales charts – especially now Apple Music can be used to tempt customers to Tim Cook's side of the fence.
Furthermore, Samsung is facing up to another year of weaker device sales in 2016, according to analysts, and needs an injection of interest.
Perhaps Pandora can be its friend.
Samsung is fiscally very healthy, with Q3 2015 revenues of $45 billion and a net profit of $6.45 billion – a very stable position from which to make a Pandora bid.
Its first attempt at a Pandora-like digital radio service, Milk Music, has been battered into the ground the US.
The platform expanded into New Zealand last year, but has failed to grab any more global licenses – a struggle Pandora could have told it all about.
From a music biz perspective, Samsung buying Pandora would bring another profitable, mega-rich corporation into the world of music streaming.
The smart money is on those characteristics ultimately defining streaming's winners.
Spotify, the big independent success story of digital music, is currently scrabbling to get $500m more investment, and it's not hard to see why.
The likes of Pandora, Spotify, Deezer and, we can safely assume, TIDAL, have something dangerous in common: they're all loss-making and perennially need to grab investment in order to stay afloat.
Apple and Google, on the other hand, are huge, rich and profitable.
If these sound like stacked odds, it's because they are.
Money buys patience. Patience affords opportunity.
---
---
The MBW Review is supported by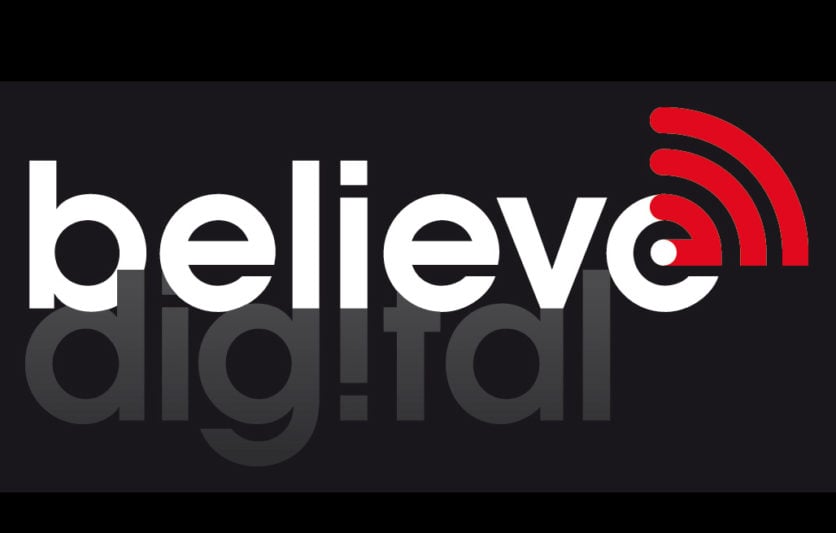 Believe Digital, a leading independent digital distributor and services provider for artists & labels worldwide. Believe empowers artists and labels to maximize the value of their music with a full suite of services. Championing innovation and transparency throughout its ten-year history, Believe prides itself on providing tailor-made services for each label and artist. Visit believedigital.com for more details.Music Business Worldwide