The numbers we were all waiting for are in: Apple Music is currently entertaining 6.5m paying subscribers, according to Apple CEO Tim Cook.
That's 200,000 more than Deezer's total subscriber base of 6.3m (although around half of those are inactive), but 13.5m behind Spotify's official paying subs tally of 20m.
Apple's Eddy Cue announced back in August that 11m people had signed up to Apple's three-month free trial during its opening quarter on the market, which kicked off on June 30.
According to Cook's latest figures, that means around 40% of these people have since left the service after their trial expired (and, conversely, that around 60% have stayed the course).
Another 8.5m people are currently trying out Apple Music's three-month taster, according to Cook.
"I'm finding personally that I'm discovering a whole lot of music that I wasn't listening to before," said Cook at a Wall Street Journal tech conference yesterday.
"Spotify has some seriously big figures ready to announce. They have been waiting for apple to show their hand first."

MBW Source
"I think it's fabulous, and to have over 15 million on there, and 6.5 million in the paid category, I'm really happy about it. And I think the runway here is really good."
Don't expect Spotify to wait long to announce its latest figures: MBW has been told by in-the-know sources that Daniel Ek's streaming service now has around 100m active users across the world – up by a third on the 75m figure announced just four months ago.
If the Swedish firm's subscriber base has grown at the same speed, it will be up to around 26m people.
"Spotify have had some seriously big figures to announce for a while now," says our mole. "They've been waiting for Apple to show their hand, and then they're going to shout from the rooftops."
We'll wait and see on that score.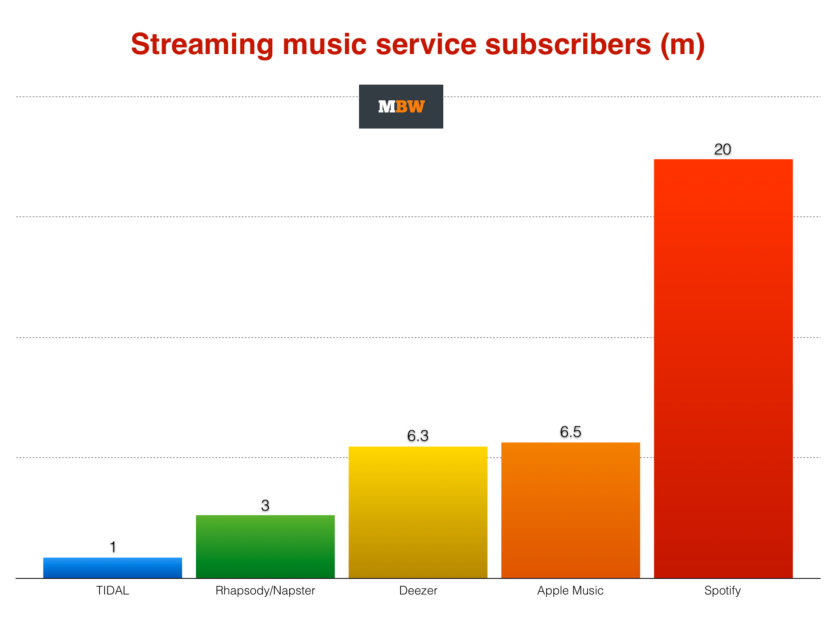 What we know for certain is that despite just over four months on the market, Apple Music is now officially the second-biggest paid-for music streaming service in the world.
Although its 6.5m paying base is less than a third of Spotify's overall paying user number, it's comfortably ahead of Deezer's 6.3m total subscriber haul.
It's also more than double the 3m paying subs of Rhapsody/Napster, announced in July.Music Business Worldwide