MBW Reacts is a series of analytical commentaries from Music Business Worldwide written in response to major recent entertainment events or news stories. MBW Reacts is supported by JKBX, a technology platform that offers consumers access to music royalties as an asset class.
---
"K-pop flourished in an environment where we could challenge ourselves. We should conserve the ground so that we can stand shoulder-to-shoulder with the world's major record labels."
Jiwon Park wasn't shy in declaring this grand ambition for his company last week.
The CEO of Korean music giant HYBE wrote the above "shoulder-to-shoulder" line in an open letter last Wednesday (February 22)  that confirmed HYBE's acquisition of a 14.8% stake in its rival, the third biggest K-pop company in South Korea, SM Entertainment.
As you may be aware, Jiwon Park's determination to "conserve [HYBE's] ground" in K-pop reflects a fiery, complex music biz soap opera playing out in Korea right now.
Here's that story in six easy steps:
That ≈15% stake in SM, for which HYBE paid around USD $335 million, was acquired directly from SM's founder (and ex-leader) Lee Soo-man;
HYBE has now stated its intention to acquire a further ≈25% stake in SM for approximately $565 million. If approved, that move would give HYBE a 40% stake in SM, making it the company's largest single shareholder, for a total consideration of ≈$900 million;
There is strong opposition to HYBE's attempted takeover from SM's existing management, who have (a) raised concerns over the market power such an acquisition may bring the home of BTS,  and (b) even accused Lee Soo-man of historical tax avoidance. (Naturally enough, SM's management might also be slightly fearful for their own futures should HYBE take a controlling stake in the company);
Those fighting against HYBE's attempt to increase its ownership stake in SM Entertainment include SM's co-CEO, Lee Sung Soo… who happens to be the nephew of Lee Soo-man (if you're keeping up, that's the founder of SM, and the guy who just sold HYBE 15% of the company);
Prior to the acquisition of the ≈15% stake in SM by HYBE, Korean tech/entertainment company Kakao agreed to buy a 9.05% stake in SM Entertainment for around USD $162 million. (Update: This transaction, based on the issue of new shares and bonds, was subsequently blocked by a court in Seoul);
All the while, the Korean markets and competition watchdog, the Korea Fair Trade Commission, is keeping a close eye on HYBE's intentions with SM. HYBE reportedly has a 52% market share of the pop market in Korea today, thanks to BTS – of course – as well as other acts including SEVENTEEN, TOMORROW X TOGETHER, and NewJeans.
---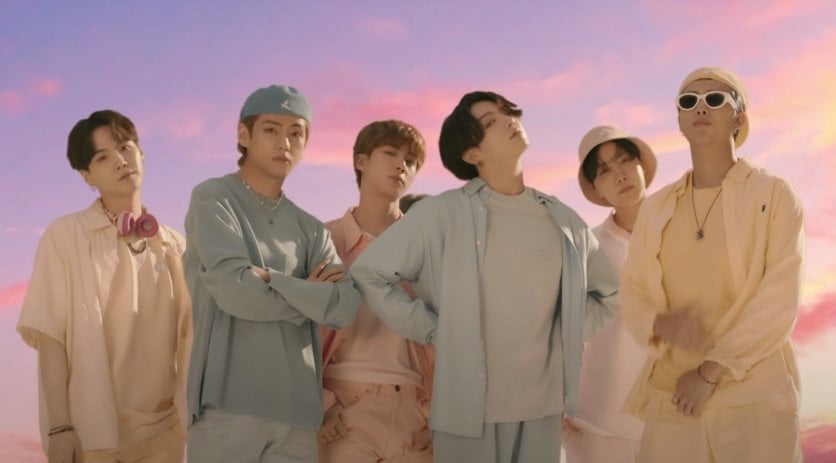 ---
HYBE's biggest problem: An over-reliance on BTS
Even if HYBE fully acquired SM Entertainment in the months ahead, it would be a very long way off rivaling the smallest of the three major music companies – Warner Music Group (WMG) – in terms of annual revenue.
In 2022, according to USD-aggregated results published in investor filings, HYBE's entire global business generated $1.38 billion in the calendar year, over three times smaller than WMG's turnover in the same period.
If HYBE is harboring hopes of rivaling Warner's size over the next few years, at this stage, those hopes seem fanciful (see below).
---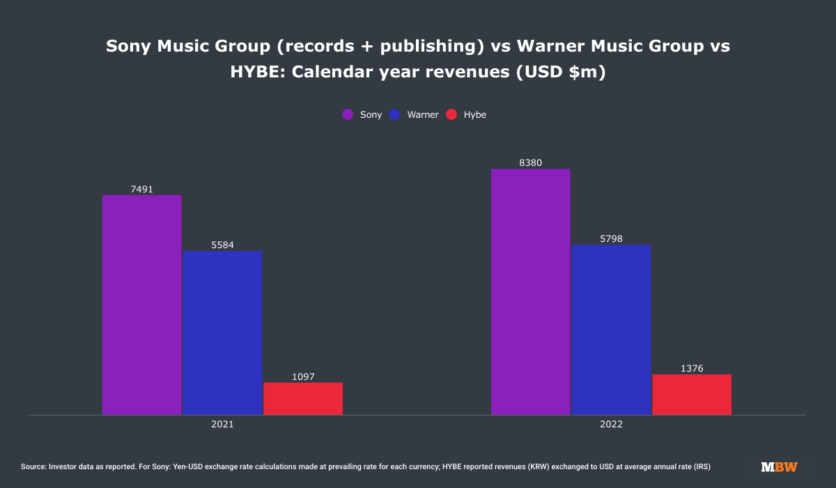 ---
My take: When Jiwon Park said that HYBE should "conserve ground" to stand "shoulder-to-shoulder with major record labels", he was actually speaking from a position of worry.
HYBE needs to up its market share of K-pop overall, because, temporarily, the wheels are now coming off its most bankable asset in the space: BTS.
Last year, BTS announced it would be taking a long break from making music together until 2025, following its members' mandatory conscription into South Korea's army.
That's a big issue for HYBE's investors, because the firm's commercial reliance on BTS – despite its consistent attempts to dilute the boy-band's internal share of generated revenue – is plain to see.
According to Kim Hyun-yong, an analyst at Hyundai Motor Securities, across revenue sources like records, merch, live tickets, commercial partnerships and more, BTS contributed 95% of HYBE's typical revenues up until 2019.
In 2021, says Kim, that percentage fell to 70%. In 2022, it stood at around 50%.
One crucial reason for HYBE's ability to quickly reduce BTS's proportional contribution to its revenues these past two years? Scooter Braun.
HYBE's USD $1.05 billion acquisition of Braun's US-based Ithaca Holdings in 2021 brought various successful non-K-pop operations into HYBE (via HYBE America).
These included country music giant, Big Machine Label Group, plus Braun's own management company, SB Projects (home to Justin Bieber and Ariana Grande).
As you can see in the below slide from HYBE's latest financial results (FY 2022), its Ithaca acquisition – combined with the acceleration of K-pop's popularity in the United States – has helped catalyze HYBE's international business to the point that commercial activity in North America made up nearly a third of the firm's global revenues last year.
---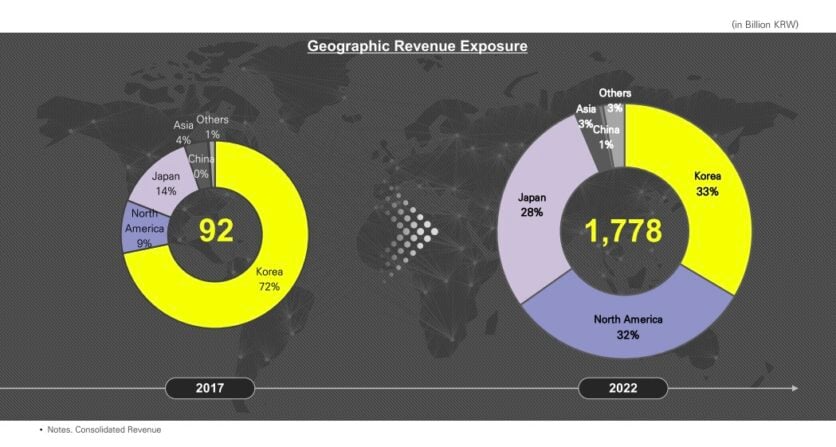 ---
Still, though, the problem of BTS's absence for HYBE's global business in 2023 looms large.
If Hyundai Motor Securities' estimates are right, then BTS's proportional contribution to HYBE's revenues (50%) in 2022 means that the boyband generated over USD $680 million for HYBE last year.
That's some asset to have to kiss goodbye until 2025.
In October last year, in the wake of the news that BTS were undertaking their military service, HYBE CEO, Jiwon Park, quickly issued a reassuring letter to shareholders. He noted that HYBE had a plan to soften the blow of BTS's inactivity – including solo projects from the band's members, plus priority projects from other artists (including SEVENTEEN and TOMORROW X TOGETHER).
There was even talk from Jiwon – as predicted by MBW two years ago – that HYBE would combine its "content-creation capabilities" with its in-house generative AI platform, Supertone, via its "AI-based speaking and singing vocal synthesis technology".
Yup: robot BTS. You literally read it here first.
---
The most important post-BTS strategy mentioned by Jiwon Park in that open letter last year?
HYBE's "multi-label structure" which, he said, would "continue to create music and establish artists that can resonate with our fans".
"We are looking to [merge with/acquire] various labels, management [firms] and any other companies that pursue businesses related to musical intellectual property."

HYBE statement, November 2022
This idea was further fleshed out by HYBE for its investors a month later (November 2022), with the company telling shareholders that it was actively and strategically "looking to M&As and establishing joint ventures so that we may expand on our multi-label structure both in and outside of Korea".
Added HYBE: "We are looking to [merge with/acquire] various labels, management [firms] and any other companies that pursue businesses related to musical intellectual property."
Enter Quality Control.
---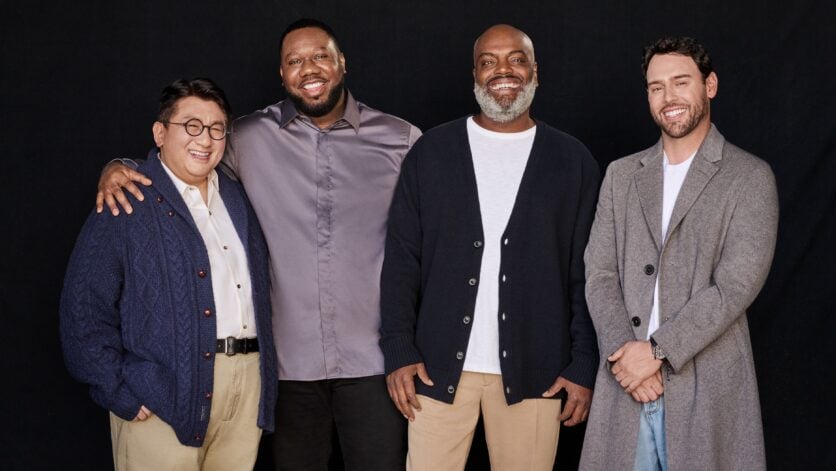 ---
Scooter Braun's big bet
The last time that Scooter Braun was involved in an acquisition in the $300 million range, all hell broke loose.
That acquisition was the US entrepreneur's $330 million buyout in 2019 of Big Machine Label Group, which, at the time, included the master recordings to Taylor Swift's first six studio albums.
Swift famously publicly protested against the acquisition, even blocking the use of the recordings in syncs, and re-recording much of her earlier material under 'Taylor's Version'-branded records (that she fully owned).
Braun, knowing when a hot potato is becoming scolding to the touch, offloaded his ownership of the Swift recordings in November 2020 to Shamrock Holdings for around $300 million.
Now the dust is settled on this run of events, analyzing Scooter Braun's business savvy is an interesting exercise.
On the one hand, by flipping the Taylor Swift assets for nearly the same price he paid for the whole of Big Machine, Braun essentially acquired Scott Borchetta's entire country label group (minus the Swift recordings) for just ≈$30 million. That's a very canny bit of deal-making.
[UPDATE: MBW now understands, via sources close to the situation, that Scooter Braun acquired both Big Machine's label group and its publishing company for a total consideration (cash plus stock) of $330 million in 2019. The publishing company included Luke Combs' catalog. In addition, Shamrock Holdings acquired Taylor Swift's masters from Braun in 2020 in a deal that, after subsequent royalty targets were hit, was worth a total consideration of USD $405 million… $75 million more than Braun paid for Big Machine.]
On the other hand, what value would HYBE – a company desperate to spread its internal risk away from BTS and towards other superstars – put on ownership of Taylor Swift's first six albums today?
Today, Scooter Braun is involved in another $300 million acquisition. This one's considerably less controversial than his last… but no less discussion-worthy from a music biz standpoint.
On February 8, Braun – now the sole CEO of HYBE America – announced that his firm had acquired the company best known as Quality Control (QC), the Atlanta-born hip-hop specialist created by local legends Pierre "P" Thomas and Kevin "Coach K" Lee.
The deal was worth $300 million in total, according to Korean regulator filings – with $250 million of that figure paid in cash, and the rest in HYBE stock. (Raine Group is understood to have priced QC.)
This nine-figure acquisition obviously follows HYBE's stated strategy in 2023, both in terms of diversifying its portfolio beyond K-pop, but also in terms of its keenness to do so via "M&As and… joint ventures [that] expand on our multi-label structure both in and outside of Korea".
The QC buy is also Scooter Braun's first big bet as an executive at HYBE, nearly two years on from his Ithaca Holdings being acquired by the Korean company (a move led by HYBE founder and now-Chairman, Bang Si-Hyuk).
---
Credit: QuiteSimplyStock/Shutterstock

HYBE X Quality Control: The bear case
Some in the industry who MBW has spoken to in recent weeks have argued that $300 million is a bulky sum for Braun and HYBE to pay for QC, a company that has developed a number of established stars of modern hip-hop.
Those stars include Migos (who tragically lost a member in Takeoff, shot dead in Houston last year), plus Lil Baby, Lil Yachty, and City Girls.
What recorded music catalog rights has HYBE acquired via Quality Control's label operation?
That's a tricky question to answer, especially since QC's label entered into a JV with Motown / Capitol Music Group / Universal Music Group for future releases in 2015.
For example, let's take a quick look at a number of QC label's biggest hits to date, and their copyright information on streaming services:
Migos' Bad and Boujee (feat Lil Uzi Vert), released in 2016 (at the time via 300/Warner/Quality Control) has over 850 million Spotify streams to date. Ownership of the track (and others on its associated album, 2017's Control) appears to have fully reverted to Quality Control Music, according to credits on Spotify;
However, later Migos hits from 2018's Control II album – including Walk It Talk It (681m Spotify plays) and Stir Fry (567m Spotify plays) – are copyright-credited as "Quality Control Music LLC and UMG Recordings Inc". The "and" there may suggest the joint ownership of recording rights, rather than a more-typical license agreement;
Elsewhere, Lil Baby's biggest hit to date (and also, it appears, Quality Control's biggest hit to date) is Drip Too Hard (with Gunna), with 1.15 billion Spotify plays. This time, the track and associated album (2018's Drip Harder), like hit 2020 album My Turn, are credited as "Quality Control Music LLC, under exclusive license to UMG Recordings".
Lil Baby's second biggest-hit, 2018's Yes Indeed (with Drake, 860m Spotify streams, from the 2018 album Harder Than Ever) is, like Migos' Culture II, credited as: "Quality Control Music LLC and UMG Recordings Inc".
In addition, the "under exclusive license to UMG Recordings" credit appears for the biggest (non-feature) hits to date for Lil Yachty (2018's Yacht Club) and City Girls (2018's Act Up).
---

---
Universal Music-related complications RE: the ownership (and royalty collection) of Quality Control's biggest catalog hits was nodded to in the press release announcing HYBE's acquisition of the company last month.
In that PR, Coach K said: "An added bonus of this partnership is the fact that both QC and HYBE have existing relationships with the UMG family and that will create an easy flow that will benefit the artists."
Presumably, at a certain point in the years ahead, full ownership of those "exclusive license" recordings will revert back to QC from UMG.
Part of HYBE's gamble on the company, therefore, is a bet that, when these catalog rights do eventually revert, they will remain popular enough on streaming services to be lucrative long into the future.
---
Another element of HYBE's gamble on Quality Control: braving the declining – but still dominant – share of hip-hop music in the United States.
According to Luminate's end-of-year reports, 'R&B & Hip-hop' music claimed 31.2% of all on-demand audio streams in the US in 2019. But by 2022, this figure had fallen to 28.7%.
To be clear: 'R&B and hip-hop' (a category that mushes together two distinct genres) was the most popular genre in the States by far last year, claiming over a quarter of all audio streaming plays in the States.
But the consistent direction of travel for the category, market-share-wise, is downward (see below).
---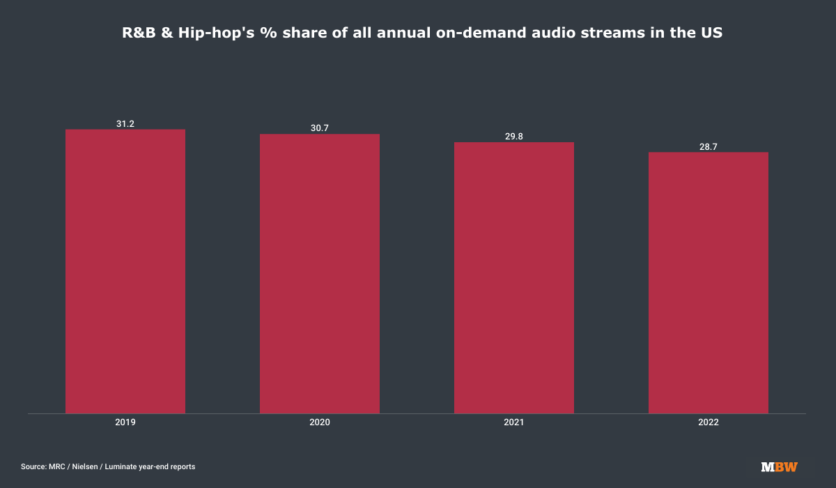 ---
Here's additional food for thought for HYBE, which to a degree is speculating on hip-hop's future popularity with its $300 million acquisition of QC: In the two years from 2020 to 2022, according to Luminate's reports, 'R&B and hip-hop' lost 2% market share of on-demand audio plays in the United States (from 30.7% to 28.7%).
In the same timeframe, Latin music grew its US market share by the exact same share: +2% (to 7.30%, see below).
---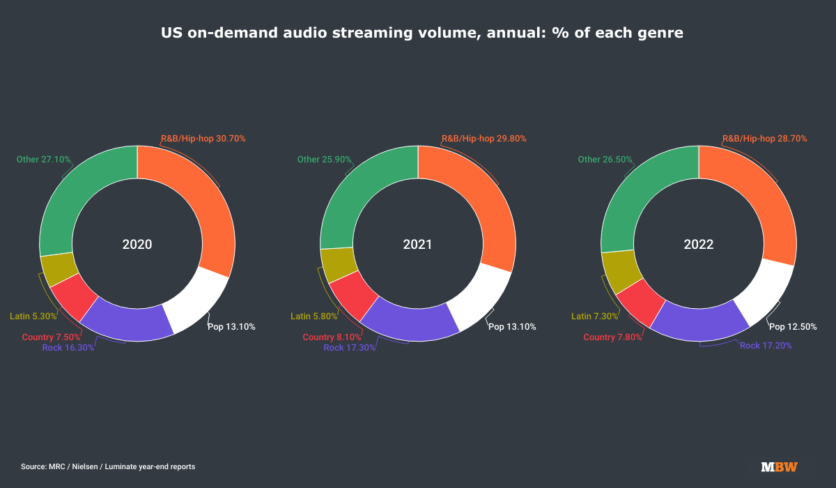 ---
HYBE x Quality Control: The bull case
There is, though, another perspective on Scooter Braun and HYBE's $300 million bet on Quality Control: it's all about the future.
One much-missed element of HYBE's acquisition of QC is that the deal spans beyond just the latter company's record label.
In fact, according to a press announcement, HYBE has acquired QC Holdings Inc via (per the associated Korean regulatory filing) QCMHoldCo LLC.
QC Holdings Inc is the parent company to the Quality Control label, but it's also the parent to a number of other associated businesses set up by Coach K and P, including those spanning both film & TV (Quality Films) and sports talent representation (QC Sports).
With this in mind, Scooter Braun and HYBE are making a $300 million bet on Coach K and P (and their team) being able to replicate their historic success in highlighting emerging talent before it explodes into the big-time. Only this time, they're doing so across music, film, and sport.
In this regard, one obvious analogous bull case to HYBE x Quality Control is Live Nation Entertainment's long-running, and wildly successful, investment in Roc Nation.
---
The historical pedigree of Coach K and P in finding and developing talent within sub-cultures, and then helping that talent go blockbuster, is unquestionable.
Coach K, for example, was a standout impresario within Atlanta's trap scene when it first bubbled into the US mainstream a decade-plus ago. One of the region's best-known artist managers, he handled the careers of both Young Jeezy and Gucci Mane.
Then, at Quality Control, Coach K and P once again showed their instinct (and appetite for risk) for handpicking on-the-rise artists who'd go on to trouble the upper realms of the Billboard Hot 100.
Migos burst onto the "mumble rap" scene in 2013 with Versace, before going on to secure numerous multi-platinum records in the US over the following decade.
Discussing Quality Control's decision to invest heavily in Migos' promotion and lavish-looking videos at an early stage – an essential part of the trio's aspirational appeal – Coach K told Music Business Worldwide in 2017: "I'm gonna be real: it was check-to-check at times.
"With Migos, we were scratching our heads like: 'We have $150,000 in our [business] account, but we have to go with this record to radio now. It could wipe us out… F*ck it. Let's put it on the line.'"
---
In order for Quality Control to truly move the dial for HYBE – especially when it comes to the non-BTS revenue mix at the Korean company – it's going to need Coach K and P to find multiple more acts, like Migos, who it can springboard from niche-scenesters to megahit-icons.
Announcing the acquisition of QC in February, HYBE's founder and Chairman of HYBE, Bang Si-Hyuk, said:"This partnership is a vital part of our growth plan to innovate the entertainment industry through a diversified portfolio and advanced technology. We will work together to continue adding depth of hip-hop to the global music industry."
HYBE is entering the US hip-hop space from a standing start. It's banking on QC to unlock a lucrative world with which the Korean company has hitherto had little connection.Music Business Worldwide