South Korea-based entertainment giant HYBE's annual revenues surpassed the one billion dollar mark for the second consecutive year in 2022.
According to a new investor filing, HYBE's annual revenues grew 41.6% YoY to 1.77 trillion South Korea Won.
That total revenue haul for FY 2022 converts to USD $1.37 billion at annual average exchange rates.
The company's adjusted EBITDA in 2022 was 328.7 billion South Korea Won (USD $254.4m).
HYBE, the home of K-pop stars BTS, reports that its key revenue driver in 2022 was its 'Artist Direct Involvement' business segment, which grew by 82.6% to 973.8 billion South Korea Won ($753.8m).
The company's second-largest source of revenue in 2022 was its Artist In-Direct Involvement' business segment, which generated 804.1 billion South Korea Won ($622m) last year, up 9.7% YoY.
This business line sees HYBE use the name and likeness of its artists such as BTS without requiring the band's active participation.
---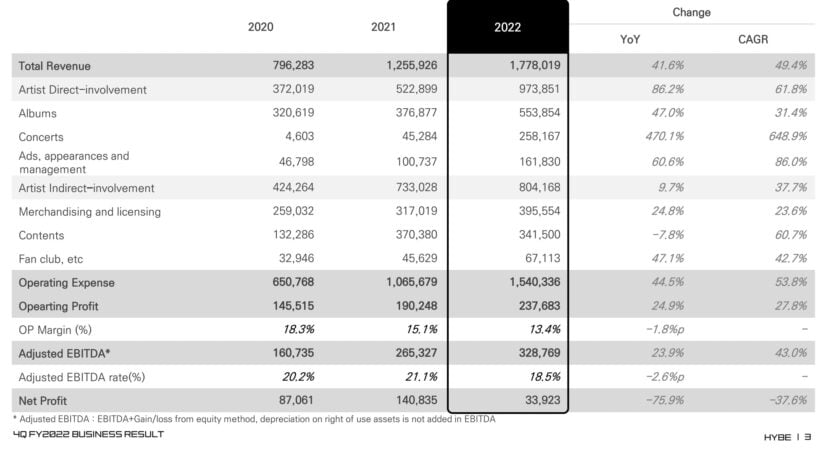 ---
In FY 2022, this business segment generated nearly double the revenue it generated during the first pandemic year in 2020, when it generated 424.2 billion South Korea Won. It was cited as a key factor behind the company's strong performance that year.
These Artist In-Direct Involvement' activities became HYBE's main revenue driver in every quarter of 2021, including Q1 (ending March 31), Q2 (the three months to the end of June), Q3 (the three months to the end of September) and Q4 (ending December 31).
It was also the company's biggest revenue driver across the FY 2021, generating 733 billion KRW ($640m at annual average exchange rates) that year – up 72.8% YoY.
BTS, HYBE's key revenue generator, revealed in June that they would be taking a break to pursue solo projects, with BTS member Jin starting his 18-month military service in December.
BTS-related projects that didn't require the band's direct involvement last year included mobile game BTS Island: In the SEOM, which launched in June and is available in six different languages: Korean, Japanese, English, Chinese (both simplified and traditional) and Spanish. It racked up over 7 million cumulative users as of November 26.
Album sales were HYBE's third largest revenue source in 2022, growing 47% YoY to 553.8 billion South Korea Won (USD $428.7m).
Concert revenues soared 470.1% YoY to 258.1 billion South Korea Won ($199.8m) following the full return of the live music industry, versus 45.2 billion South Korea Won in 2021 when concerts hadn't yet returned to scale as the world was coming was out of the pandemic.
Elsewhere, HYBE's Fan Club revenues, derived from its WeVerse fan platform grew 47.1% YoY, to 67.1 billion South Korea Won ($51.9m).
HYBE also breaks down its financial results by geographic location, reporting that 32% of revenues were generated in North America, the company's second-largest market.
South Korea was HYBE's biggest revenue-generating market in 2022, accounting for 33% of the company's overall revenues last year (see below).
HYBE notes that North America only accounted for 9% of its annual revenues in 2017, while Korea accounted for 72% that year.
Japan was HYBE's third-biggest market in 2022, with a 28% share of the company's total revenue. The market accounted for 14% of HYBE's revenues in 2017.
---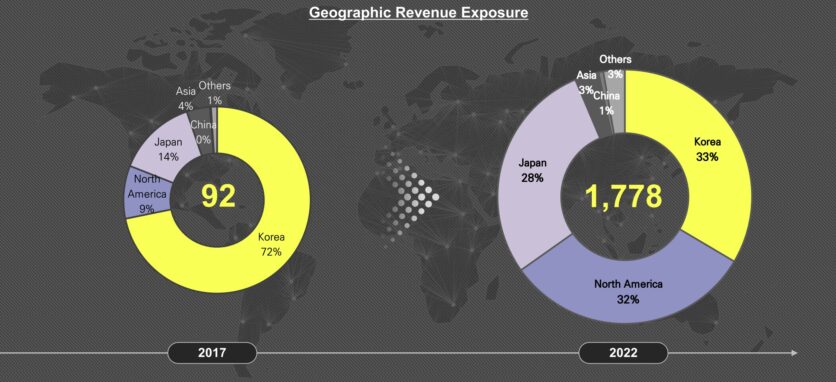 ---
HYBE's FY and Q4 2022 results arrive two weeks after the company's US division, HYBE America, led by CEO Scooter Braun, acquired Atlanta rap powerhouse QC Media Holdings or Quality Control.
HYBE highlights the company's key artists in its investor presentation, including Lil Baby, Migos, Lil Yachty, as well as introducing the company's leadership, Chief Executive Officer Pierre Pierre "P" Thomas and Chief Operating Officer Kevin "Coach K" Lee.
---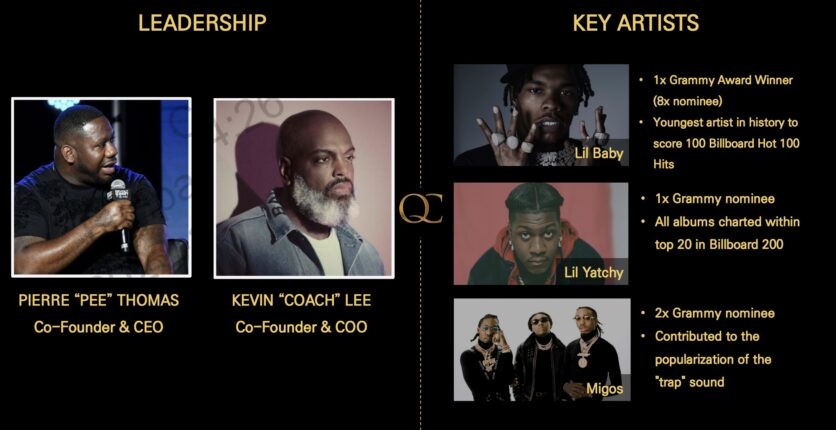 ---
Today's news also arrives amidst a deepening rift between HYBE and rival K-pop company SM Entertainment.
Two weeks ago, HYBE, the company behind BTS, acquired a 14.8% stake in SM Entertainment (behind stars like NCT, EXO and Aespa) from SM's founder Lee Soo Man, in a deal worth 422.8 billion South Korean won (approx. USD $334.5 million).
As a result, HYBE became SM's largest shareholder.
As reported by All K-Pop, following its acquisition of Lee Soo Man's SM Entertainment shares, HYBE revealed in a filing that it intended to up its 14.8% stake in SM to around 40% of the company.
HYBE reportedly planned to do so by purchasing another 25.2% of SM Entertainment's shares for a total of 1.14 trillion South Korea Won (USD $900 million USD) from minority shareholders, launching a tender offer to do so.
SM Entertainment's current management, however, have publicly expressed opposition to this plan.
Over the weekend, Jang Cheol Hyuk, the CFO of SM Entertainment, published a video on YouTube in which he slammed HYBE's recent takeover bid, arguing that it would lead to the latter company's monopolization of the K-Pop industry.
---
All KRW-USD currency conversions in this report have been calculated at the average annual rate published by the IRS in the United States.Music Business Worldwide