The Taylor Swift vs. Scooter Braun / Big Machine feud has spilled out into the public domain again.
This time, Swift has castigated Ariana Grande manager Braun (and the financial backers who helped him buy Big Machine, her former label) for allegedly scheduling the release of live Swift recordings dating back to 2008 – a release, Swift says, she has not approved.
On Thursday (April 23), Swift posted on her Instagram story that she wanted to thank her fans for "making me aware that my former label is putting out an 'album' of live performances of mine tonight".
She then wrote: "I'm always honest with you guys about this stuff so I just wanted to tell you that this release is not approved by me."
Swift says the LP is a recording of a "radio show performance" she played 12 years ago, and alleges that Big Machine has "listed the date as a 2017 release".
Some Swift fans have suggested the album is called Live From Clear Channel Stripped 2008.
---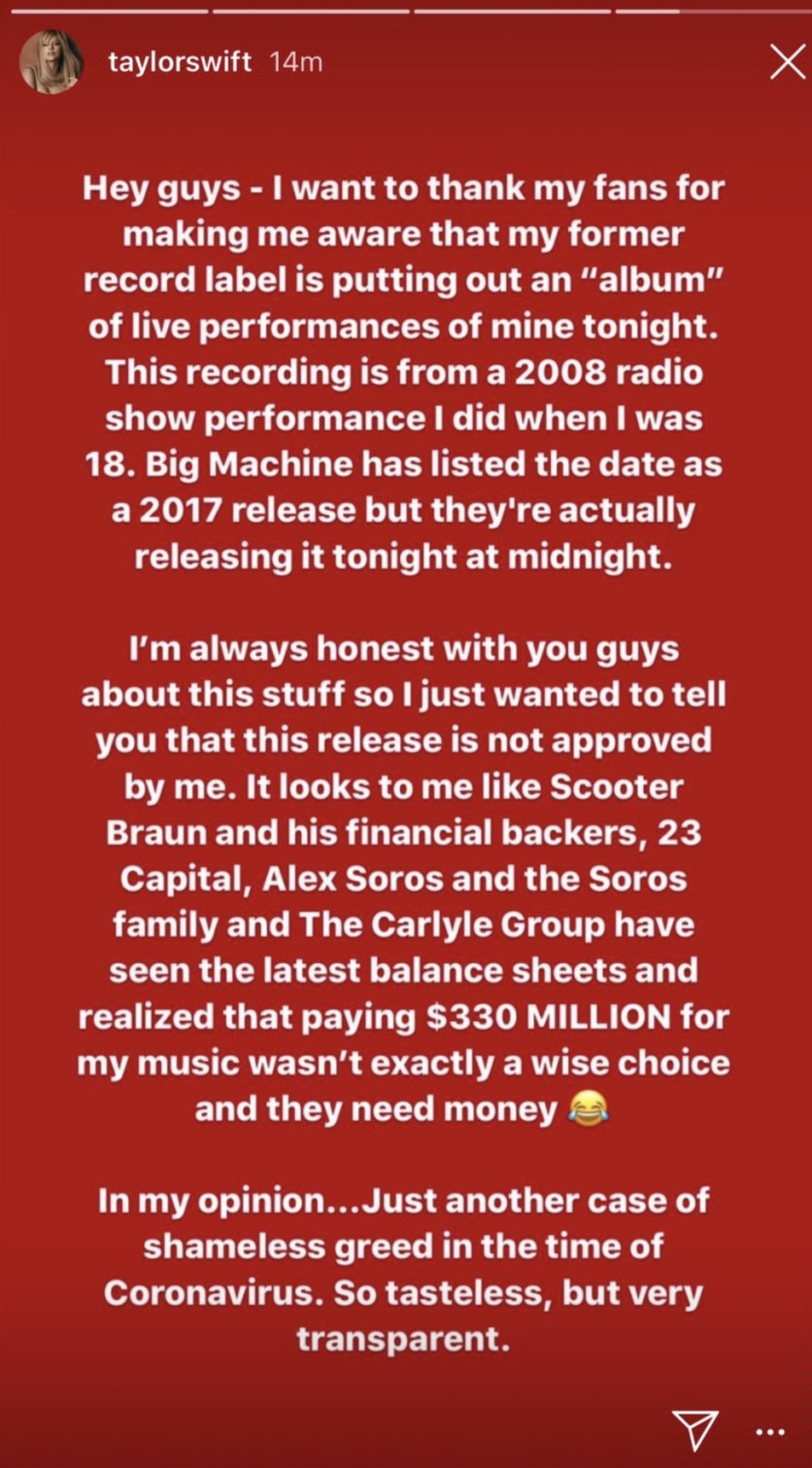 ---
Continuing her Instagram post, Swift said: "It looks to me like Scooter Braun and his financial backers, 23 Capital, Alex Soros and the Soros family and The Carlyle Group have seen the latest balance sheets and realized that paying $330 MILLION for my music wasn't exactly a wise choice and they need money."
Added Swift's post: "In my opinion…Just another case of shameless greed in the time of Coronavirus. So tasteless, but very transparent."
Scooter Braun's Ithaca Holdings acquired Big Machine, run and founded by Scott Borchetta, for a price in the region of $300m in June last year.
As a result of the deal, Ithaca Holdings now owns and controls six of Taylor Swift's multi-platinum studio albums including Taylor Swift, Fearless, Speak Now, Red, 1989 and Reputation.
On the same day that deal was announced, Swift, whose father was a minority shareholder in Big Machine, alleged on social media: "I learned about Scooter Braun's purchase of my masters as it was announced to the world. All I could think about was the incessant, manipulative bullying I've received at his hands for years."
Braun later called on Swift to resolve the fallout after "numerous death threats" directed at the music exec's family.
Swift says she plans to re-record her hits as new masters later this year, and has stated that she has blocked the use of her Big Machine recordings from sync use in order to thwart Ithaca's ability to gain licensing money from the tracks.
This isn't the first time Swift has publicly named financial backers of Braun's Ithaca Holdings.
In November last year, the artist claimed that Big Machine was preventing her from playing her old hits at the American Music Awards – although how a recorded music company could block an artist from performing her songs live is still unclear.
In an open letter to Braun and Borchetta on the matter, Swift said: "I'm especially asking for help from The Carlyle Group, who put up money for the sale of my music to these two men."
Swift released her latest studio album, Lover, in partnership with Republic Records / Universal Music Group in August 2019.
Swift has previously stated that she owns the master rights to Lover, and will own the master rights to future material recorded under her current UMG deal.Music Business Worldwide