The amount of royalties paid out by Pandora to artists, labels, songwriters and publishers continues to cause controversy.
The US-based streaming radio platform distributed $256m to music rights-holders in the first half of 2015, generated from around 80m active listeners across North America, Australia and New Zealand.
Compare that to Spotify, which paid out $300m in just the first three months of 2015, and you can see why some quarters of the music business, especially songwriters, are vocally disappointed with their Pandora receipts.
Those receipts certainly won't be getting any bigger next Wednesday (September 9), when Pandora celebrates its 10th anniversary… by switching off all ads on its service.
In a move which the platform says is 'sponsored' by its paid-for tier, Pandora One, free listeners will be able to tune in to Pandora for 24 hours from 12.00am Eastern Time without fear of commercial interruption.
(Update: Dave Grimaldi, Pandora Spokesman, told MBW: "Listener Love Day royalties will be calculated as if it's a normal day of advertising operations.")
This is a particularly intriguing move: Pandora is essentially using its birthday as a marketing event to push its unpopular subscription offering.
And when you check the maths, you can see why.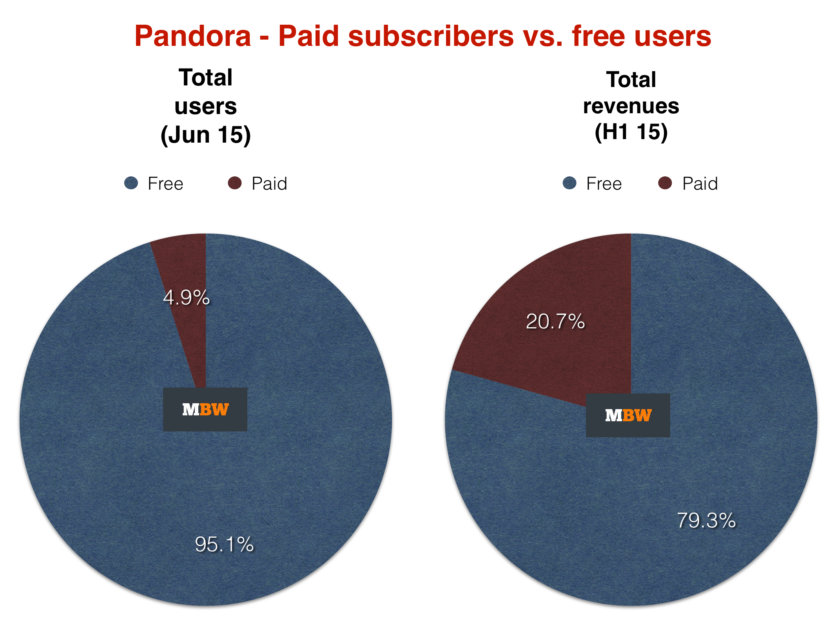 Standard subscriptions to Pandora's ad-free premium tier, Pandora One, cost $4.99 per month – although many subscribers signed up when it was a dollar cheaper at $3.99pm.
Despite being half the price of Spotify Premium, this offer is clearly not doing the trick.
In the first six months of 2015, Pandora's subscription revenue amounted to $106.6m. That compared to $409.7m income from advertising on its free tier.
Meanwhile, Pandora attracted 79.9m active monthly users in June – its last publicly-reported period – but just 3.9m of these were subscribing to Pandora One.
Crunch the numbers, and you discover that less than 5% of active Pandora users are currently paying to subscribe… but that these people contribute more than 20% of the firm's revenue in H1 2015.
Over on Spotify, 27% of users (20m from 75m) are coughing up for premium – with subscription contributing around 90% of the firm's total revenues.
With more than $60m clocked up in net losses so far this year alone, no wonder Pandora appears keen to get a bigger slice of that sweet premium pie.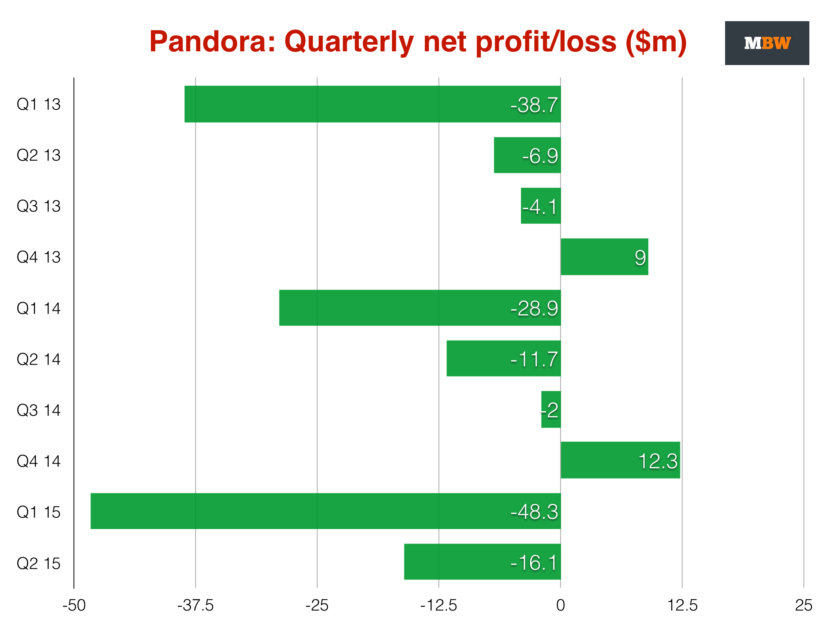 Pandora founder Tim Westergren (pictured) said that the ad-free 'Listener Love Day' was simply "a celebration of a decade of connecting music fans to the artists that matter to them".
He added: "This is a thank you to each and every listener who has tuned in to Pandora over the past 10 years."
"From the first song Pandora played in 2005 to the 50 billionth thumb we celebrated earlier this year, our mission has remained the same – to provide each of our listeners with the best music experience possible, whether an old favorite or introducing them to a new artist and style of music.
"Listener Love Day is a celebration of not only our listeners, but a day dedicated to great music."Music Business Worldwide