Pandora has generated more than $1bn in turnover in a 12-month period for the first time in history, as its listener numbers return to growth.
The US-based streaming radio business last night revealed its Q2 fiscal results for the three months to end of June, posting US $230.9m in revenue – up from $177.3m in the same period the year before.
However, the company's net loss widened from $11.7m in Q2 2014 to $16.1m in the same quarter this year.
Over the past six months, Pandora has posted $516.3m in revenue, but a $64.1m net loss in total.
Its biggest expense continues to be royalties to rights-owners.
In Q2 2015, Pandora paid out $130.1m in 'content acquisition costs', up on $111.5m in the equivalent period last year.
In the first half of 2015, Pandora shelled out $256.2m to music rights-holders, representing 49.6% of its total income.
Its other biggest cost is sales and marketing, which sucked $94m out of the business in Q2 2015 – an increase on a $66.2m outlay in Q2 2014.
In the first six months of this year, sales and marketing set Pandora back $178.3m, compared with $128.1m in H1 last year.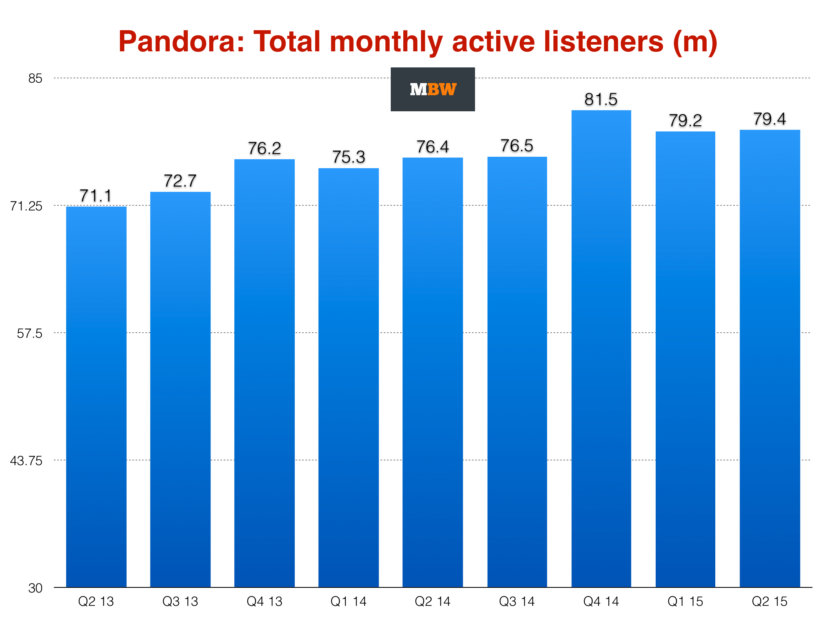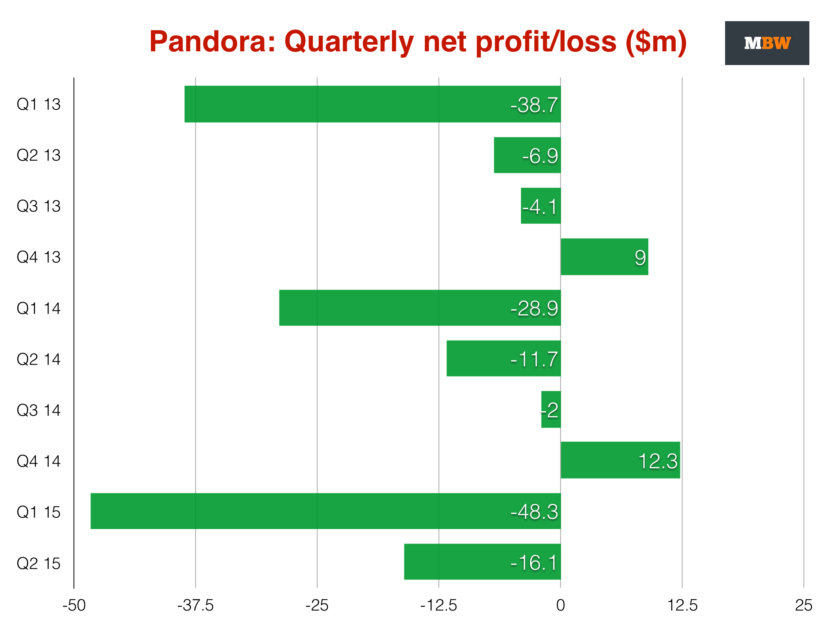 The company's monthly active users in Q2 this year hit 79.4m, a 4% increase on the same quarter in 2014, and a slight improvement on the 79.2m listeners it attracted in Q1 2015.
Pandora CEO Brian McAndrews said to investors last night: "Our listeners continue to be increasingly engaged as listening hours per active user grew to 22.2 hours this quarter. Total listener hours were 5.3 billion for the quarter, a 5% increase from this time last year.
"As noted previously, this is traditionally a seasonally lower point and people are on vacation and away from work and also spending more time in their cars where while we are a leader in streaming radio, we're still in the early days of developing our market share.
"It's also important to note that very product improvements have paradoxically had a dampening effect in reported hours. Let me explain: significant improvements to our new user interface which launched in February and continue to step functions in better play listing have markedly improved our success in our never-ending quest to always play the perfect song to each person at the right time.
"These positive improvements in the listening experience have resulted in less song skipping, thus reducing the number of songs that are paid for but not [fully] played [by the consumer]."
He added: "By our estimates Pandora share of all U.S. radio listening is 9.47% as of June 30, up from 8.9% at the same time last year, slightly lower than the first quarter and consistent with our typical seasonal pattern. As measured by comScore, Pandora's total multiplatform unique visitors in June grew 4% year-over-year to 84.9 million."Music Business Worldwide