The 63rd Annual Grammy Awards were watched by a live US TV audience of 8.8 million on Sunday night (March 14), down 53% year-on-year, according to time-zone adjusted national data from Nielsen.
Those 8.8m viewers were down by nearly 10m on the 18.7m live TV viewers that Nielsen counted for the Grammys in 2020.
The figures also mean that 2021's edition of the ceremony, hosted this year by South African comedian Trevor Noah, was the least-watched Grammys of all time.
In fact, the 8.8m viewers pulled in for 2021's show were nearly half the size of the audience for the Grammys' previously least-watched edition in 2006, when 17m viewers tuned in.
---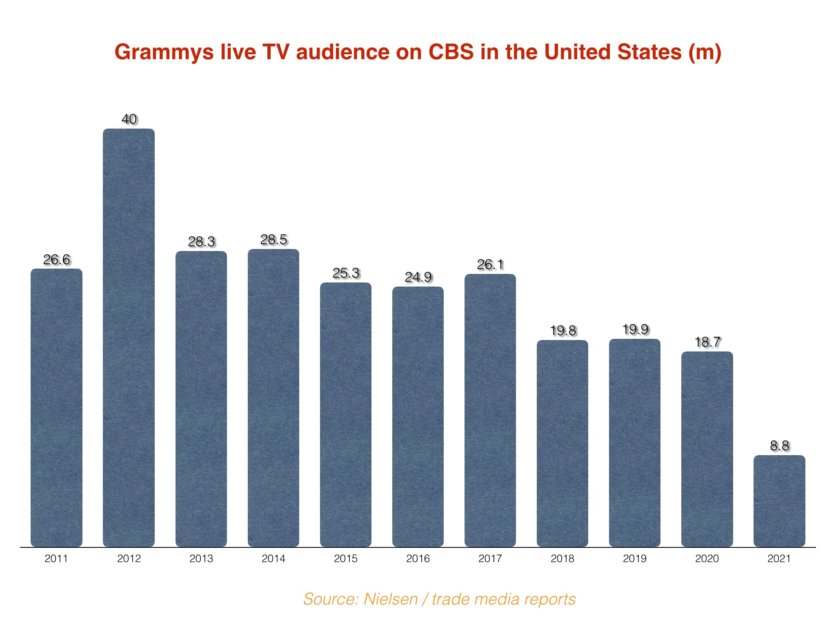 ---
Additionally, Nielsen reports that the 2021 Grammys had a rating of just 2.1 amongst those between the ages of 18 and 49.
This rating number indicates the percentage of all US TV-watching adults within this age bracket to have viewed the Grammys broadcast on CBS on Sunday.
In other words, only 2.1% of 18-to-49-year-olds in the US tuned into the Grammys TV airing on Sunday, while 97.9% of them did not.
In 2020, the equivalent demographic rating number stood at 5.4%, and in 2019 it was 5.6%.
The Grammys aren't the only recent US awards show to see their TV ratings plunge during the pandemic.
The Golden Globes audience fell 64% to 6.9m viewers, while the American Music Awards in November drawing just 3.8m viewers – a 50% year-over-year decline.
The pandemic could obviously have played a role in the scaled-down, socially distanced Grammys low TV ratings on Sunday. But others will question whether the ratings simply reflect a lessening of relevance for the Grammys and other awards shows (in their current formats) in today's world.
Outside of music, Netflix's record subscriber numbers in 2020 and record-breaking scripted series viewer numbers for The Queen's Gambit surely add further backing to the argument that the right televised content – at the right time – still attracts blockbuster viewing figures.
Not even a performance from K-Pop superstars BTS, who broke a pay-per-view virtual viewership record in June for their own Bang Bang Con the Live concert, could help the Grammys to boost its viewer numbers on the night.
The real litmus test for the credibility of the Grammys going forward will be the viewer numbers drawn to the show in the first edition after the pandemic, in 2022, when there's (fingers crossed) a full audience and a bigger production ready to roll.Music Business Worldwide