The Grammys were watched by a live TV audience of 18.7m on Sunday night in the United States, down 6% year-on-year.
That's according to time-adjusted Nielsen data, reflecting those who viewed the live CBS showing of the awards show.
The 18.7m number represents a year-on-year fall of 1.2m versus the 19.9m live TV audience that Nielsen counted for the Grammys in 2019.
It also represents a fall of over 7m on 2017's show (see below), when Adele swept the big prizes.
However, 2020's edition of the ceremony still easily bested the least-watched Grammys of all time, in 2006, when 17.0m viewers watched live.
---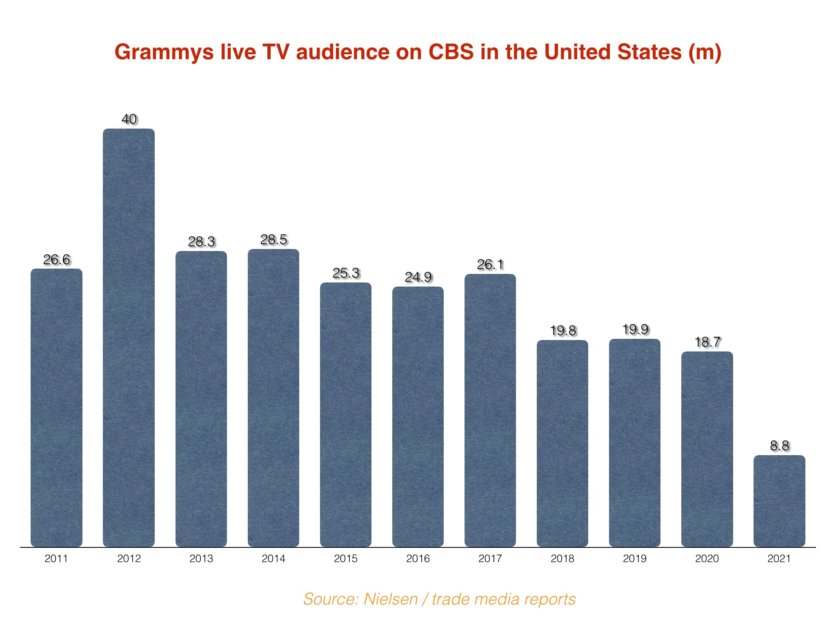 ---
Nielsen has also provided media with a 'rating' number amongst those aged 18 to 49, considered the key TV audience demographic for advertisers.
Said rating number indicates the percentage of all US TV-watching adults within this bracket to have tuned in to the Grammys 2020 broadcast on CBS.
At just 5.4%, this figure represented the lowest rating in this bracket the Grammys TV broadcast has ever seen.
In 2019, the equivalent demo rating number stood at 5.6% – meaning this figure fell 3.6% year-on-year in 2020.
In August last year, Nielsen estimated that the total number of TV households in the US had reached 120.6m, up by a million from 119.6m in the same month of 2018.
Some 307.3m people lived in those TV households, said Nielsen… suggesting that the Grammys' 2020 audience of 18.7m makes up just 6.1% of the total TV viewership of the States.
---
The Grammys took place at the Staples Center in Los Angeles on Sunday evening (February 26).
Billie Eilish was the big winner on the night, collecting five key awards: Best New Artist; Best Album and Best Pop Vocal Album (both for When We Fall Asleep…); Song Of The Year and Record Of The Year (both for Bad Guy).Music Business Worldwide