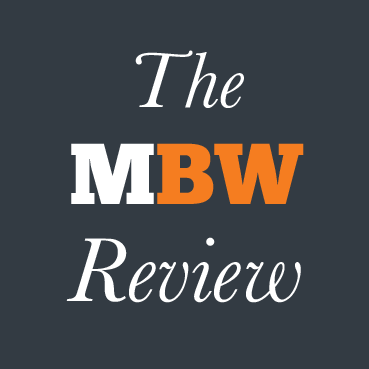 The MBW Review is where we aim our microscope towards some of the music biz's biggest recent goings-on. This time, we consider the fact that the time is ripe for Spotify to make its livestreaming play. The MBW Review is supported by Instrumental.
---
You don't need us to tell you how well Spotify's podcast strategy is going.
That was clear back in May when the company's stock price soared following the news of its $100m Joe Rogan podcast deal – and it's even clearer today, with SPOT's market cap having grown by over 50% since the Rogan news was announced.
Yet while investing in spoken-word audio content is Spotify's current No.1 goal, the company must be careful not to miss new opportunities, especially in its 'homeland' of music.
One obvious opportunity that Spotify is yet to capitalize on is live video streaming, which has boomed in music during COVID quarantine.
At least, Spotify is yet to capitalize on it officially: today brought evidence – as spotted by renowned reverse engineer Jane Manchun Wong – which suggests SPOT may indeed be working on adding virtual concert-related functionality to its platform.
Manchun Wong, a specialist in rooting out secret test pages that tech companies are trialling in their platforms, discovered an 'Upcoming Virtual Events' area in Spotify's app, as well as a specific 'Virtual Event' mocked-up calendar entry for a BTS show.
---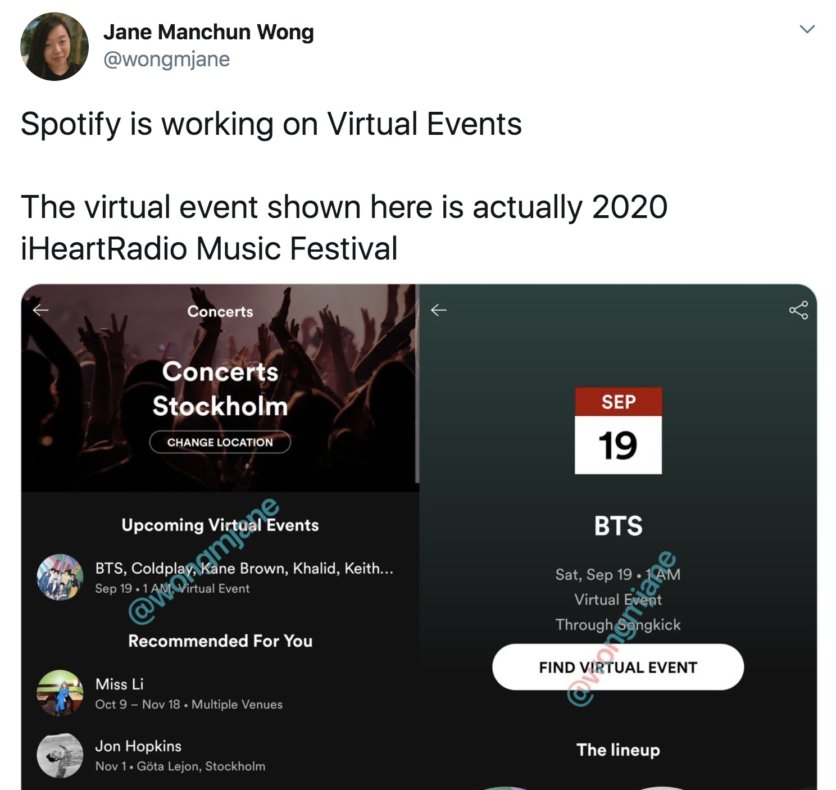 ---
These could simply be new calendar-connected additions to Spotify (in the same way the app's Concerts area currently syncs with Songkick to alert fans to an artist's upcoming real-life shows), or they could be something more.
Either way, with so much potential and activity in concert livestreaming happening right now, it would be shortsighted for Spotify not to focus more of its energies on a launch in the space in the weeks ahead.
Here's why this is an obvious move…
---
1) A Lucrative business model is beginning to become clear
Livestreaming is big business.
When music venues large and small were forced to shut around the world back in March following due to COVID-19, artists had no choice but to start turning to livestreaming to perform for fans and as a result, the past few months have given us a number of case studies for just how lucrative the format can be.
Take American singer songwriter Melissa Etheridge for example, who instead of relying on the likes of Facebook Live or Instagram Live to generate revenue from livestreaming, set up her own subscription service called Etheridge TV – and is now making around $50,000 a month direct from fan subscriptions.
Big Hit-signed K-Pop superstars BTS, meanwhile, banked close to $20m in ticket sales in June for their pay-per-view 'BANG BANG CON The Live' event, which attracted 756,600 concurrent viewers from 107 regions.
Everything related to 'BANG BANG CON The Live' – from buying the ticket, to watching the concert and purchasing concert merchandise – was processed exclusively in Big Hit Entertainment's own fan app, Weverse.
And last month, over 1 million people paid to attend the virtual edition of Belgian dance festival Tomorrowland Around the World, which featured performances from Katy Perry, Amelie Lens, David Guetta and Martin Garrix.
With tickets priced between €12.50 (approx $15) and €20 (approx $24), it appears likely that Tomorrowland Around the World comfortably generated over $10 million…  all in one weekend.
If there was ever a time for Spotify to claim a slice of this action, it's now.
---
2) If Spotify doesn't do it, other big companies in music will…
The convergence between the audio streaming and live-video streaming worlds is already happening, and fast.
Just today (August 25) we learned that UK-based virtual reality company Melody VR has acquired Spotify rival Napster in a $70m deal.
Meanwhile, over in India, Reliance-owned JioSaavn has partnered with TikTok rival Triller, which will see the two services integrated over the next few months.
Triller is an interesting case here: the platform recently acquired live streaming firm Halogen Networks to power its pay-per-view and live streaming features. Halogen's app offers both HD livestreaming tech, plus an out-of-the-box paywall function.
Linked to this acquisition, Triller has secured exclusive streaming rights to next month's blockbuster Mike Tyson vs Roy Jones Jr. boxing bout, for which Triller reportedly paid "north of $50 million".
The four-hour live Tyson vs. Jones Jr. event will be pay-per-view – at $49.99 for access – opening up a revenue stream for Triller that will surely be the envy of Spotify's investors.
Triller CEO Mike Lu (pictured inset) recently told Rolling Stone that following the Tyson fight, the platform plans to become "a destination for high-premium content across sports and music — events that play right into our core demographic".
Elsewhere, Live Nation is already producing events for its Live At Home platform for the likes of Lil Uzi Vert and Megan Thee Stallion, and the firm's CEO Michael Rapino suggests his team is busy working on a heavyweight livestreaming platform for launch in 2021.
Meanwhile, Sony Music in Japan recently launched a livestreaming platform called Stagecrowd – "a paid live video distribution service that serves as a one-stop shop for ticket sales, merchandise sales, and stage construction".
SPOT's competitors are clearly making headway in this world already, and the landscape is hotting up.
---
3) For Spotify to build extra-premium tiers and differentiate itself from competitors
So far, Spotify has followed a fairly safe, and industry-standard approach, to its pricing tiers.
At its core, SPOT offers a straight choice between Premium and ad-funded options, with slight money-saving variations on the former, like Family Plan and Premium Duo.
Spotify doesn't even offer a more expensive HD tier like Amazon Music, Deezer or Tidal.
Another tier strategy for Spotify could be in the works around Audiobooks. Spotify was recently spotted hiring for an exec "to imagine new possibilities for what AudioBooks can be".
But, as we learned from BTS label Big Hit Entertainment this week, taking a more sophisticated approach to the fan-artist value exchange can become a lucrative strategy for those companies well positioned to do so.
BTS and Big Hit's Weverse app has proven that artists with die-hard fanbases are capable of generating serious revenue from virtual concerts and within their own tech ecosystems.
Melissa Etheridge has gone one step further to prove that fans are willing to subscribe monthly if offered the right content.
Why couldn't Spotify, for argument's sake, offer a higher-priced 'Spotify Premium Plus' subscription tier that includes livestreaming access to concerts by superstar artists like Billie Eilish, Ariana Grande, or Post Malone for example? Or simply launch pay-per-view access via its app, from which Spotify could take a slice of the proceeds?
Fact is, Spotify already has the data, the global audience and the tech to pull off a livestreaming launch in a big way.
Expect it to happen sooner rather than later.
---

The MBW Review is supported by Instrumental, which powers online scouting for A&R and talent teams within the music industry. Their leading scouting platform applies AI processes to Spotify and social data to unearth the fastest growing artists and tracks each day. Get in touch with the Instrumental team to find out how they can help power your scouting efforts. 
Music Business Worldwide