Spotify's market cap valuation has shot up above $35bn to its highest point in nearly two years.
The stimulus for this rapid ascent is SPOT's announcement, made at circa 2.30pm ET Tuesday (May 19), that one of the world's biggest podcasts, The Joe Rogan Experience, is coming to the platform as an exclusive – via a $100m-plus multi-year licensing deal.
At the time Spotify made that announcement, its share price on the New York Stock Exchange sat at $169.43, which translated into a market cap company value of $31.50bn.
By the end of trading on Tuesday, SPOT's market cap had climbed to $32.55bn, according to Google Finance data analyzed by MBW.
Yesterday (Wednesday May 20), as the potential enormity of the Joe Rogan deal for Spotify's future became clearer to the markets, the company's market cap soared again.
Climbing 8.56% over the course of the day, Spotify's share price on the NYSE at the bell was $189.90, equivalent to a market cap of $35.29bn.
In other words, from 2.30pm ET on Tuesday to the close of trading on Wednesday, Spotify's market cap value grew by nearly $4bn ($3.79bn).
You can see how dramatic a rise this was for Spotify's company valuation in historical terms below.
The $189.90 share price the company closed with yesterday was its highest day-end stock level since August 2018.
---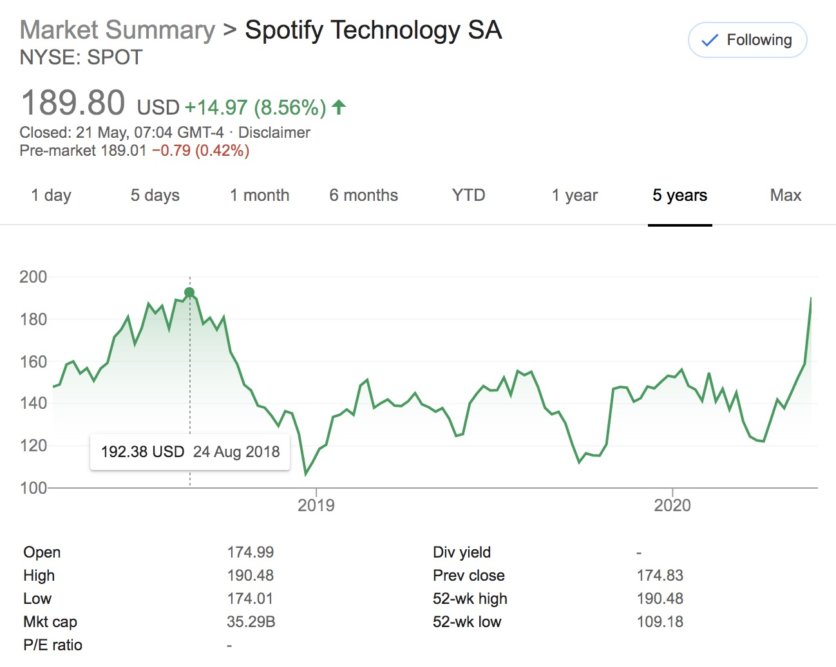 ---
Over a thousand Joe Rogan podcasts will land on Spotify on September 1, with both the audio and video of these episodes becoming exclusive on SPOT – and therefore unavailable on YouTube and Apple Podcasts – later this year.
In April last year, Rogan stated that his podcast was being downloaded 190m times each month. The JRE was the most popular podcast on Apple platforms last year, beating the New York Times' The Daily into second spot.
Meanwhile, Forbes suggests The Joe Rogan Experience is currently making $30m in revenues per year, though whether Spotify will get a cut of that number – and how SPOT's own podcast ad tech might affect it – currently remain unknown.
NOW READ: MBW's analysis of what Spotify's $100m-plus deal with Joe Rogan could mean for songwriters and record labels.Music Business Worldwide