There's still a month to go, but Vevo's calling it – issuing its list of the most watched videos across the platform in 2017.
The global No.1 is, of course, Luis Fonsi's Despacito, which has clocked up 4.27bn views (and that's without the help of the Justin Bieber-featuring remix, which has a further 587.3m in its own right).
It is a staggering 2.7bn ahead of the worldwide No.2, Chantaje by Shakira.
Despacito is, however, edged into second place in the US by Post Malone's Congratulations (309.4m views), but takes the top spot in the UK (64.7m) ahead of French Montana's Unforgettable (56.7m).
Interestingly, the entire global top five are Latin – reggaeton or reggaeton/pop – tracks.
Three of these top five artists (Shakira, J Balvin and Maluma – who appears on three of the top 10) are from Columbia.
There are just two US artists (DJ Khaled and The Chainsmokers) in the global Top 10 and no UK acts.
Many of the global top 10 did not achieve significant chart placings in the US or UK. Ricky Martin's Vente Pa' Ca ft Maluma and CNCO's Reggaeton Lento didn't break the top 100 in either territories main listing; Shakira's Chantaje ft. Maluma didn't make the top 50 in the States or appear in the top 100 in the UK, while Maluma's own Felices los 4 clawed its way to 48 in the US but, again, failed to trouble the scorers in the UK.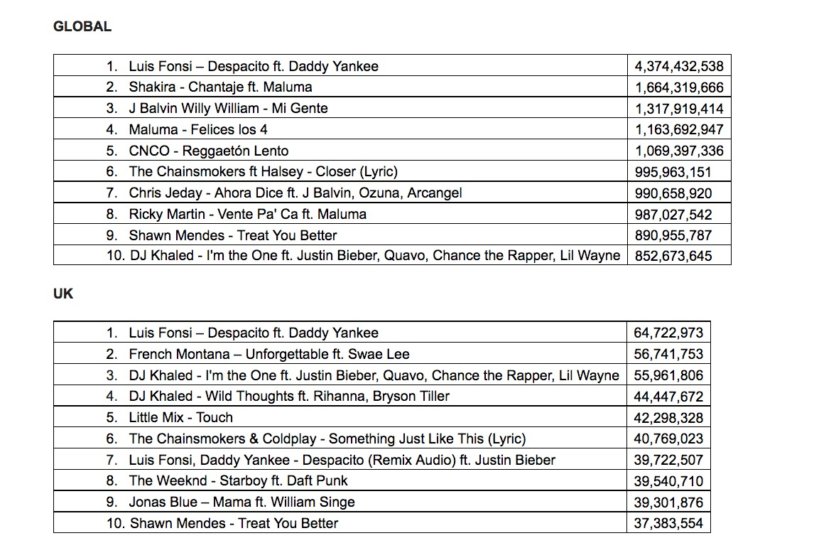 Music Business Worldwide