YouTube is no longer the biggest music streaming game in town.
The first half of 2016 has proven a historic one: on-demand music streams on digital video platforms increased just 23% in the six months to end of June in the US.
This was far outstripped by audio music platforms, where on-demand streams more than doubled – up 108% year-on-year.
That, according to a new mid-year report from trusted market monitor BuzzAngle, was enough to make audio platforms like Spotify and Apple Music the dominant streaming format for the first time in history.
YouTube and Vevo are now lagging behind.
---
In the six months to end of June, says BuzzAngle, there were 209.4bn total on-demand streams in the US market – up 58.3% on H1 2015's haul of 132.3bn.
In total, audio streaming platforms saw 114.23bn streams in the six months (55% of total streaming consumption) with video platforms on 95.17bn (45%).
That means more than half of all music streams in H1 2016 took place on audio platforms – marking the first time that video streams have been outgunned by audio streams in the US.
Compare that to the first half of 2015, when audio streaming platforms hosted 54.96bn plays (42% of the market), while video platforms enjoyed 77.3bn (58%).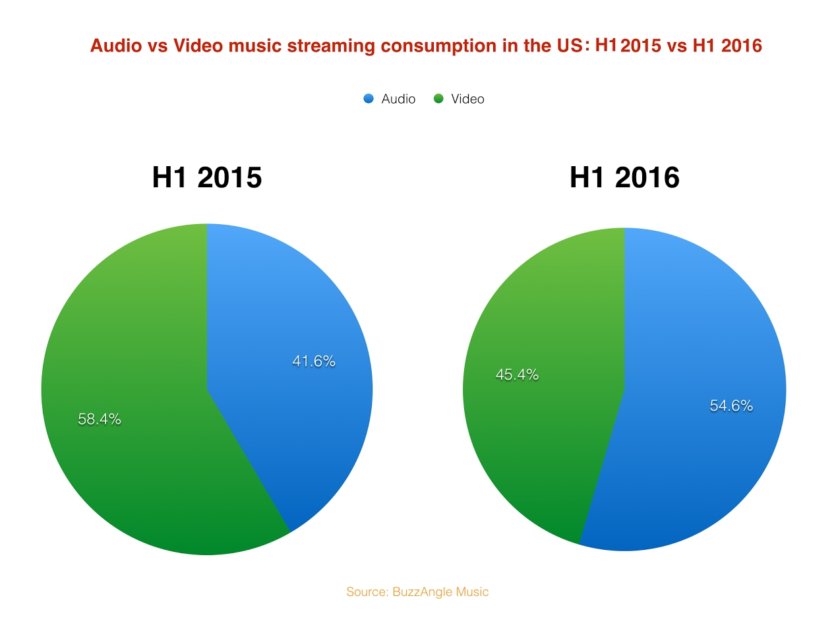 This news will be music to the ears of the record industry, which has been fighting the so-called 'value gap' caused by YouTube in recent years.
The 'value gap' argument posits that YouTube's consumption is growing faster than audio platforms – and even stealing consumption from Spotify et al – while failing to pay out a fair per-stream rate to rights-holders.
According to Nielsen stats across the whole of 2015, online video platforms saw 172.4bn annual music streams in the US – comfortably ahead of audio platforms, which attracted 144.9bn.
Labels will now be hoping that the mid-year 2016 reversal in fortunes between these two formats can hold and even expand across the whole of the calendar year.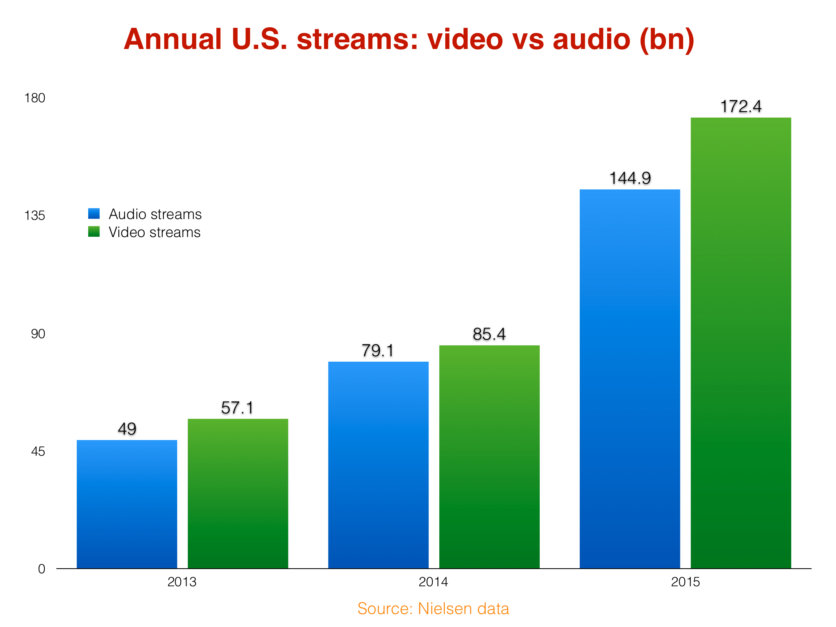 Don't forget that overall US streaming music consumption grew 58% in the six months, according to BuzzAngle – despite audio platforms bursting ahead of video in popularity terms.
This suggests that services such as Spotify, Apple Music and Tidal are still managing to grow the total US streaming market while stealing market share from YouTube.
BuzzAngle's mid-year report didn't bring all good news for labels, however.
Its data shows 'pure' US album sales slid by 14% to 86.2m in the six month period.
Digital album sales were the hardest hit, falling 17.7% year-on-year to 45.9m, while CD sales dropped 11% to 37.2m.
Vinyl continued to grow, up 17.3% year-on-year to 3.1m.

As for single-track digital sales? Well, you might want to have a lie down after reading about them.
However, BuzzAngle's methodology suggests that total consumption of music actually grew, thanks to streaming.
Based on a metric whereby a song sale is worth a tenth of an album, and an on-demand stream is worth 1500th of an album, BuzzAngle says total 'Album Project Consumption' increased 6.5% in the six months to end of June.Music Business Worldwide