Sales of song downloads are in freefall in the US – but streaming appears to be making up for things.
According to a new mid-year report from trusted market monitor BuzzAngle, US single track download sales fell by a whopping 24.2% in the first half of 2016 compared to the same period in 2015.
Total digital song sales hit 410.5m in the six months to end of June this year, compared to 541.2m in H1 2015 – a loss of more than 130m downloads.
Considering a typical iTunes download costs $0.99 – $1.29 in the US, you're on pretty safe ground to assume this decline has hit the recorded music sector's wholesale income to the tune of around $100m.
These figures are broadly in line with Universal Music Group's Q1 results, which showed a 32% drop in global download income year-on-year – a stat which was exacerbated by major releases such as Kanye West's The Life Of Pablo not materializing on iTunes during its initial release window.
BuzzAngle's mid-year US data also shows that digital album sales – that's one-off full album buys – fell by 17.7% year-on-year, down to 45.9m in the first six months of this year.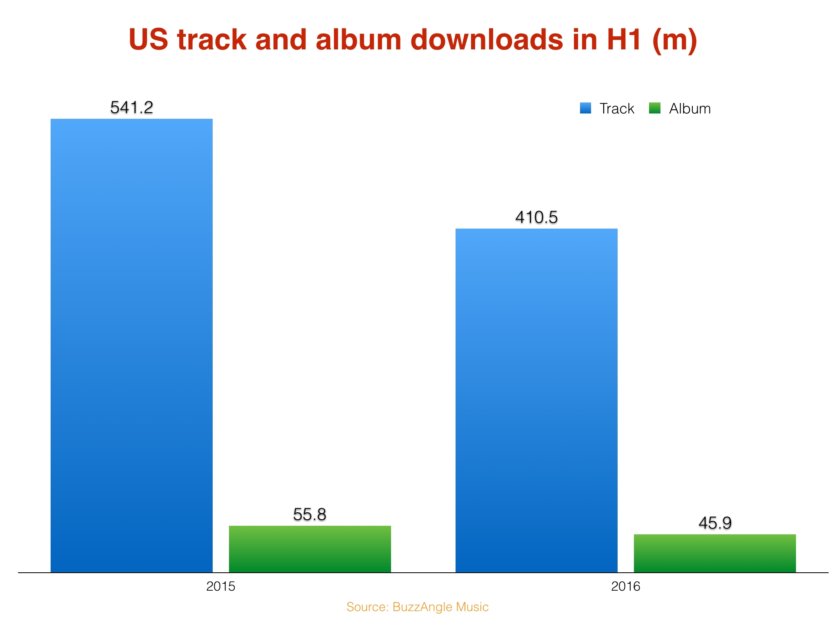 Reasons to be cheerful, then? Plenty.
The download market might be in turmoil, but BuzzAngle discovered that on-demand audio streams more than doubled in the first half of 2016, up 108% to 114.2bn.
That was enough to take total audio streams on platforms such as Spotify, Apple Music and Tidal above those on video platforms such as YouTube – a power shift that will no doubt be welcomed at labels.
Video platforms saw music streams grow 23% to 95bn, meaning that overall streaming consumption on all platforms grew by a healthy 58% to 209.4bn.
(Lots more on all of this through this link.)
According to Buzzngle's own methodology, these figures helped the total recorded music market – across physical and digital – grow 6.5% in the six months on a consumption (not value) basis.

[Pictured: Drake, whose Views was the biggest album of H1 2016 in the US by all methodology – sales, streams, and combined 'projects']
Music Business Worldwide