MBW's Stat Of The Week is a series in which we highlight a single data point that deserves the attention of the global music industry. Stat Of the Week is supported by Cinq Music Group, a technology-driven record label, distribution, and rights management company.
---
Obviously, the major music companies are doing very well for themselves.
Warner Music Group has seen a $10bn growth in its valuation over the past 12 months. Sony Music just confirmed that it saw a 33% year-on-year rise in streaming revenues in calendar Q3 this year. And Universal Music Group is looking on course for a whopping $2 billion EBITDA profit margin in 2021.
As MBW often reports, the increase in these companies' value and revenues in recent times has been nothing short of astonishing.
YouTube, though… wow.
YouTube puts even Universal, Sony, and Warner in the shade – not to mention the entire global record industry.
According to new revenue figures from YouTube parent Alphabet released last week, the world's largest video platform generated $7.205 billion in revenues from advertising in Q3 this year.
That number was up 43%, or by over $2 billion, year-on-year versus the same quarter of 2020.
The $7.205 billion figure did not include additional revenues from subscription, either. (Hardly a trifling caveat, considering that YouTube just announced it has surpassed 50 million global subscribers to YouTube Music and YouTube Premium.)
---
Delving further into the details of YouTube's ad business reveals some jaw-dropping growth in the past two years.
For one thing, in just the first nine months of this year (2021), YouTube generated $20.21 billion from advertising… more than it generated from ads in the entirety of both 2020 ($19.77bn) and 2019 ($15.15bn).
---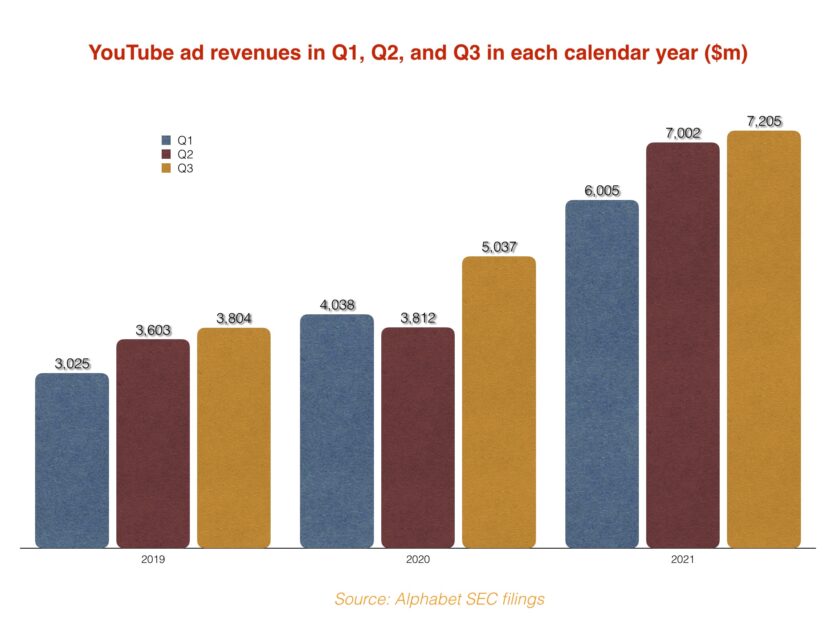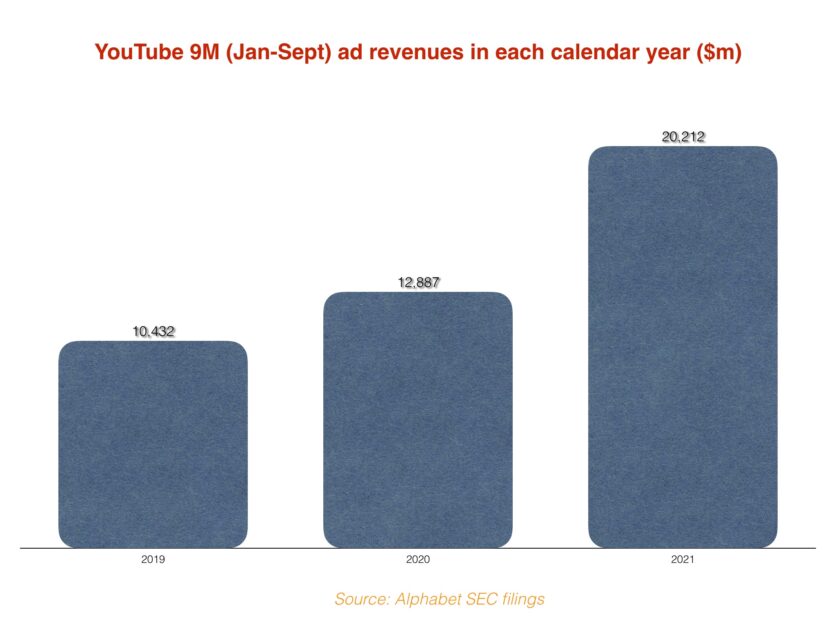 ---
And so to MBW's headline at the top of this story.
In 2019, according to the IFPI, the global record industry generated $20.2 billion in global wholesale revenues. In 2020, it generated $21.6 billion.
So what of 2021?
Looking at Universal Music Group's performance in the first nine months of 2021, we can see that world's largest music rightsholder enjoyed an 18.9% YoY increase in recorded music revenues (at constant currency).
If the global recorded music industry achieved a similar jump in revenues across the whole of 2021 (+18.9%), it would mean that the IFPI's annual global figure for this year would land in the region of $25.7 billion.
A more conservative slant on things: Goldman Sachs recently projected that the 2021 IFPI number will weigh in at $23.5 billion, though this prediction was made before Universal and Sony Music posted handsome Q3 results.
The upshot: YouTube's own annual revenues just from ads should easily eclipse this IFPI figure – for the first ever time – this year.
In fact, MBW is now predicting that YouTube's ads business will generate a total between $29 billion – $32 billion across the course of 2021.
---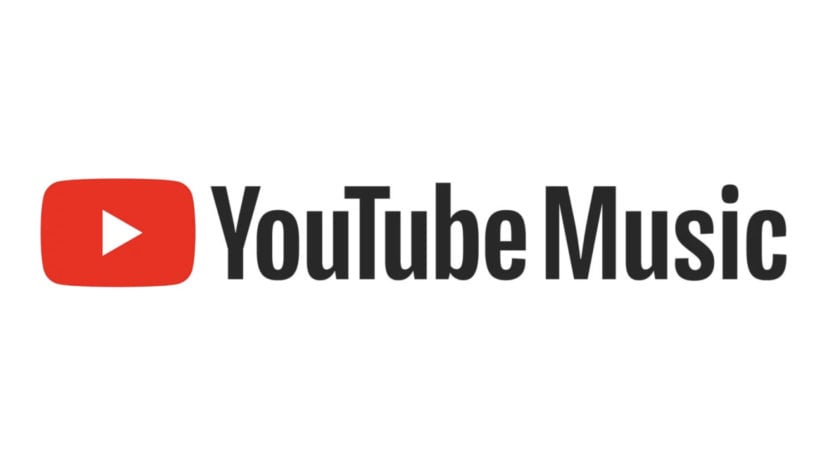 Here's why: Traditionally, calendar Q4 has been YouTube's bulkiest quarter for advertising revenues. (All that pre-Holiday advertising really fills up its coffers.)
In Q4 2020, YouTube generated $6.885 billion, according to Alphabet's numbers.
Even if YouTube only manages a ≈30% YoY increase on that figure, it will generate around $9 billion in Q4 this year.
However, across the first nine months of this year vs. the same period of 2020, YouTube saw a 56.8% YoY rise in total advertising revenues.
Obviously, some of this huge jump will be down to a favorable comparison (i.e. thanks to cautious ad spending by brands during the most turbulent period of the pandemic last year).
Yet if that 56.8% YoY jump did carry into the last quarter of this year, YouTube would generate approximately $10.8 billion in Q4 2021… enough to see it generate $31 billion over the course of 2021.
---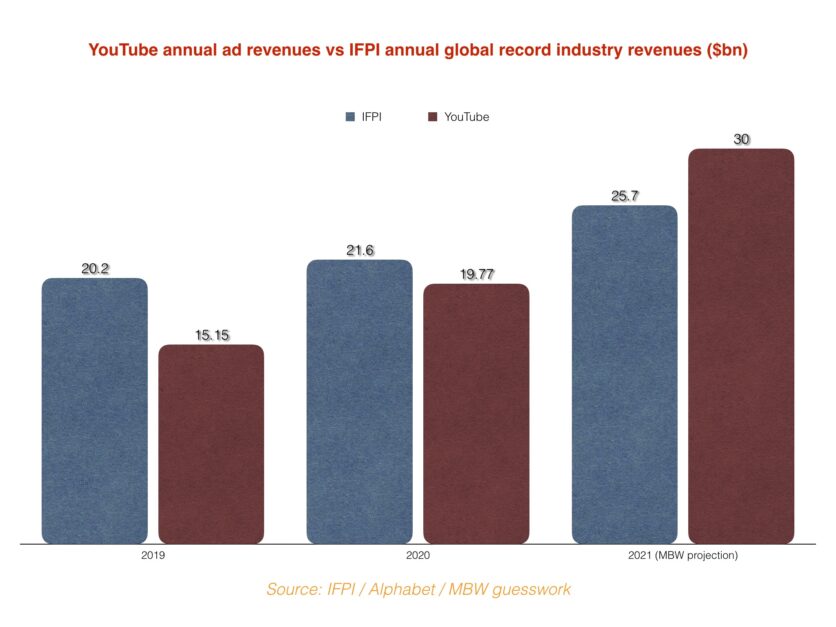 ---
There is, of course, one obvious flaw/complication in the 'YouTube's ad business vs. the global record business' comparison.
YouTube pays out a certain percentage of its ad revenue to the record industry in royalties, effectively meaning the same bunch of money hits both YouTube's topline and the record industry's topline within a given year.
Quite how much of its ad revenue YouTube gives to the record industry – and how much the record industry deserves – is another question.
One very interesting data point on this topic: YouTube's Chief Business Officer, Robert Kyncl, recently suggested that 25% of all watch time on YouTube globally these days is of music content.
Another interesting data point: YouTube, across its advertising and subscriptions business, paid music industry rightsholders (including songwriters/publishers) somewhere over $4 billion last year, according to the company.
With all of this in mind, are labels and artists getting enough of that sweet YouTube wedge to keep them satisfied?
Perhaps.
After an array of music industry leaders publicly applauded the amount of money they get from YouTube in 2021, YouTube's global Head of Music, Lyor Cohen, had this to say in an interview earlier this week:
"We will provide more revenue to the music industry by 2025 than anyone else."
In fact, at the breakneck rate it's currently growing, YouTube might get there even sooner.
---

Cinq Music Group's repertoire has won Grammy awards, dozens of Gold and Platinum RIAA certifications, and numerous No.1 chart positions on a variety of Billboard charts. Its repertoire includes heavyweights such as Bad Bunny, Janet Jackson, Daddy Yankee, T.I., Sean Kingston, Anuel, and hundreds more.Music Business Worldwide