MBW's Stat Of The Week is a series in which we highlight a single data point that deserves the attention of the global music industry. Stat Of the Week is supported by Cinq Music Group, a technology-driven record label, distribution, and rights management company.
---
Liberty Media might just be kicking itself a little.
The US-based giant this week sold its 5% stake in iHeartMedia for around $150 million, in a sign that Liberty may be paring down a strategy to control a 'full stack' portfolio of music-connected media companies.
Liberty's assets still include SiriusXM / Pandora – through which it indirectly owns a piece of SoundCloud – plus a 33% stake in Live Nation.
But around two years ago, in early 2019, Liberty was publicly toying with the idea of buying into another company: Universal Music Group.
Had it done so at that juncture, Liberty would have taken ownership of a piece of UMG when the music company was being valued at around $34 billion.
Yesterday (October 21), UMG completed its first month as a public company in Amsterdam, finishing the trading day with a market cap of €45.03 billion… or $52.4 billion.
Indeed, Universal's first month on the Amsterdam Euronext has seen the world's biggest music rightsholder consistently maintain a market cap in excess of $50 billion, following the firm's extraordinary, $54 billion-valued debut on the stock exchange in September.
And over in the US – partly driven by Universal's strong performance in Europe – another stunning story of value growth is playing out at Warner Music Group.
Yesterday (October 21), Warner Music Group finished the trading day with a share price of $48.06, the highest point since WMG floated a portion of its company on the NASDAQ in June 2020.
According to yCharts, WMG's share price yesterday translated to an Enterprise Value (EV) for WMG of $27.66 billion.
(Enterprise value is the theoretical price that a company would cost to buy, and takes into account both debt and cash on a firm's books.)
---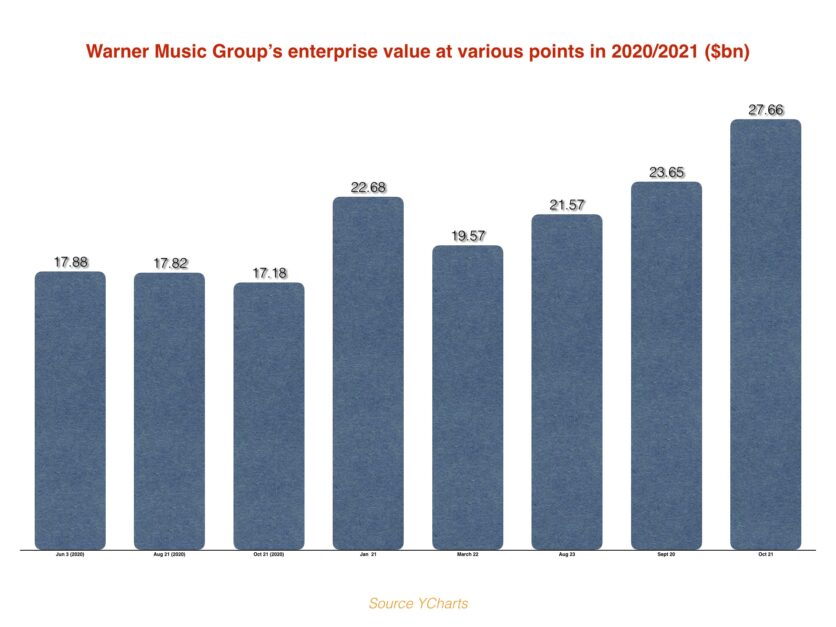 ---
The surge in Warner's value since Universal floated in Amsterdam has been something to behold, with WMG's EV growing by a full $4 billion in the past month alone (see above).
But the growth story of Warner's EV goes back further: When Warner firm floated on the NASDAQ in June 2020, its EV stood at $17.88 billion, according to yCharts.
By October 21 last year (i.e. 12 months ago) this EV had fallen to $17.18 billion.
In that year-long expanse of time, then, Warner's EV has shot up by over $10 billion, accelerated by Universal Music Group's own floatation (and Warner's comparative valuation vs. UMG).
---
Hats off to Bill Ackman, then – the billionaire whose Pershing Square controls 10% of Universal Music Group.
Ackman noted in August: "The music industry's transformation had been largely invisible to Wall Street until Warner Music Group, the number three player after UMG and Sony, began trading publicly on the NASDAQ last year.
"We believe that investors have just begun to appreciate the change in industry dynamics, and as a result, have not yet given proper recognition to the value of WMG or UMG."
He was right on both counts, with Warner's EV flying up by around a third since mid-August to now. (Ackman went on to argue that, of UMG and WMG, Universal was the more handsome option for investors.)
Warner boss Steve Cooper excited his firm's investors last month by putting a monetary value on WMG's business from "alternative platforms" like Facebook, Peloton, and Roblox.
Cooper noted that WMG's recorded music division was, on an annualized run-rate, generating some $235 million from these and other "alternative" sources.
---
Warner and Universal aren't the only public music companies doing very nicely on the stock exchange right now.
A couple of examples: Live Nation's share price has climbed above $100 this month to reach its highest point in history.
The Michael Rapino-led firm's current $101 share price is worth more than three times what it was at the depths of the company's pandemic-hits lows of March and April 2020.
And in Europe, the share price of distribution and services company Believe has recovered from a summer slump to give the firm a €1.67 billion ($1.94bn) market cap on France's Euronext.
---

Cinq Music Group's repertoire has won Grammy awards, dozens of Gold and Platinum RIAA certifications, and numerous No.1 chart positions on a variety of Billboard charts. Its repertoire includes heavyweights such as Bad Bunny, Janet Jackson, Daddy Yankee, T.I., Sean Kingston, Anuel, and hundreds more.Music Business Worldwide