Sony's global recorded music business enjoyed a standout quarter in calendar Q3 – with streaming revenues surpassing the magic USD $1 billion mark during the three months to end of September.
That's according to new fiscal results for Sony Music Group posted by its parent, Sony Group Corp, in Japan today (October 28) and analyzed by MBW.
It was the first time in history, according to MBW's calculations, that Sony's recorded music revenues from streaming have broken the quarterly $1 billion milestone.
At $1.03 billion, Sony's quarterly recorded music streaming revenues in calendar Q3 were up by $257 million, or 33% – a full third – on the equivalent figure from the same quarter in the prior year ($772.4m).
Sony's overall recorded music division – across physical, streaming and other income streams – generated $1.42 billion in calendar Q3 2021 (Sony's fiscal Q2).
That $1.42 billion figure was itself up by $226 million, or 19.0% on Sony's overall recorded music haul in the prior-year quarter.
Sony's biggest revenue-generating global recorded music projects (outside Japan) in calendar Q3 2021 were, in order:
Doja Cat, Planet Her
The Kid LAROI, F*CK LOVE
Lil Nas X, MONTERO
Harry Styles, Fine Line
Polo G, Hall of Fame
Bob Dylan, Springtime In New York: The Bootleg Series, Vol. 16 (1980-1985)
John Mayer, Sob Rock
Luke Combs, What You See Is What You Get
Måneskin, Teatro d'ira – Vol. I 
Tyler The Creator, CALL ME IF YOU GET LOST
It's worth pointing out here that Adele's record-breaking Easy On Me was released in calendar Q4, and the same will be true for her subsequent new album (due in November).
A global Sony Music artist, Adele's comeback therefore arrived too late to affect Sony's calendar Q3 numbers.
---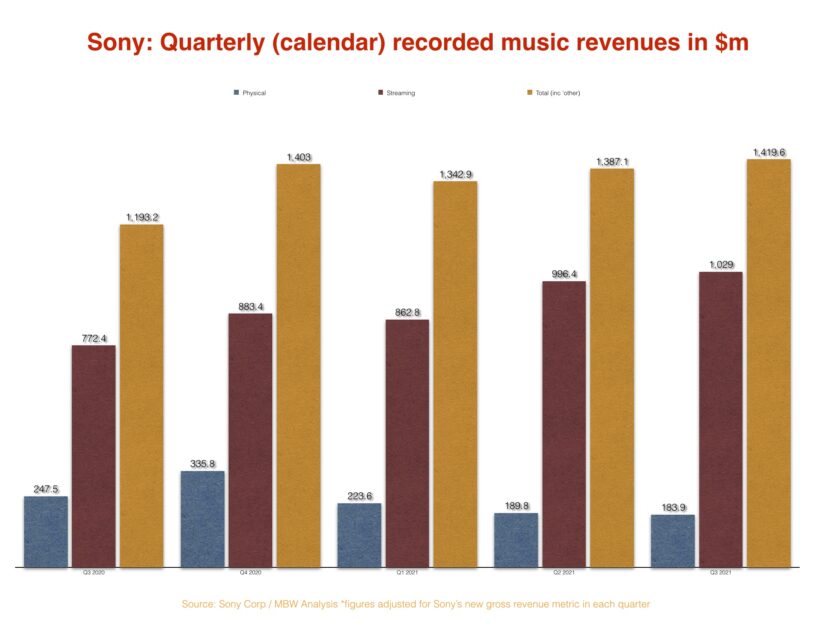 ---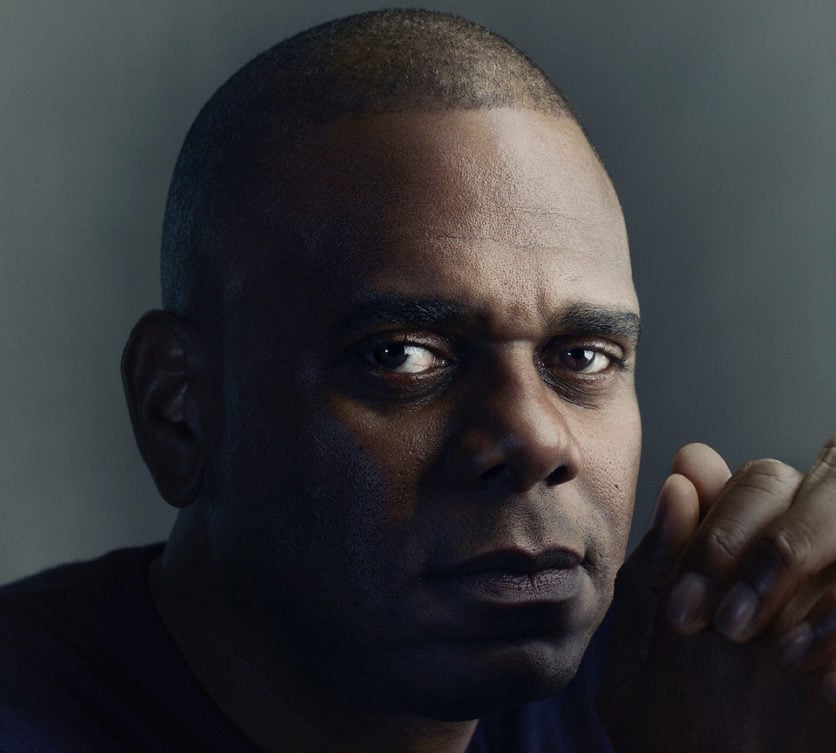 Sony's global music publishing division – led by Sony Music Publishing, run by Chairman/CEO Jon Platt (pictured) – was no slouch in calendar Q3 2021, either.
According to MBW's calculations, Sony's music publishing operation posted $429.7 million in the quarter, up 21.5% year-on-year.
Sony parent, Sony Group Corp, now helpfully breaks out Sony's music publishing revenue from streaming in its quarterly reports.
In calendar Q3 2021, Sony's music publishing revenues generated specifically from streaming stood at $215.3 million, up by a whopping 41.7% year-on-year.
(It's always difficult to tell within these numbers whether Sony's benefitted from a one-time advance payment from a digital service in a given period – but, regardless, the signs look very positive indeed.)
---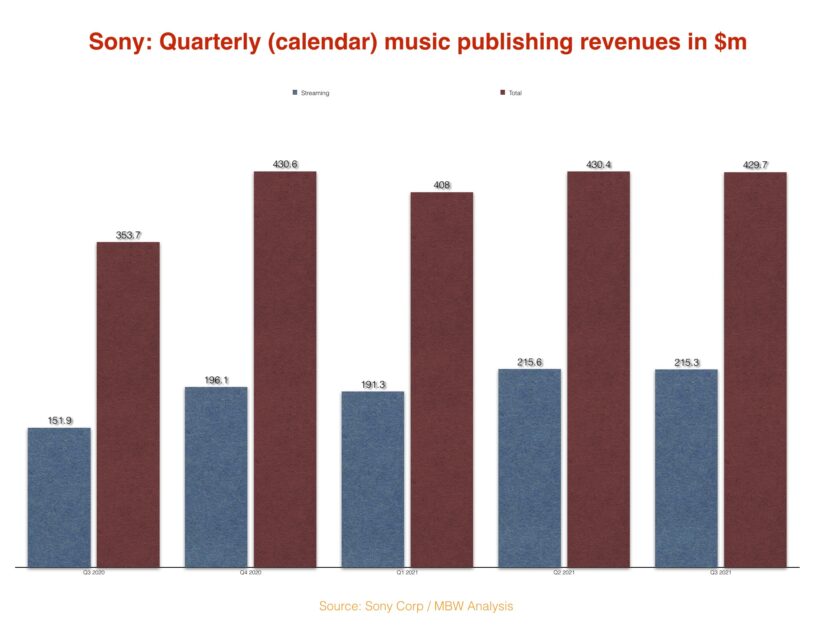 ---
With all of the above being true, we can calculate what Sony's global music rights business generated in calendar Q3.
(Sony Corp's official 'Music' segment includes both recorded music and music publishing divisions. But it also includes an additional 'Visual Media & Platform' division – housing mobile video game releases – which we're discounting here.)
In calendar Q3, across recorded music and publishing, Sony generated $1.849 billion globally.
That was up 19.5% on the $1.547 billion these two divisions jointly generated in the prior year quarter.
---
(All YoY percentage rises/falls published above are calculated at constant currency at the US dollar-converted level. MBW uses Sony's own quarterly average currency rates for these calculations.)
See below for the breakdown of Sony's quarterly figures in Japanese Yen, as published by Sony Group Corp today.
---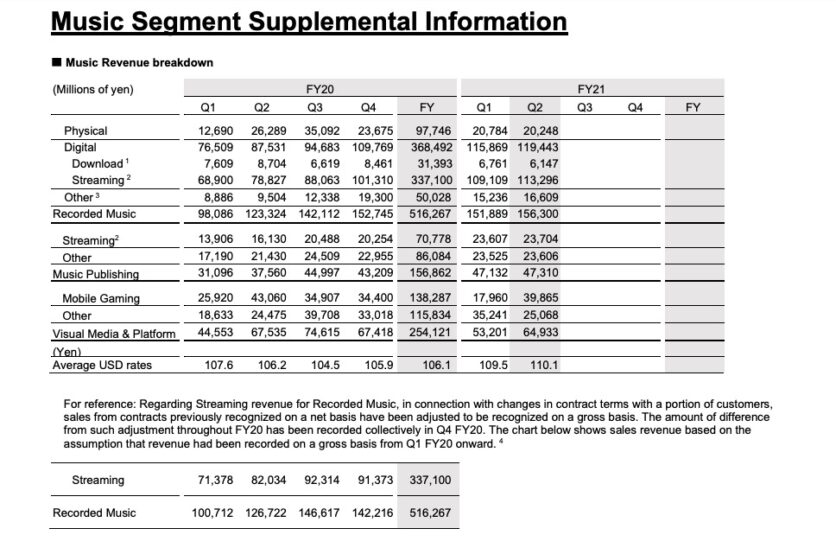 ---
Note: MBW has calculated Sony's financials from Japanese Yen into US dollars at the following prevailing exchange rates in each quarter, as confirmed by Sony Corp:
Calendar Q3 2020: 106.2 Yen per USD
Calendar Q4 2020: 104.5 Yen per USD
Calendar Q1 2021: 105.9 Yen per USD
Calendar Q2 2021: 109.5 Yen per USD
Calendar Q3 2021: 110.1 Yen per USD
By applying these exchange figures to each applicable period, we effectively get a US-leaning constant currency picture of Sony Music's performance.
This isn't a perfect system; it risks overplaying Sony Music Entertainment's global business slightly by converting a chunk of revenues from Sony Music Entertainment Japan (which would usually be straight-reported in Yen) into US dollars.
But it provides us with a cleaner reflection of the performance of New York-based Sony Music Entertainment outside of FX distortion, because the company had to convert its US currency into Yen in the first place for Sony Corp's results. The same is true for US-based Sony/ATV.
MBW believes this currency exchange system is the yardstick used internally at Sony Music Group's HQ in New York.Music Business Worldwide