Scary news for those who don't feel YouTube is paying music rights-holders enough: it's the biggest music streaming service on earth, and it's growing faster than Spotify or any of its rivals.
That's according to MBW analysis of the latest market stats out of the UK and US, which show that YouTube increased its market share of total on-demand streams in the first six months of this year on both sides of the Atlantic.
In the first half of 2015 in the US, overall on-demand streams grew 92.4% year-on-year to 135.2bn.
The majority of this growth was down to YouTube (plus Vevo and other video services), which saw a stream volume increase of 109.2% to 76.6bn.
Audio on-demand streams across services such as Spotify, Rdio, Rhapsody, Beats Music and more increased 74.2% to 58.6bn.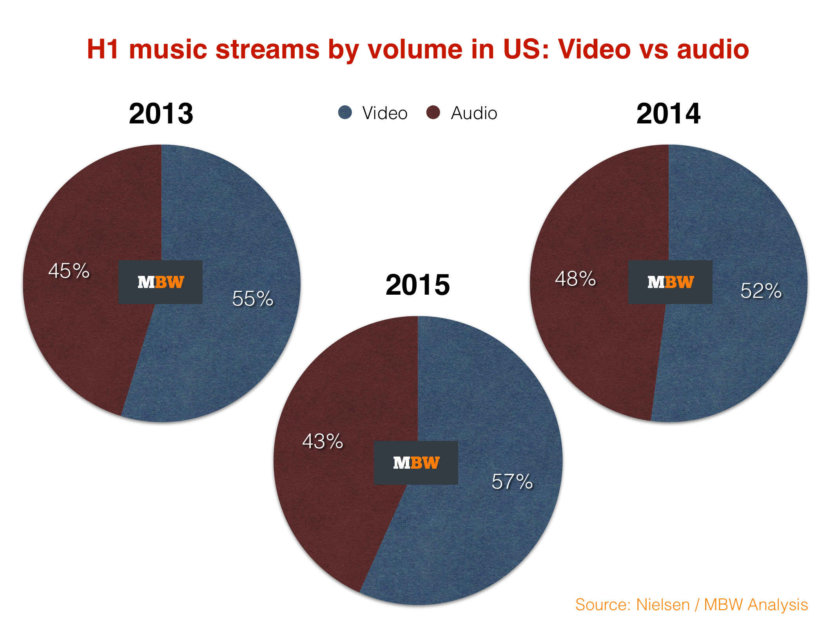 Interesting to note that the rate of growth of both these categories has significantly accelerated in the past six months.
Between H1 2013 and H1 2014, total US audio on-demand streams were up 60.5% to 78.6bn.
At that stage, video streams were growing slower than audio, up 49.3% to 85.3bn.
You have to wonder how much of a role megastar Taylor Swift played in the spike in video plays in H1 this year: her catalogue was famously taken down from Spotify and other streaming services with a freemium tier in late 2014. But the majority of her library remained available to play on Vevo; the vast majority of which is accessed via YouTube.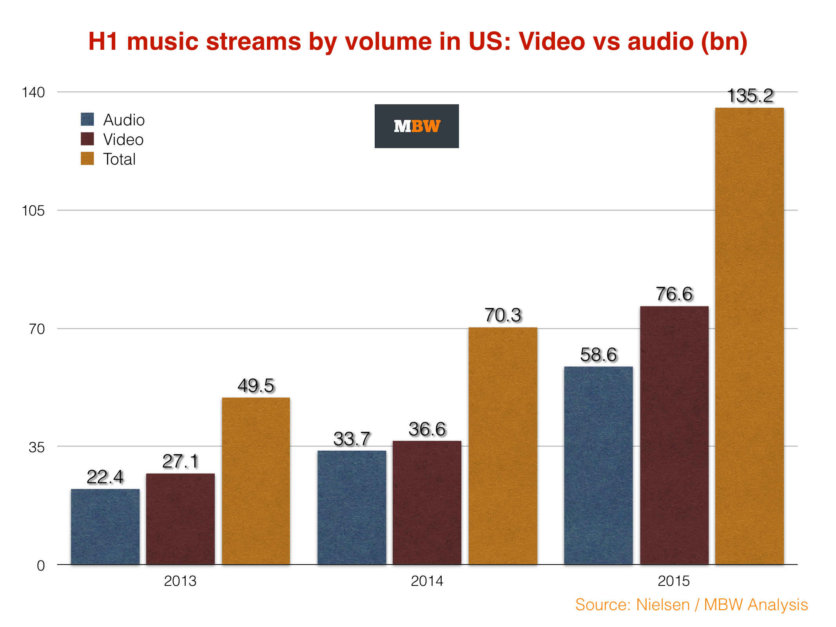 Over in the UK, it's a similar story.
The BPI reports that in the first six months of 2015, 11.5bn tracks were streamed on audio services in the territory. Although the body doesn't provide historical figures, it reports that 14.8bn audio tracks were streamed in the entirety of 2014, which was almost double the level recorded in 2013.
But video streams boast even bigger and better growth.
Although, unlike in the US, these streams are not yet included in the UK's Official Charts data, the BPI reports that the first six months of 2015 saw 12.5bn music video streams, up 98.2% on the 6.3 billion witnessed in the same period of 2014.
Across the whole of 2014, the UK saw 14.3bn video music streams.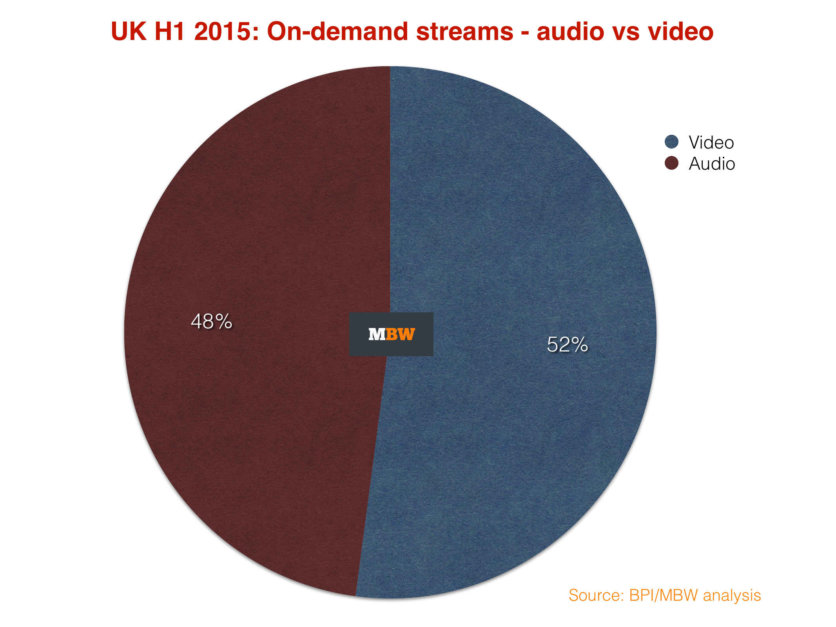 Main takeaway: video streaming services – a market hugely dominated by YouTube – are currently outperforming their audio competitors, both in terms of volume and in terms of growth.

Of course, it helps that YouTube remains completely free; one of Spotify's biggest bugbears when it comes to the likes of Taylor Swift quitting their service.
The IFPI estimates that by the end of 2014, music audio subscription services had 41 million paying global subscribers who contributed $1.13bn to record labels.
Yet total global revenues to record companies generated by exclusively free-to-consumer advertising-supported services (predominantly video online platforms) amounted to just US$ 641 million.
It will be very interesting at the end of the year to see whether Apple Music's entry into the streaming world can tip the balance towards audio streams and eat into YouTube's market share.Music Business Worldwide