The MBW Review offers our take on some of the music biz's biggest recent goings-on. This time, we delve deep into Spotify's recent filing, while checking the numbers on its subscription packages over the past few years. The MBW Review is supported by FUGA.
---
Thanks to last week's filing with the US Securities and Exchange Commission, we know a lot more about Spotify than we ever did.
One thing, however, is as true as it ever was: Daniel Ek's company is a long way from turning a profit.
The firm's now-laid-bare results for 2017 show that it posted a pre-tax loss of €1.23bn ($1.4bn) in the year.
This was largely thanks to its debt exposure, which saw it swallow a €974m ($1.1bn) one-time annual finance cost.
Spotify's operating loss, meanwhile, widened by 8.3% in 2017 to €378m ($427m).
Such figures have, as usual, inspired plenty of chatter about whether Spotify will, or can, ever turn a profit.
The company itself even warned investors in its F-1 filing of a future risk that it 'may not be able to generate sufficient revenue to be profitable, or to generate positive cash flow on a sustained basis'.
Yet there's a very obvious move which would immediately give Spotify a much better prospect of profitability tomorrow: copying Netflix, and raising its prices.
This is a particularly pertinent idea when you consider the erosion of Spotify's average subscriber value over the past decade – both by the surprisingly strong impact of inflation, and by the company's own aggressive discounting.
Problem is, if Spotify wants to maintain a market leadership position, raising its prices today would be a commercial catastrophe.
Welcome to Daniel Ek's Catch 22.
---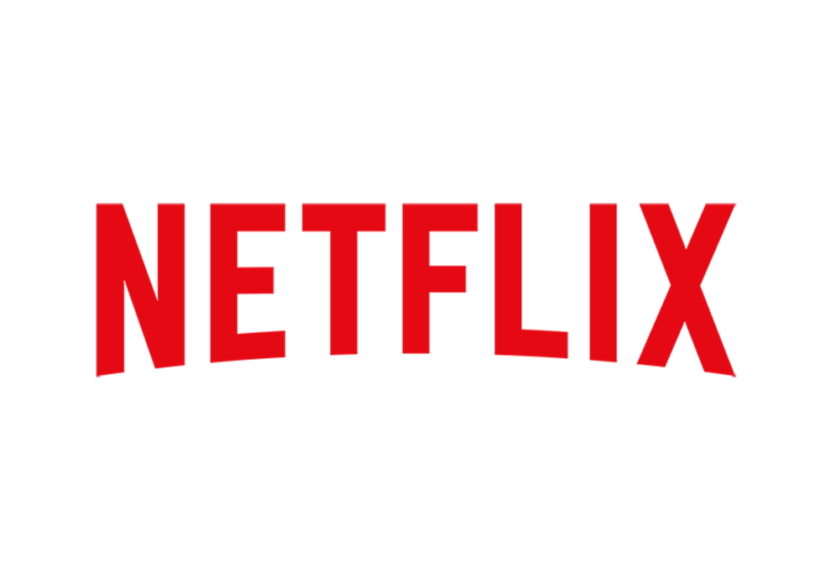 Comparing Netflix with Spotify is always a controversial endeavor.
Some think that the profitability of the former shows that Spotify could learn many lessons from its model.
Others say the juxtaposition of the two services is downright unfair – and, particularly, that the cultural expectation of an all-you-can-eat music service with 30m+ tracks means a limited catalogue a la Netflix would never work.
Yet while the world waits (and waits…) for Spotify to nudge a little closer to Netflix's model by 'windowing' certain new releases on its premium tier, the movie and TV service continues to soar.
In October last year, Netflix announced that it was raising the price of its most popular subscription tier – which allows HD viewing on two devices – from $9.99 a month to $10.99 a month. It also confirmed that it was pushing up a subscription to its most expensive, Ultra-HD 4K subscription tier, from $11.99 to $13.99 a month.
This was the second time that Netflix had made such a move in the past five years: in October 2015, the company raised its standard HD subscription price from $8.99 to $9.99 for new customers.
On both occasions, Netflix warned investors that the move may result in a modest slowdown in subscriber growth.
On both occasions, it didn't happen.
Netflix's year-end worldwide paid streaming subscriber base grew 21.5m in 2017 to 110.6m. That beat out 2016, when global paid subs grew 18.3m to 89.1m.
Netflix's market cap, meanwhile, currently stands at $140bn – a figure that has more than doubled on this time last year.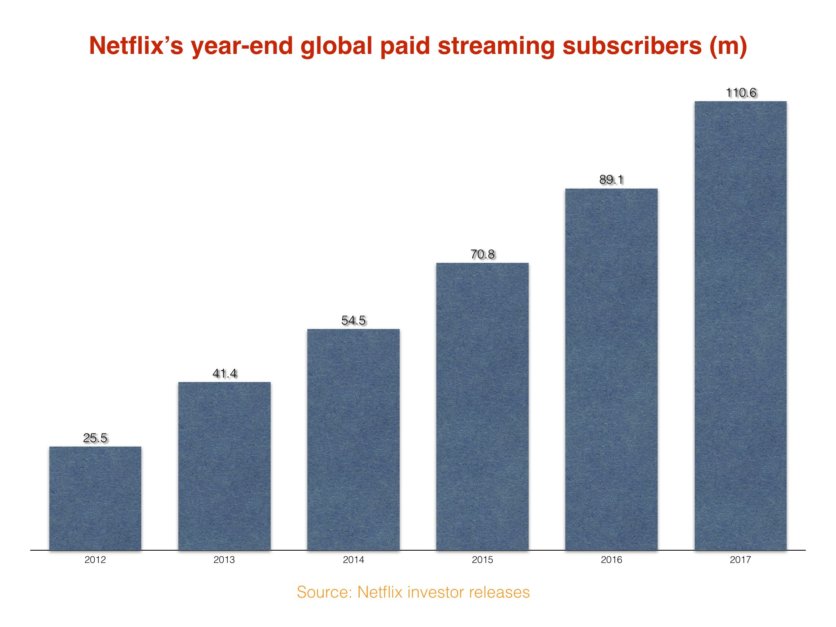 ---
By contrast, Spotify hasn't pushed its subscription price up one Cent since it launched in Europe nearly ten years ago, in October 2008.
The company's first big problem: since that time, according to MBW's estimates, Spotify's typical €9.99-per-month subscription fee in Europe has lost over 10% of its monetary value in inflation alone.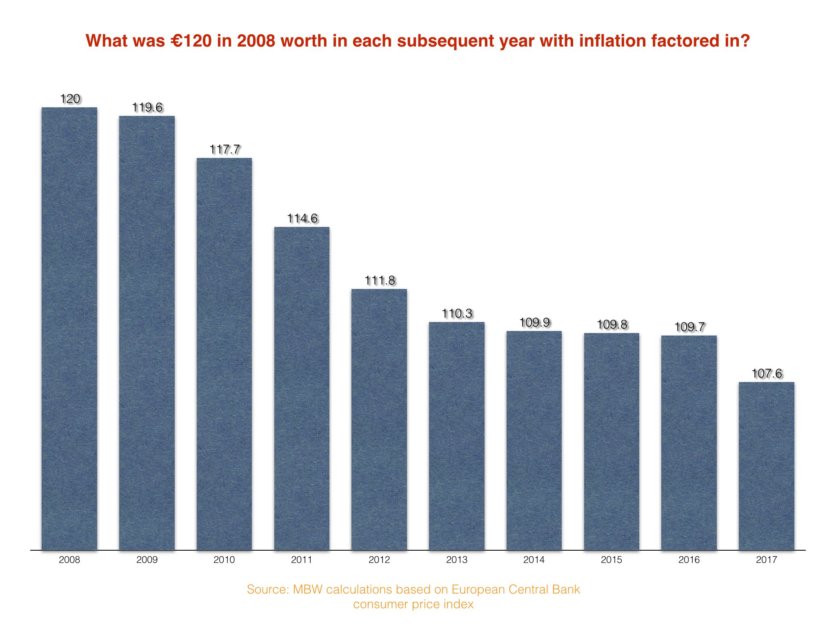 It's a similar story in the US, where Spotify arrived in 2011.
Even over the past seven years, the inflation-hit economic value of a $120-per-year subscription has declined by around $10 in the States.
The US is by far Spotify's biggest market, contributing €1.6bn ($1.8bn) to its €4.01bn ($4.6bn) global revenues in 2017.
The important thing to remember about inflation: Spotify might have refused to buckle to its effects and put its prices up, but many other elements of its business – not least wages and other key costs – won't have been able to resist in the same manner.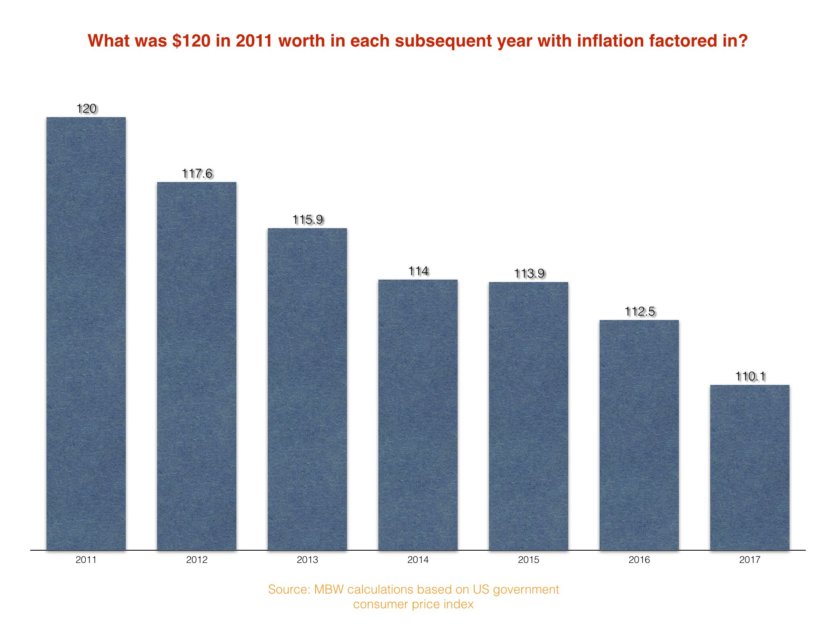 ---
What's more, as we've extensively covered on MBW in the past, Spotify has been actively driving down its own average subscription prices in a bid to drive up Premium membership figures.
This was made official in Spotify's F-1 form, where we learned that incentives such as Spotify's family plan had reduced the average global monthly subscriber spend on Spotify from €6.84 in 2015 to €5.32 in 2017.
That represents a reduction of around US $20 per average annual Spotify subscriber spend in the two years from 2015 to 2017 alone.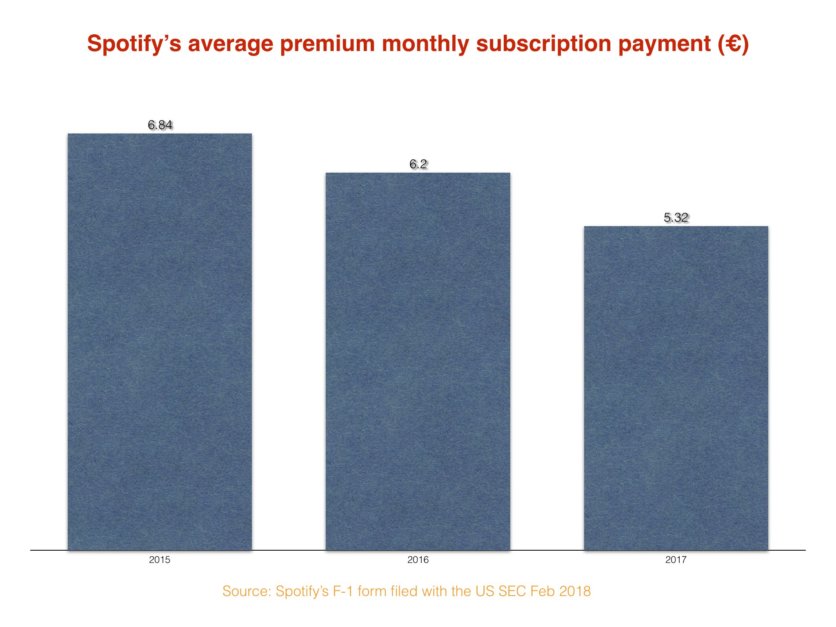 ---
Going off Spotify's published figures for its average premium subscriber spending (which ignore the effect of inflation), we can start to form a semi-meaningful comparison with Netflix.
The video streaming service, remember, has effectively put its prices up twice in the past four years – once in 2014, and once again in 2017.
Despite these moves (at least partly a reaction to inflation) Netflix's paying subscriber base has leapt up beyond the 100m mark.
More importantly, its average global paying subscriber was shelling out $9.58 per month in the last quarter of 2017.
The average premium customer of Spotify, which counted 71m paying customers at the end of the same year, was paying over $3 per month less.
Food for thought: just two years previously, in 2015, Spotify and Netflix's numbers in this area were neck-and-neck at around $7.75 (see below).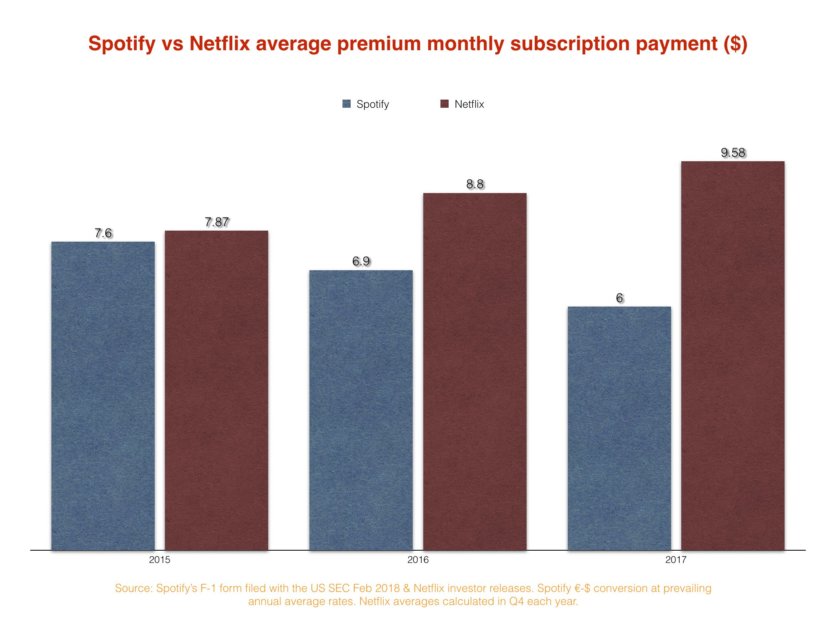 ---
We will shortly come on to why there's literally no way Spotify could nick Netflix's bold price rise strategy in the current climate.
But, for now, let's run some fun numbers based on the premise for kicks.
So… what if Spotify was able to raise the subscription price of its end-of-2017 subscriber base (71m) by €1 per person per month?
See below.
The firm's total revenue would have hit €4.9bn in the 12 months of last year on this basis. But – here's the killer stat – its operating loss would have also turned into a handsome operating profit.
(Full disclosure: this is an illustrative exercise, assuming as it does that the extra €12 per customer per year generated would go straight to Spotify's bottom line.)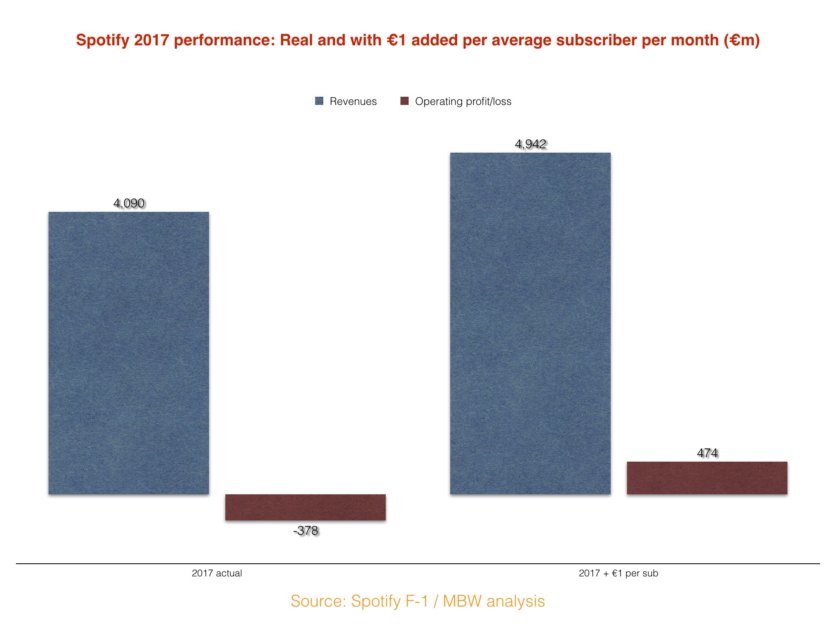 ---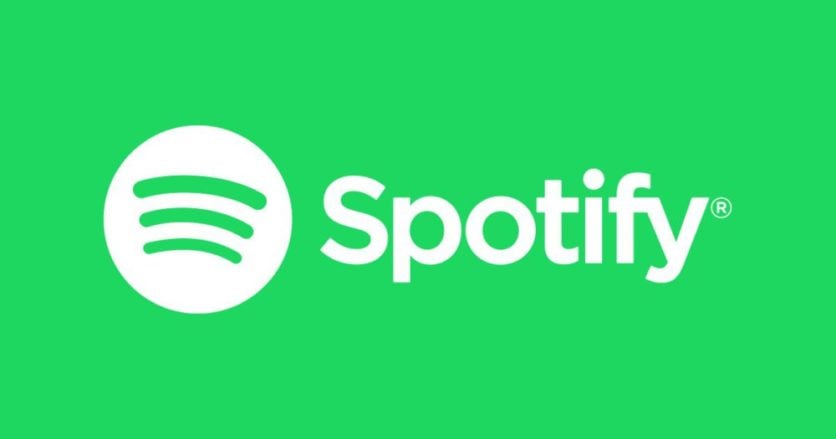 It's not as if Spotify isn't aware that a price rise in the face of the above is an option worth exploring.
It's just that Daniel Ek's company thinks – probably rightly – that it's far too dangerous a strategy.
Within its F-1 filing, Spotify noted that external factors (namely, an increase in third-party credit card processing fees) could one day force it to increase its consumer-facing prices.
It commented that such a result "could cause us to lose Premium Subscribers and subscription revenue".
As we've seen, that's literally the opposite outcome to the one Netflix has experienced after cranking up its typical monthly subscription fee.
---
The most incompatible difference of all between these two examples? Netflix has a unique consumer proposition.
Not only does it selectively license movies and TV shows, but last year it spent over $5bn on original content creation – a number it expects to rise above $7.5bn in 2018.
This investment (in projects such as recent Chris Rock special Tambourine, pictured) means that, if a consumer chooses to leave Netflix – whether over price or another factor – they leave behind the exclusive opportunity to access reams of highly-regarded content.
Spotify does not have this luxury.
The music company's biggest pull over its competition is one of superior user experience, in addition to the much-vaunted 'curation' it provides to consumers.
Multiple sources close to Spotify over the years have suggested to MBW that the company's price strategy is largely frozen in time because of this situation.
As soon as Spotify's competition begins to look better value, those 71m subscribers will start to question – ruthlessly – what really separates Spotify from the likes of Amazon Music, Deezer and Apple Music.
Especially when all of these services, Spotify included, offer pretty much the same 30m+ tracks, and no real defining original content. (Nope, Traffic Jams doesn't count.)
Once you've accepted this reality, the future immediately begins to looks tougher for Spotify: in another five or ten years' time, with inflation biting down even harder on the worth of that €9.99-per-month pricetag, will Spotify be able to hold its price offering?
And if it can't, will the likes of Apple and Amazon in particular be liberated to undercut Spotify in the marketplace – doing real damage by essentially using their music services as loss-leaders?
Apple CEO Tim Cook recently said in an interview of Apple's broader strategy in music that "we're not in it for the money".
Words, surely, to send a chill down Daniel Ek's spine.
---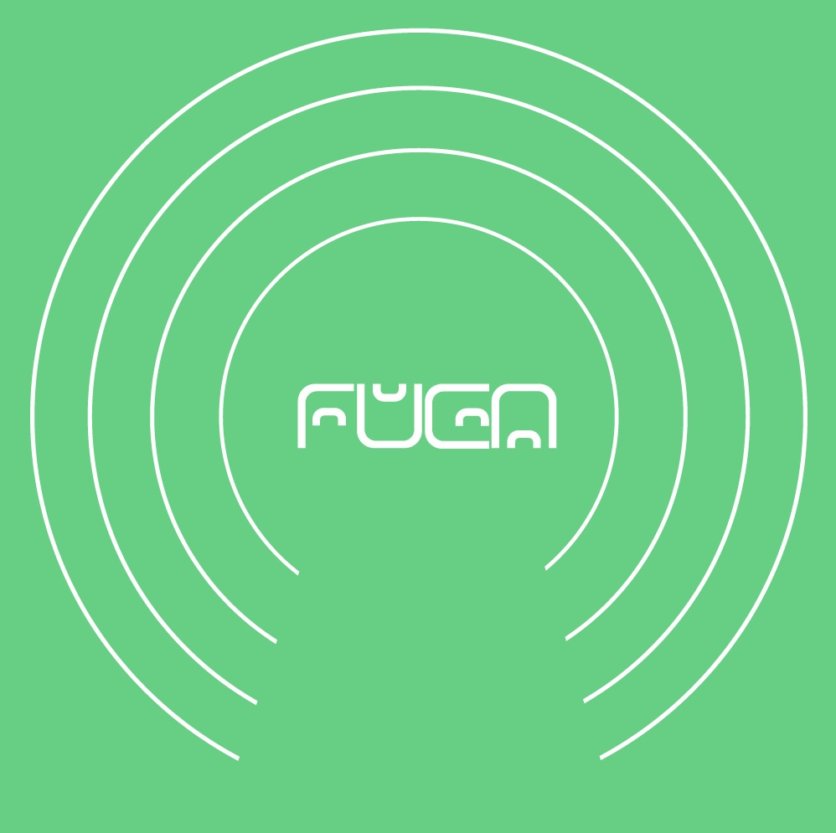 The MBW Review is supported by FUGA, the high-end technology partner for content owners and distributors. FUGA is the number one choice for some of the largest labels, management companies and distributors worldwide. With a broad array of services, its adaptable and flexible platform has been built, in conjunction with leading music partners, to provide seamless integration and meet rapidly evolving industry requirements. Learn more at www.fuga.comMusic Business Worldwide