Spotify has today (Feb 28) filed its prospectus to float on the New York Stock Exchange with the US Security and Exchanges Commission – and it reveals new data on the company's questionable fiscal health.
The filing reports that Spotify generated €4.09bn ($4.6bn) in revenues in calendar 2017 – but posted a whopping €1.23bn ($1.4bn) pre-tax loss in the year.
The prospectus's updated numbers shows that the company posted a cumulative pre-tax loss of just over €2bn across 2015, 2016 and 2017.
It's worth pointing out that Spotify's operating loss didn't grow dramatically last year (-€378m, up from -€349m in the prior 12 months), but that the firm was hit by a stinging finance cost in 2017 of over a billion US dollars (€974m).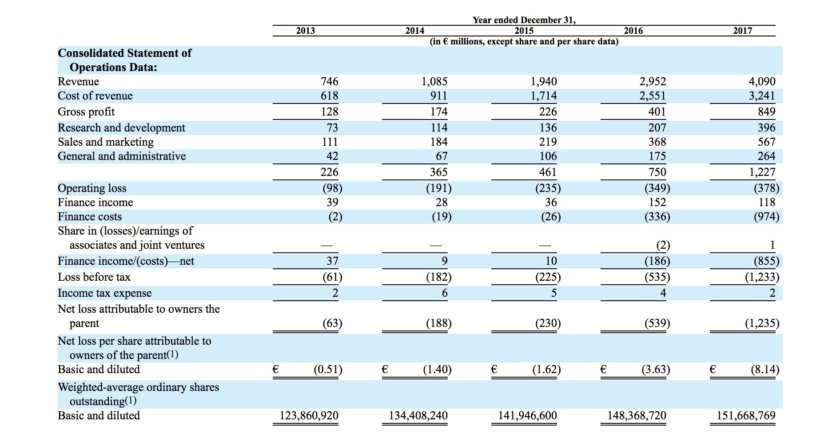 The company openly warns would-be shareholders about its difficulty with profits in its 'risk factor' rundown within the prospectus.
It reads: 'We have incurred significant operating losses in the past, and we may not be able to generate sufficient revenue to be profitable, or to generate positive cash flow on a sustained basis. In addition, our revenue growth rate may decline.'
It adds: 'Since our inception in April 2006, we have incurred significant operating losses and as of December 31, 2017, had an accumulated deficit of €(2,427) million.'
Spotify also says in the document (viewable through here) that it finished 2017 with 159m monthly active users and 71m Premium Subscribers.
It claims that it paid artists and rightsholders €8bn between being launched in 2008 and the end of 2017.
(€-$ calculations above based on prevailing average 12-month conversion rates in 2017.)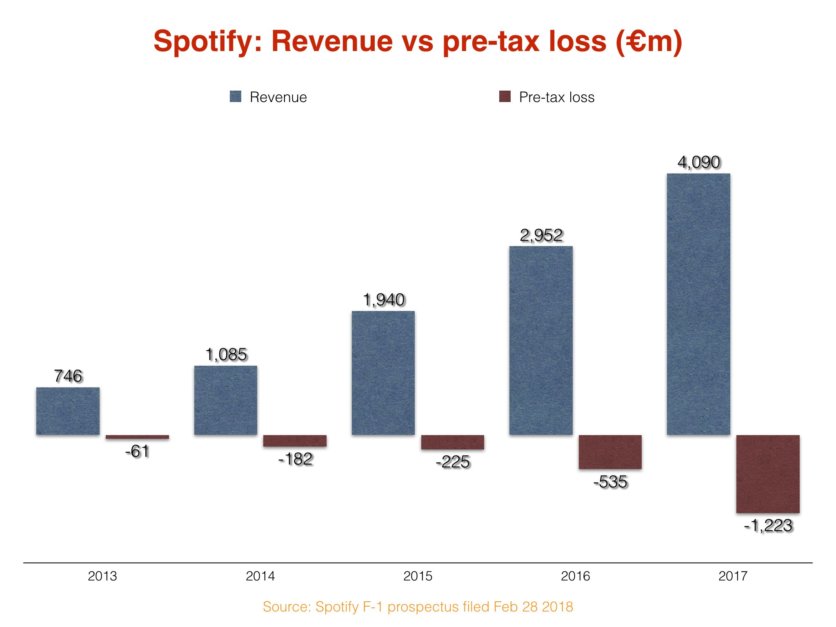 ---
Interestingly, there is an entire section of the F1 form dedicated to Spotify's 'Business Model'.
It reads:
We offer both Premium and Ad-Supported Services. Our Premium and Ad-Supported Services live independently, but thrive together. We believe this business model has allowed us to achieve scale with attractive unit economics and is a critical part of our success.
We continue to invest heavily in developing our two-sided marketplace with new and better product features and functionality for Users and creators and believe our investments are leading to higher User engagement and enjoyment. We provide personalization that drives a unique and tailored experience to each User and the tools for artists to reach the widest fan base.
Our Ad-Supported Users and Premium Subscribers are spending more time with the Service each year. From a content perspective, on average 25 Content Hours Per MAU were streamed in each month of the fourth quarter in 2017, up 13% from the fourth quarter in 2016 and up 26% from the fourth quarter in 2015. Historically, our Premium Subscribers have streamed more than three times the amount of content per month than Ad-Supported Users.
With engagement increasing, Premium Churn has continued to trend lower. In the fourth quarter of 2017, Premium Churn was 5.1%, down from 6.0% in the fourth quarter of 2016 and down from 7.5% in the fourth quarter of 2015. Premium Churn is a monthly measure defined as Premium Subscriber cancellations in the quarter indicated divided by the average number of daily Premium Subscribers in such quarter, which is then divided by three months. As our User base matures, and with the growth in higher retention products such as our Family Plan and Student Plan, we believe Premium Churn will continue to trend lower over time.
We are currently in 61 countries and territories and are growing in each of our four geographic regions. Europe is our largest region with 58 million MAUs, accounting for 37% of our total User base as of December 31, 2017, an increase of 26% from the prior year. In our North America region, MAUs increased by 23% from December 31, 2016 to December 31, 2017 and now account for 32% of our MAUs. Our two fastest growing regions are Latin America, with 21% of our MAUs, an increase of 37% from December 31, 2016 to December 31, 2017, and the rest of the world, with 10% of our MAUs, an increase of 51% from December 31, 2016 to December 31, 2017.Music Business Worldwide