The MBW Review is where we aim our microscope towards some of the music biz's biggest recent goings-on. This time, we turn our gaze to Spotify and Universal Music Group, and their respective valuations on the stock market. The MBW Review is supported by Instrumental.
---
The market cap valuations of two gorillas of the modern music rights industry – Universal Music Group and Spotify – are intriguingly close right now.
UMG, a listed company in Amsterdam, is currently stretching out ahead, worth around $7 billion more than Daniel Ek's company.
Yet a month ago, this wasn't the case: According to yCharts, Spotify has lost over $13 billion in value on the NYSE in the past month alone, falling below Universal's valuation in the process.
This all leads us to a festive big-money question: Which of these two music giants will end 2021 with the title of the world's most valuable?
In the green corner is Spotify, which weighed in at a market cap value of USD $43.83 billion at close of trading on Friday (December 3).
In the blue corner is Universal Music Group, which went public on the Amsterdam Euronext in September.
UMG currently has a market cap value (at the time of writing, on December 6) of EUR €45.23 billion – equivalent at current exchange rates to USD $51.07 billion.
---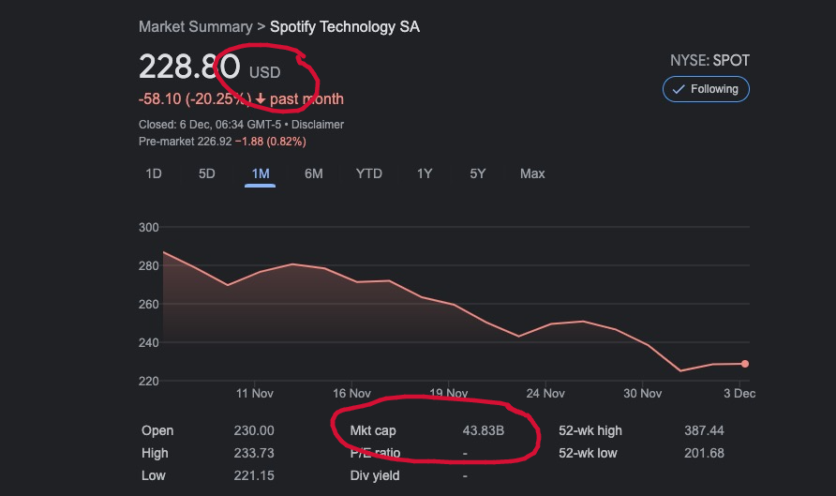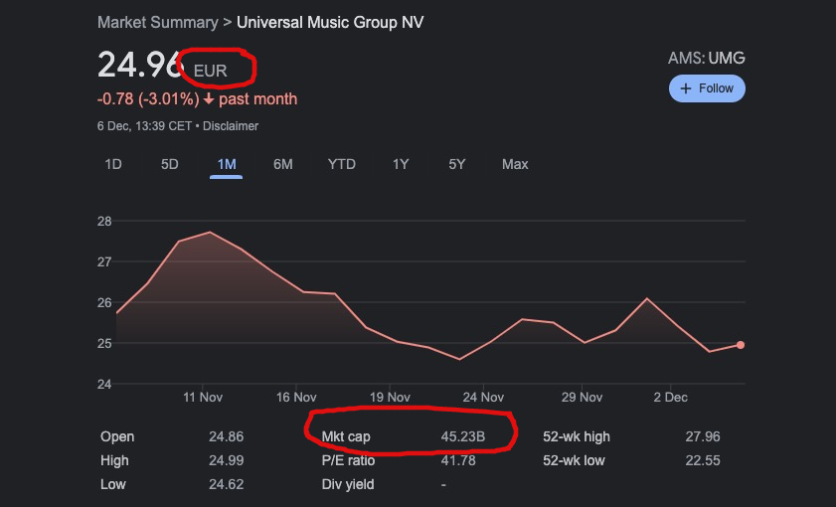 ---
With less than a month left of 2021, who will win the race to be crowned the year-end king of music on the markets?
Making things rather less than certain on that score is the fact that a quick gust of popular news about either company could push their market caps up or down significantly.
Last week, for example, Spotify became mired in a damaging story related to recordings of stand-up comedy on its platform.
The digital platform took down a raft of recordings from comedians including Kevin Hart, Jim Gaffigan, and Robin Williams over the Thanksgiving weekend.
After that happened, Spoken Giants, a company which administers royalty collection for comedians, claimed that SPOT did so because they "know they don't have all the rights in place to serve this content".
This is the pickle Spotify finds itself in: these comedy royalty collection companies – including Spoken Giants and Jeff Price's Word Collections – appear to be legally entitled to collect payouts for a comedians' underlying written / literary work, in addition to that comedian's live recordings.
Questions are now being raised over whether Spotify had the required licenses regarding the underlying / literary works of comedians (the equivalent of a mechanical right to a songwriter/publisher).
Adding to the fun: Spoken Giants and Word Collections are unregulated in the US, unlike their music equivalents – ASCAP and BMI. This means that the comedy rights admin companies could potentially negotiate a US royalty rate direct with Spotify, instead of having to limit themselves (like ASCAP and BMI) to rates determined by Consent Decrees and their affiliated rate courts.
---
This kind of topical news influence on share prices aside, it's also worth looking at the hard numbers to see how Spotify and Universal are shaping up as we head towards the end of the year.
Here's how both Spotify and Universal fared in Q3 (to end of September), and what they're forecasting for their performance in the final quarter (Q4) of 2021:
---
Spotify
By most metrics, Spotify did well last quarter (Q3).
According to SPOT's financial results for Q3 2021, published October 27, the platform hit the mid-to-upper end of its guidance for both total Monthly Active Users (MAUs) and total Premium subscribers.
Spotify's global Premium Subscriber base grew 19% year-on-year to 172 million in the quarter, and its global Monthly Active Users, (MAUs), meanwhile, grew 19% year-on-year to 381m in Q3.
One particularly strong result, however, was SPOT's ad-supported revenue figure, which was up by 75% year-on-year, hitting €323 million ($374m) in Q3.
Speaking to analysts on the company's earning call last week, Spotify CEO Daniel Ek reiterated his previously-made claim that ads will become "be the second big revenue driver for the future of our business" and noted that "2021 will mark the first time we will surpass €1 billion in ad revenue".
Driving this ad revenue boom for Spotify is its multi-million dollar podcast strategy. Ek told analysts last week that "Excitement from advertisers for the podcast industry has increased substantially over the last year, and we're ahead of our plans for podcast monetization".
Spotify is also doubling down on video podcasts, which it rolled out to select users last year and more widely to podcast creators in October.
According to Daniel Ek, speaking to Bloomberg recently, "video ads are priced higher than audio ads at the current moment", which means that as Spotify users start seeing more video podcasts on the platform, Spotify will start seeing a lot more advertising revenue roll in across Q4 and into 2022.
This is good news for investors of course, and if SPOT hits the upper end of its Q4 guidance of 400-407 million MAUs and 177-181 million Premium Subscribers, the company should see a healthy uptick to its share price and market cap value when it next publishes its financial results.
---
Universal Music Group
Universal meanwhile, also posted strong quarterly results for Q3.
After listing on the Euronext Amsterdam Stock Exchange on September 21 with an opening valuation of $54.3 billion, in its first set of quarterly results as a publicly traded company, UMG reported revenues (across recorded music, publishing and more) of €2.153 billion (approx. $2.5bn at current exchange rates) for the three months to end of September (Q3)
That was up 17.4% YoY at constant currency, and up by 6.5% on the €2.022 billion revenues UMG posted in the prior quarter (Q2).
Meanwhile, recorded music streaming revenues were up 15.2% YoY at constant currency in Q3, reaching €1.131 billion in the quarter.
Speaking on the company's very first earnings call as a publicly traded entity, Chairman an CEO Sir Lucian Grainge told analysts that "We feel that these numbers speak for themselves". Looking to the future, Grainge added that "we believe there is unprecedented opportunity for further growth".
One of the highlights of UMG's latest results was its EBITDA (earnings before interest, taxes, and depreciation), which is a key measure of profitability at UMG.
The company's overall adjusted EBITDA in Q3 – across all of its divisions, including recorded music, publishing and others – was €461 million (approx $535m), up 20.7% YoY.
UMG's adjusted EBITDA in the first nine months of 2021 was €1.286 billion – a profit margin of 21.5%.
As recently pointed out by MBW, if in Q4, Universal can repeat or better the €461 million adjusted EBITDA it posted in Q3, the company's annual adjusted EBITDA across all 12 months of 2021 will (at current exchange rates), just manage to creep over the USD $2 billion mark.
---

The MBW Review is supported by Instrumental, one of the music industry's leading growth teams for independent artists. Instrumental uses data science to identify the fastest growing independent artists on the planet and then offer funding, premium distribution and marketing support to take them to the next level, without taking their rights.Music Business Worldwide