MBW was expecting an impressive opening for UMG on the Amsterdam Stock Exchange today – but even we weren't expecting this.
UMG's opening price is over a third bigger than the reference price that Vivendi confirmed yesterday of €18.50 ($21.7) which would have valued UMG at €33.5 billion (approx. $39bn)
What does that mean?
It means that as of this morning, UMG has a €25.25 ($29.63) share price… which translates to a colossal valuation of €46.3 billion or $54.3 billion for the world's biggest music rightsholder. (see below).
MBW will be monitoring the company's performance on the stock market as the day proceeds.
---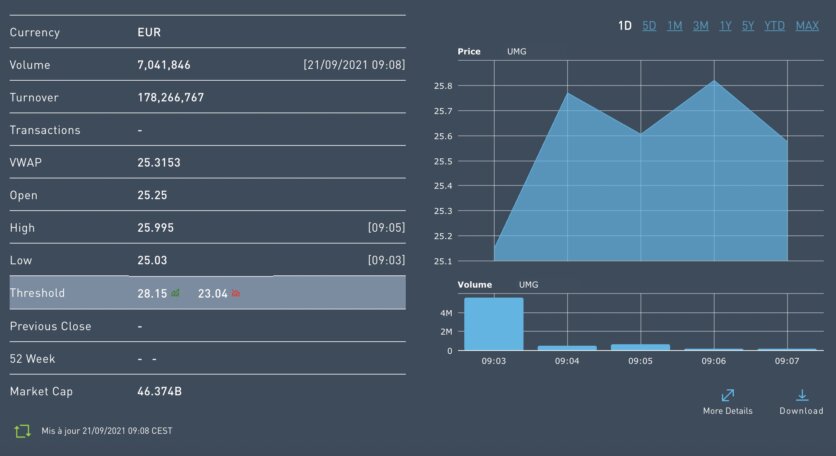 ---
This morning's pricing validates the opinions of UMG's more optimistic observers, including JP Morgan Cazenove, who recently suggested that UMG's "fair value" was actually €54 billion — equivalent to $64 billion.
JP Morgan analyst Daniel Kerven wrote in a report earlier this month: "We continue to believe that Warner Music Group is undervalued and that Universal Music Group should trade on a significant premium, given a better track record, better governance and best-in-class management."
Subsequent to the listing, UMG largely bids au revoir to former Paris-based parent Vivendi, which now owns just 10% of UMG, while a Tencent-led Consortium owns 20%.
Pershing Square Holdings Ltd also owns 10%, and French businessman ex-Vivendi Chairman Vincent Bolloré's 'Bolloré Entities' owns 18.0%.
At a €46.3 billion valuation, Bolloré's share of UMG is worth €8.3 billion ($9.7bn) this morning, while the Tencent-led Consortium's 20% share is worth €9.26 billion ($10.86bn).
Vivendi and Pershing Square Holdings' respective 10% stakes are each worth €4.63 billion ($5.43bn).
UMG provided potential investors with some detailed reading material last Tuesday (September 14) in the form of a pre-IPO prospectus, which  provided insight into its current and future shareholders, details of its new post-IPO board, business risks, executive rewards, plus historical financial information and profit forecasts.
The firm's new board includes  Sir Lucian Grainge, who is Chairman & Chief Executive Officer and Executive Director, and Vincent Vallejo, UMG's Deputy Chief Executive Officer, Corporate and Executive Director.
The board also includes James Mitchell, Senior Executive Vice President and Chief Strategy Officer of Tencent Holdings Limited and a Director of New York Stock Exchange-listed Tencent Music Entertainment Group.
---
Universal's recorded music division generated annual revenues of €5.97bn ($6.74bn) in 2020, up 6.7% YoY.
According to UMG's prospectus, which you can read for yourself through here, no single artist accounted for more than 1% of the company's recorded music revenue in 2020, while the company's Top 50 artists cumulatively accounted for 23%.
Catalog accounted for 54% of recorded music revenue (from digital and physical) at UMG in 2020, while frontline product (content less than three years old) accounted for 46% of recorded music revenue.
UMG's catalog includes artists such as ABBA, Louis Armstrong, The Beatles, The Beach Boys, The Bee Gees, Andrea Bocelli, James Brown, Bon Jovi, Neil Diamond, Marvin Gaye, Guns N' Roses, Elton John, Bob Marley, Paul McCartney and Nirvana.
---
MBW broke the news in the middle of February that Universal Music Group's former parent company Vivendi was planning to take UMG public in the Netherlands this year.
At Vivendi's Annual General Shareholders' Meeting, the Paris-based company's shareholders voted 99.9% in favor of the plan.
Last month Vivendi revealed that Pershing Square Holdings (PSH), run by billionaire Bill Ackman, will control 10% of UMG's share capital post-listing.
Prior to the Pershing deal, Vivendi also sold 20% of UMG to a consortium led by China's Tencent, at a €30 billion company valuation for UMGMusic Business Worldwide