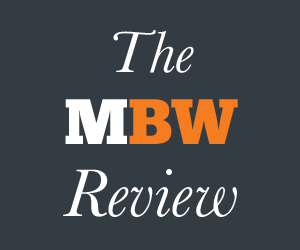 The MBW Review offers our take on some of the music biz's biggest recent goings-on. This time, following an array of headlines – including the news that Sony is launching its own music streaming service in Japan – Cherie Hu takes an analytical approach to the modern marketplace. The MBW Review is supported by Instrumental.
---
There's a widespread perception that paid streaming subscriptions have become recorded music's lifeline, restoring the sector to a state of growth and driving its ongoing global expansion.
In fact, the influence of paid music streaming is so powerful that the word "Spotify" now serves as a shorthand across several industries for a supposedly more convenient, streamlined user experience built on content aggregation: think "Spotify for news", "Spotify for audiobooks", even "Spotify for comics".
Capitalizing on this positive association, both Universal Music Group and Sony Music Japan are also reportedly building their own streaming products, part of which is likely to revolve around individual artists.
But while a subscription model might be the new table stakes for staying competitive, it's certainly not sufficient for success – and the music industry presents a exemplary case study.
---

---
Consider how Spotify and Apple Music continue to grow at an accelerating pace, but the likes of YouTube Music and Tidal are falling far behind.
Or how major labels have repeatedly tried to launch and maintain their own shared streaming services over the past few decades, to no avail (remember Pressplay and MusicNet?).
Or how even the biggest celebrities with tens of millions of followers have difficulties maintaining their own branded subscription apps.
In all of the above examples, companies either mischaracterize the kind of work that goes into running a subscription business, or wrongly assume that the brand value and user loyalty of a company like Spotify or Napster is easily transferable merely by stealing their business model.
In reality, taking on a subscription model in music will work only if the added benefits align with the core value that the product in question has already been delivering to its most loyal users.
With this approach in mind, there is a diversity of subscription services that can thrive in the music industry in 2019, beyond just the all-you-can-eat, pro-rata-payment Spotify model – with the proper execution.
We can divide this emerging landscape of subscriptions into a four-tiered pyramid, pictured below:
---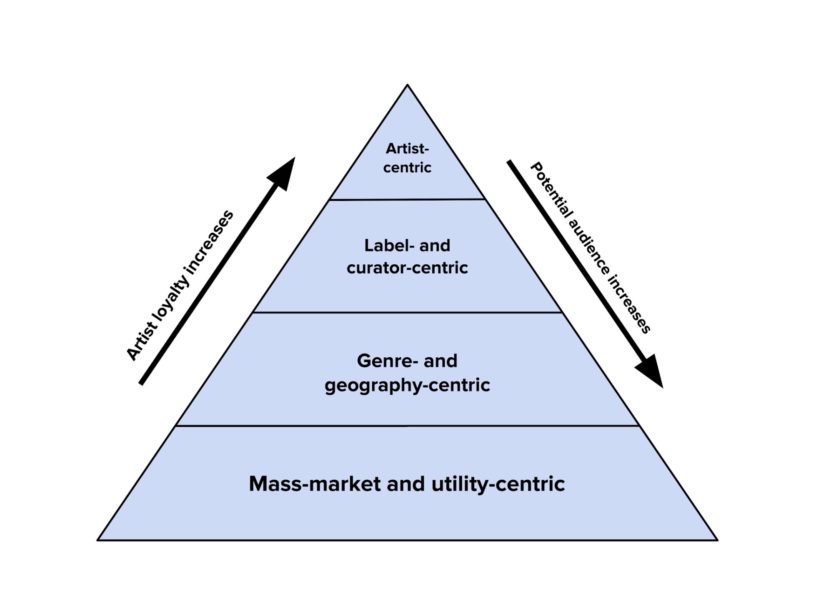 ---
The boundaries of these four categories are permeable and imperfect, but the most important takeaway is that moving up and down the pyramid means making tradeoffs on metrics.
Subscription services further up the pyramid attract relatively smaller audiences with a higher degree of loyalty to a given artist. In contrast, those further down the pyramid attract much larger audiences, but tend to face more fleeting attention spans and listening habits from consumers.
Here's a more detailed breakdown of the primary characteristics and platforms that define each tier, from largest to smallest potential audience:
---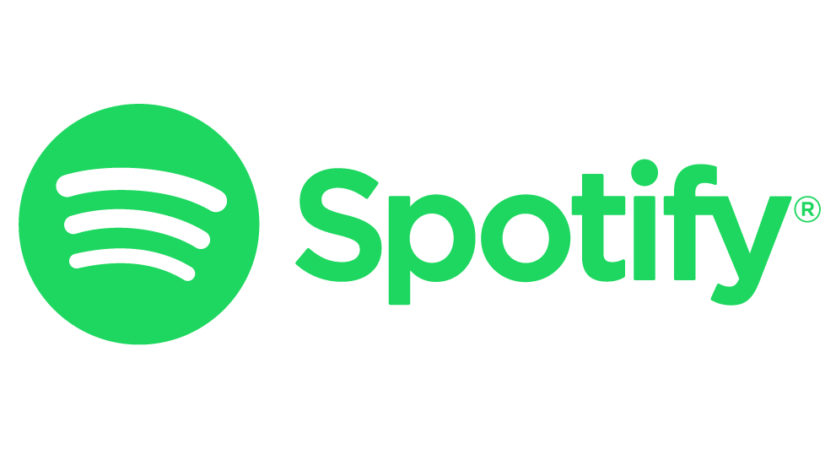 Mass-market, utility-centric subscriptions dominate today's headlines, and are usually the first services that come to mind when one hears the phrase "music streaming." Examples include but are not limited to Spotify, Apple Music, Amazon Music, YouTube Music, SoundCloud Go, Pandora Plus, TIDAL and Deezer.
The value propositions of these services are primarily utilitarian: unlimited skipping, offline and ad-free listening and on-demand access to a catalog of tens of millions of tracks.
For larger corporations, another key motivation behind pursuing music is to drive sales in a separate, core revenue stream within a proprietary tech ecosystem (e.g. hardware for Apple, e-commerce and smart speakers for Amazon, advertising for Google). Well aware that its own ecosystem is lacking, Spotify is also preparing to launch its own hardware device this year.
This utilitarian mindset isn't just limited to technology. Although mass-market services like Spotify and Apple Music often encourage new music discovery, their core content strategy is becoming increasingly situational, functional and user-centric, rather than more aesthetic and artist-centric.
We see this in the rise of mood and activity playlists across the board, which encourage users to make a regular habit of engaging with a subscription by incorporating music into their everyday activities.
Spotify is also currently gauging interest in a Premium Fitness bundle that would charge subscribers an extra $2.99 a month for access to exclusive, personalized audio workouts—again, a use case centered on utility and self-improvement, not on artist-level appreciation.
---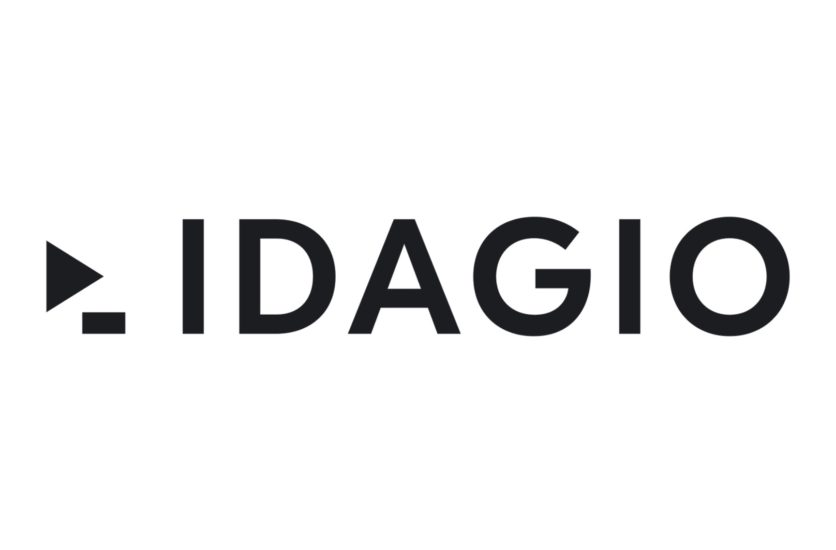 Genre- and geography-centric subscriptions embrace a more mass-catalog approach as well, but specialize in a specific genre and/or geographic region, tailoring both product and content features to the unique needs and consumption habits of their target audiences.
Examples of genre-specific streaming subscription services include IDAGIO (classical), Primephonic (classical), Gimme Radio (metal) and Quincy Jones' Qwest TV (jazz).
Both classical and jazz have struggled particularly hard in the mass-market streaming world for years, due to issues around metadata (e.g. jumbling together original composers with performers as the "Artist" for a song) and biased payout structures (e.g. on a mass-market service, a 15-minute long symphony movement gets paid the same amount as a 31-second instrumental hip-hop interlude).
IDAGIO and Primephonic are solving these issues by implementing pay-per-second models and creating a user experience more tailored to avid listeners' discovery habits, often prioritizing aesthetic concerns over utilitarian ones.
Examples of geography-specific services (for now) include Saavn, Gaana, Hungama, Anghami, Melon and Tencent Music.
Of course, these companies are far from "niche"; they take a mass-market approach to user acquisition in their respective home territories, and many are owned by telcos and other large companies whose adjacent revenue streams help drive music sales, similar to the U.S. and Europe.
Nonetheless, these territory-specific services have arguably built up a significant brand differentiation off the back of stronger localized content and discovery mechanisms (e.g. discovering Bollywood music on Indian services through the actors who perform them, emphasis on Korean repertoire for Melon).
In fact, services like Anghami and Saavn are leaning harder into localization as a brand differentiator in the wake of international platforms like Spotify and Deezer entering their territories and striking direct content deals with local labels.
---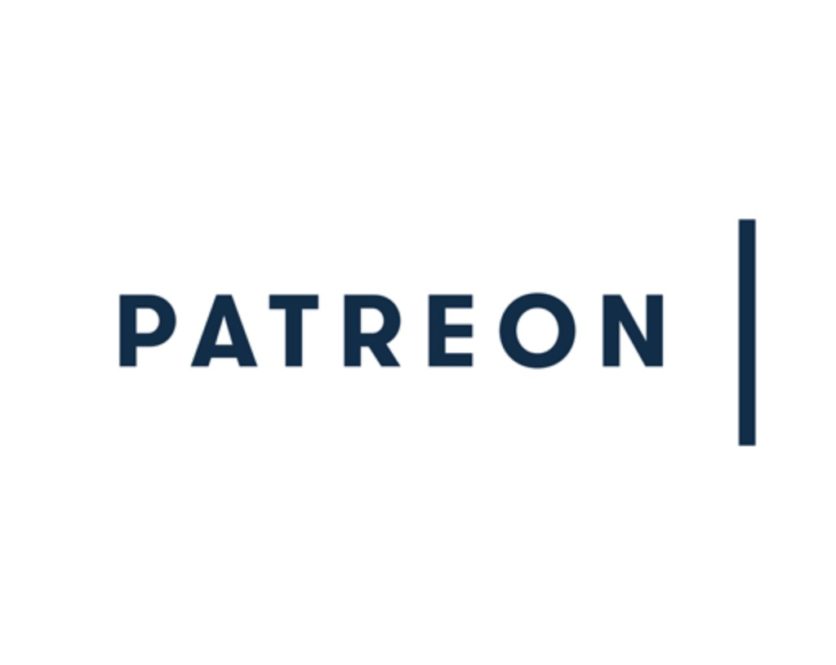 The remaining two tiers at the top of the pyramid – consisting of artist-, label- and curator-centric subscriptions –allow fans to subscribe directly to an individual artist, label, collective or third-party curator with a trusted perspective and taste.
Two key components that separate these tiers from the other two are: (i) the absence of a massive catalog of thousands or millions of tracks, instead opting for a more limited, curated selection of content; and (ii) the clear identification of a human personality, perspective and/or community with whom subscribers can connect on a regular basis.
Patreon popularized the concept of independent artists raising recurring funds directly from fans, with the most successful musicians like Amanda Palmer and Peter Hollens making as much as $50,000 per project.
A handful of software developers, like EscapeX and the now-defunct Fullscreen Direct, have tried to build off that momentum by creating subscription-enabled mobile apps and websites for celebrities like Zaytoven, Ashley Tisdale, Keith Urban and Justin Timberlake, albeit with mixed results.
Many indie artists and labels also run their own digital monthly membership programs through Bandcamp, which first enabled its recurring patronage feature in 2015.
For instance, Candy Says and Steve Lawson charge £20 and £30 annually on Bandcamp, respectively, in exchange for access to exclusive back-catalog releases, closed fan communities and discounts on merch. Labels running similar digital membership programs include Tiny Engines ($6/month), Topshelf Records ($8/month) and Stones Throw Records ($10/month).
Curated vinyl membership clubs like Vinyl Me, Please and Turntable Kitchen continue to grow in popularity as well, along with the continued overall growth in vinyl sales.
Mixcloud Select, which launched in December 2018, is attempting to usher this direct-to-fan subscription mentality into the streaming era, bringing both individual curators like Jazzcat, P Montana and Sister Bliss and organizations like Clash Magazine, Soho Radio and WhoSampled on board.
While the added benefits for Mixcloud subscribers are primarily utilitarian—i.e. offline listening and upfront tracklisting for mixes—the underlying business model can be considered artist-, label- and curator-centric, as fans' subscription money goes directly to an individual artist or organization. 
---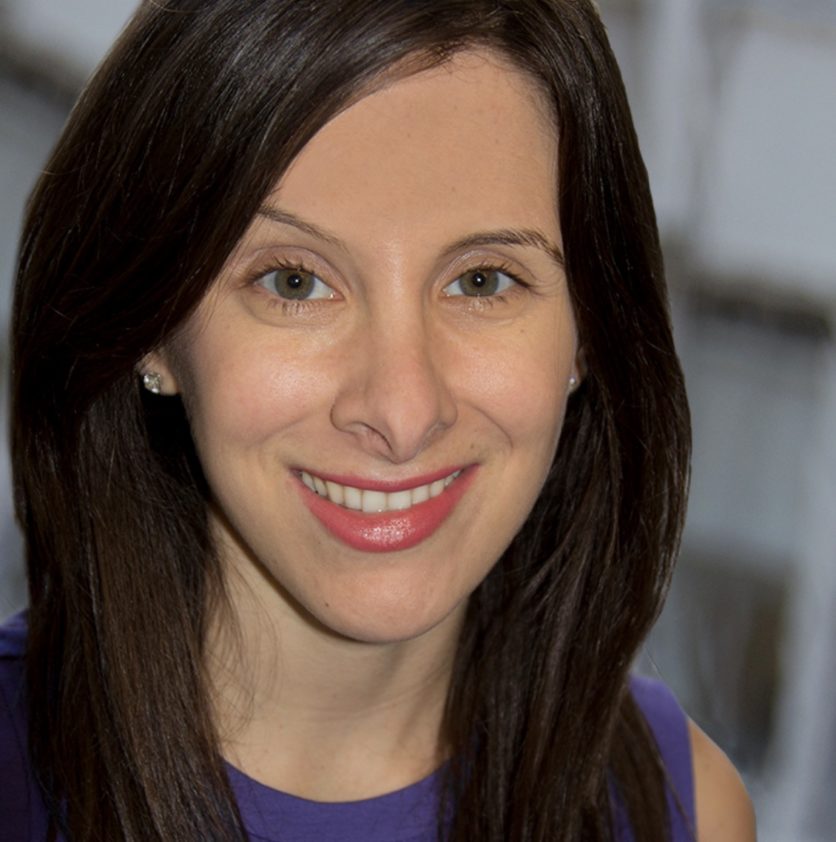 One of the most crucial lessons from this pyramid is that behind two nearly identical business models – say, a $9.99/month Spotify Premium account versus a $10/month Stones Throw subscription – can lie two vastly different value propositions for fans, and hence different expectations and content requirements for artists and companies. Conflating these diverse value sets is a recipe for failure.
In this vein, music has a lot to learn from news. In the recent op-ed "Has Subscription Media Peaked?," Jessica Lessin, founder and editor-in-chief of tech publication The Information (pictured inset), argued that "business model follows content, not the other way around."
Lessin made this argument in the context of her own industry, claiming that subscriptions were far from a one-size-fits-all solution for media companies. For instance, a subscription model is imperative for studios like HBO with a slate of high-budget, premium shows, but not necessarily for sites like BuzzFeed that rely primarily on generating ad revenue from inexpensive content with wider reach (and, by recent news, are still struggling).
As a failed example of a media subscription, Vessel – the video service founded in 2015 that raised more than $130 million in funding—tried to charge monthly fees for user-generated video, but shut down after merely one year of existence.
"You can't pick a strategy based on what others are doing or to help you hit your numbers in a quarter," wrote Lessin. "The model has to be tied to the content you make."
The problems Lessin described—i.e. the tendency for companies to force content into a normative or "popular" business model decided by others, rather than shape their business models to their already-existing, core competencies—underlie the struggles behind many music subscription businesses throughout history.
---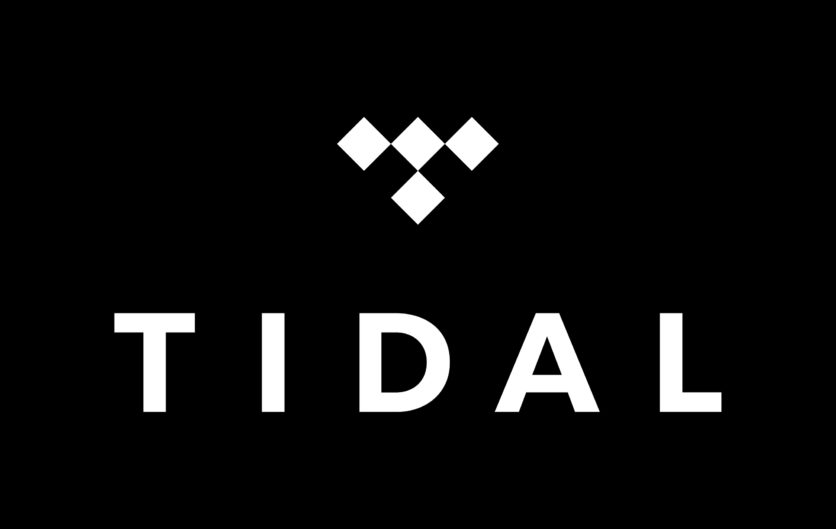 One of the most prominent examples of such a struggle today is the underperformance of YouTube Music.
YouTube's brand value is rooted not only in user-generated video, but also in the ability to subscribe to and engage with individual channels with distinct personalities.
Yet both the free and paid tiers of YouTube Music seems to abandon these core differentiators entirely – instead chasing the normative, mass-catalog and utilitarian consumption and payment model as popularized by Spotify and Apple Music. The only added benefits in the paid tier are offline and ad-free listening, without any exclusive content or opportunity for fans to contribute money directly to individual channels or artists.
Similarly for video, it was revealed in November 2018 that YouTube Premium would be making all of its future original, paywalled shows available for free, amidst a "serious budget reduction" for exclusive scripted content. Analysts estimated that YouTube Premium had fewer than 3.5 million subscribers at the time.
In short, because YouTube's core product differentiation is artist-, curator- and community-centric, its premium products failed to convince the majority of its users to pay for a more all-you-can-eat, utility-centric alternative.
Another subscription company currently dealing with this internal conflict between its perceived product and actual business model is TIDAL.
The Jay-Z-owned service's licensing agreements require a mass-market approach to content aggregation in order to turn a profit, supposedly placing the company at the bottom of the subscription pyramid next to Spotify and Apple Music.
Yet a disproportionate focus on exclusive music, video and podcasts from a small, elite group of artists suggests the company is also trying to inch its way up the pyramid, towards a more artist- and curator-centric ethos.
Herein lies the problem: ever since its founding, TIDAL has been working to deliver a unique kind of value to both artists and fans that its payment model and bottom line simply don't allow.
---
One of the most compelling trends to watch in 2019 will be whether the rise of artist-, label- and curator-centric subscriptions will complement or clash with the already-crowded ecosystem of mass-market offerings.
There are many potential challenges and problems in bringing more personality-centric subscriptions into the market: At what point will the ecosystem become too fragmented for fans, to the point where said fans retreat and end up not paying for any subscription at all? As an artist, is it worth spending exorbitant amounts of money to try to acquire customers for your mobile app when you will likely lose as much as 95% of your daily active users within 90 days?
Again, part of success in this space will require a willingness to make a tradeoff on metrics.
In December 2017, Qwest TV co-founder Reza Ackbaraly, made it clear to the New York Times that he knew his service was not catered to the masses. "I'm more like a gastronomic restaurant," he said. "If I have 20 tables filled every night, I'm fine. If I serve high quality programs in HD, with good curation, and have a good, close relationship to my audience, I'll be fine."
A growing number of artists and labels, embracing their own subscriptions, are starting to feel the same way—but they need to be similarly realistic about what "success" really looks like to them.
Otherwise, they will only repeat the same mistakes that major music and tech companies are already making in real time.
---

The MBW Review is supported by Instrumental, which powers online scouting for A&R and talent teams within the music industry. Their leading scouting platform applies AI processes to Spotify and social data to unearth the fastest growing artists and tracks each day. Get in touch with the Instrumental team to find out how they can help power your scouting efforts.Music Business Worldwide