Podcasts on Spotify do not spell great news for artists and record labels. They do, however, spell great news for Spotify shareholders.
After a series of share price bumps on Wall Street related to Spotify's podcasting efforts in recent months, the streaming audio company has closed today (June 23) on the New York Stock Exchange with an all-time high $44.96bn market cap valuation, thanks to a $241.76 share price.
To put that into context, Spotify's current market cap is worth around $13.5bn more than that of Universal Music Group owner Vivendi, which trades on the Paris Euronext exchange (€27.87bn / $31.53bn).
Spotify's market cap is also worth nearly three times as much as that of Warner Music Group ($16.21bn), and over four times as much as that of Live Nation ($10.09bn).
Perhaps most impressively, Spotify's market cap value (and related share price) is worth more than double what it was at the close of trading exactly 3 months ago, on March 23 ($118.18 per share).
This isn't just a pandemic-related trend: Spotify's current market cap is also worth more than double the price the company achieved on the NYSE throughout October last year (i.e. eight months ago).
---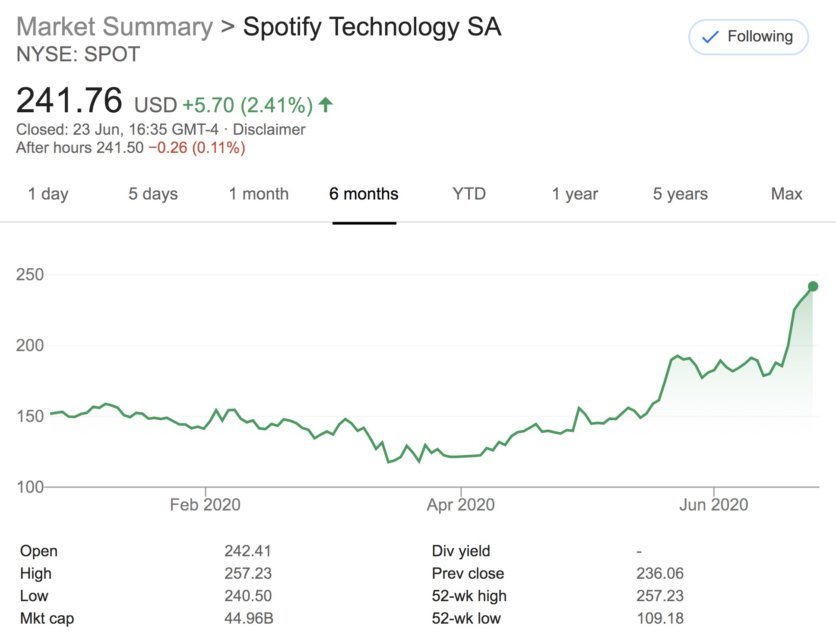 ---
At one point today, Spotify's share price rose as high as $257.23, giving the company a market cap of $47.8bn.
Last week (June 20), two analysts – Brian White of Monness Crespi and Mark Zgutowicz of Rosenblatt Securities – both raised their SPOT price target to $275 per share.
If Spotify reaches that price target, its market cap valuation will rise above $51bn.
---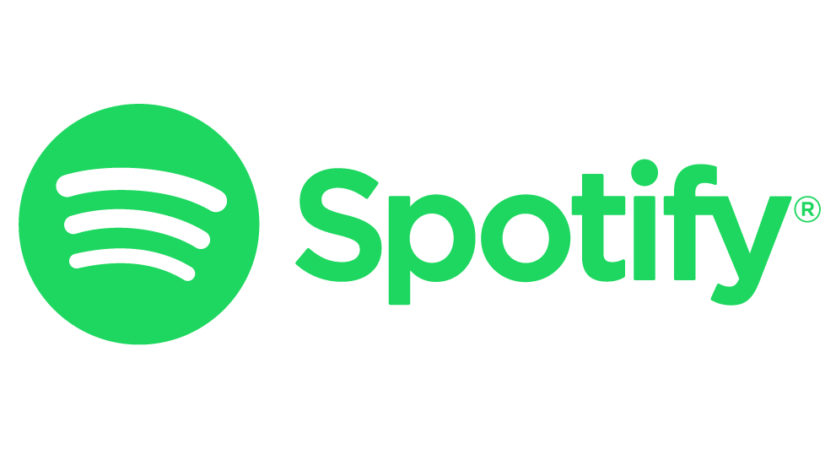 Food for thought: Since Spotify announced its landmark exclusive deal with the Joe Rogan Experience podcast on Tuesday, May 19, its share price has risen by 42.7%, with its market cap climbing by around $13.5bn.
Since then, the podcast-related bumps have kept on coming.
Spotify's share price jumped 2.4% today (June 23) on the back of news that it's testing an in-app interactive advertising format for podcasts that allows users to click to learn more about show sponsors.
And SPOT's share price rose by a massive 28.4% across the course of the last trading week (from end of Friday June 12 to end of Friday June 19).
This rise was aided by the announcement last Thursday (June 18), that SPOT had signed up to become the exclusive distributor of future scripted superhero podcasts from DC Entertainment / Warner Bros. (That day alone, SPOT's market cap grew by 12.7%.)
Those scripted DC 'podcasts' sound less like traditional 'podcasts', of course, and more like episodic narrative stories.
Such a move could potentially take Spotify a step towards becoming the long-heralded 'Netflix of audio' (and also a step towards the realm of Amazon's Audible)… but none of it will be welcomed by record labels.
---
Podcasts, as things stand, are not royalty bearing media, meaning that Spotify obtains them at a fixed cost (sometimes zero) and then doesn't have to pay out royalties to rightsholders each time they are played.
For a loss-making company like Spotify, moving consumers' listening time away from royalty-bearing media (i.e. music) and towards non-royalty bearing media (i.e. podcasts) is sure to fatten up its margins – especially when circa 65%-70% of SPOT's revenues are currently eaten up by music content costs.
This is bound to cause tension with the music industry's biggest players.
Indeed, the service's recently-signed global licensing deal with Warner Music Group was held up, say sources, by discussions sounding the way in which podcast consumption affects music royalty payments on the platform,
As we've previously noted: "What happens when the world's leading music streaming service becomes economically incentivized to encourage its customers to actually listen to less music?"Music Business Worldwide